Southwest Valley
Against the foothills of the Oquirrh Mountains, West Jordan, South Jordan, Bluffdale and Herriman are doorways to outdoor activities, including biking, hiking, golfing and shing.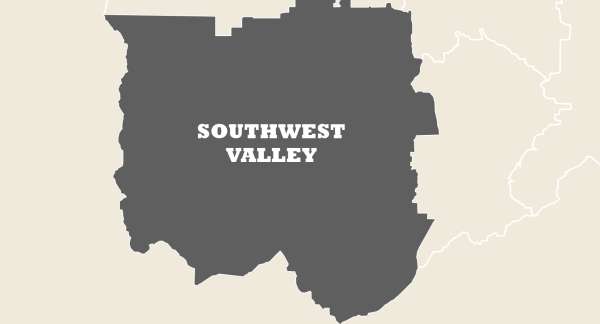 EAT & DRINK
Pop by The Wild Rose (wildrose-district.com) for brunch or stop into The Break (thebreakgrill.com) to catch a game, a drink and some food after a day out in Southwest Valley. Craving sushi? Tsunami (tsunamiutah.com) offers a tasty happy-hour menu, delicious rolls and a full bar.
PLAY
Singletrack trails of all levels cover Yellow Fork Canyon County Park (slco.org/recreation), making it an ideal mountain biking or cross country destination. Multi-use trails are enjoyed in season on foot or horseback, and wind in and out of scrub oak and aspen filled with wild turkeys and deer. Butterfield Canyon, west of Herriman, is a great starting point for hikes to a number of peaks, namely Butterfield Peak (the easiest summit), Kelsey Peak, White Pine Peak and Lowe Peak. The drive to Butterfield Canyon Pass will take you to the trailhead. The Rad Canyon BMX Park (radcanyonbmx.com) accommodates riders of all skill levels and ages. Visitors are welcome to bring their own bikes or grab a loaner, and clinics are available for newbies. Indoor and outdoor tracks mean racing is available year-round.
SHOP
If you need a bike, visit eSpokes (espokes.com) to test ride a variety of bicycles. If biking's not your thing, pop into one of SoDa Row's (daybreakutah.com/soda-row-south-station-village) many other shops, like Painter's Palette (painterspaletteutah.com) or Nest Boutique (shopnestboutique.com). You can also swing by Guy's Barbershop (801-302-9347) or Lucienne (801-280-9990) to get spruced up before hitting the town. Gardner Village (gardnervillage.com) is a lovely spot for window (or actual) shopping, with 22 locally owned specialty shops.
WHAT THE LOCALS KNOW
The three-quarter-mile-deep, two-and-a-half-mile-wide Bingham Canyon Mine is visible from space. A 2013 landslide closed the mine to the public, but you can take a virtual tour (kennecott.com).
partners