Adjusted Capacities & Room Sets  
Covid-19 Yellow/Orange Risk Operating Guidelines & Procedures
Facility & Room Capacity:
The Mountain America Exposition Center has deemed the original capacity numbers of the facility to be insufficient to allow for social distancing. In order to follow guidance and regulations put in place by our Corporate Offices and local Health Agencies, reduction to capacity levels have been made. These reductions will allow for proper planning and event setup, and allow for proper social distancing within the facility. Your assigned Event Manager will work with you to determine the best setup to properly allow for an event to hold their function in accordance with social distancing guidelines. This will include an extensive review of space usage, with recommendations and changes made to an events existing plan if needed. Common requirements will include; additional spacing between chairs and tables, reduction of function capacity, adjustments to food & beverage service stations, and any other means necessary to obtain social distancing at all times.
Room Sets & Drawings:
Implementing strict room set guidelines has allowed The Mountain America Exposition Center to properly retain social distancing guidelines for all event function types. In effort to provide events with examples of room set visualizations, the Events Department team has developed a series of drawings providing examples of function types in many areas of the facility. Paired with our newly updated room capacity numbers, these tools will help an event and their Event Manager determine an appropriately social distanced and safe event floor plan.
 
Food & Beverage:
The ability to provide food & beverage in a properly social distanced environment may include the elimination of food settings that place attendees in close proximity. Restrictions may be placed on buffet style serving, as well as with coffee/break stations. Working with an Event Manager and a catering contact it will be determined how food & beverage will be distributed to attendees. Solutions may include; plated meal service, boxed lunches preset for attendees at tables, tiered/timed meal times, staggered food access per room section, and other various solutions that help to offer social distancing.
Updated Facility/Space Capacities:
These adjusted capacity numbers are based on the extensive revised roomset drawings developed by our Event Management team. In many scenarios there are several styles of set in varying configurations. The numbers listed below are the max capacity available, but may be lower depending on the configuration utilized. "Banquet-Family" capacity is based on seating attendees of the same household at the same table.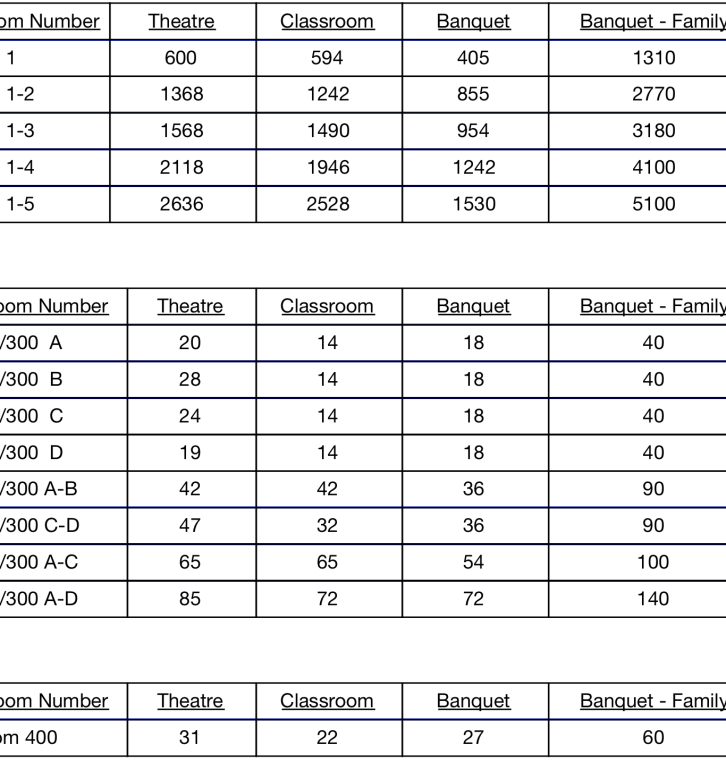 Occupancy Management by Event Type:
The social distancing specifications required by the state of Utah's phased reopening guidelines establish a 6' rule between unrelated persons. This translates to a multitude of changes to our "normal" operations at these event venues. The guidelines for room sets are described in specification in the spreadsheet that outlines the meetings and conventions requirements in the different state identified risk areas.
While we host many different types of events, at the most general level of distinction, there are really only two types. These are: Public Events and Events with Registered Attendance. The key distinction is that Public Events do not have an attendance limit and do not require that tickets are purchased in advance, rather they operate on a "first com, first served" philosophy. Events with Registered Attendance generally require that access is purchased in advance and limit the number of passes sold. In all circumstances, a plan to remain within occupancy guidelines established by the yellow and orange risk levels must be developed through consultation with the Licensee for the event. I also suggest that the service restrictions required in these higher risk levels do provide a Force Majeure trigger by either party (SMG or Licensee) if a plan is determined as impossible or impractical.
●  Public Events: This show type is the most difficult to manage the occupancy demand as the number of attendees is typically undetermined as is their arrival and stay pattern. Similar to a retail outlet, these events operate by posting show hours and allow attendees to arrive and depart on their own schedule within the posted times. Steps to consider employing to achieve occupancy management:

●  Monitor entrances and possibly the exits to track the number of attendees inside the venue at any given time.

●  Establish "vantage point" locations inside the show using elevated walkways, scissor lifts, or meeting rooms to evaluate social distancing success.

●  Establish and control a queue on the exterior of the venue that works to achieve proper social distancing requirements.

●  Post wait times in lines if practical.

●  In consultation with the Licensee, approximate average "stay times" by attendees and

limit ticket sales to time blocks accordingly.

●  Extend show hours, increase space licensed, and increase the number of show days at

no additional cost to the Licensee to assist in meeting business objectives.

●  Events with Registered Attendance: This show type is simpler to manage because we

understand the number of attendees in advance. Steps to consider employing to achieve occupancy management:

●  Extend show hours, increase space licensed, and increase the number of show days at no additional cost to the Licensee to assist in meeting business objectives.

●  Establish assigned time blocks for attendees for badge pick-up and onsite registration issues to achieve proper social distancing guidelines.
partners