Environmental Hygiene
ENHANCED CLEANING & DISINFECTION
In accordance with VenueShield, GBAC Accreditation, and local Health Agency regulations, our venues have developed a stringent cleaning and disinfection program. This program is currently in use and will continue during the course of your scheduled event.
Daily cleaning checklists will be posted around the facility. These forms will provide our guests with detailed cleaning/disinfection information (with date, time, and the chemical used) that will help to alleviate any concerns of facility cleanliness and safety.
Cleaning Strategy: 
WET: The surface to be decontaminated thoroughly. The area should look wet to the touch.

WAIT: Allow the wet surface to sit undisturbed for the amount of time prescribed by the manufacturer. The duration (contact time) is product specific and may be a few seconds up to 10 minutes.

WIPE: The surface to remove the excess moisture from the surface. Remember to use a new clean wipe for each area to prevent cross contamination.
Chemical Types:
Accelerated hydrogen peroxides.

Quaternary ammonia.

Alcohol-based – At least 60% alcohol must be present.

Chlorine-based – to include bleach solutions.

FACILITY CLEANING & DISINFECTION NOTICES
In order to provide our employees and attendees with information on cleaning/disinfection and chemical usage, the form below will be placed in an easily readable and accessible space for public view. This form will also be utilized to track the frequency of cleaning/disinfection in specific areas of the facility to ensure proper environmental hygiene is achieved.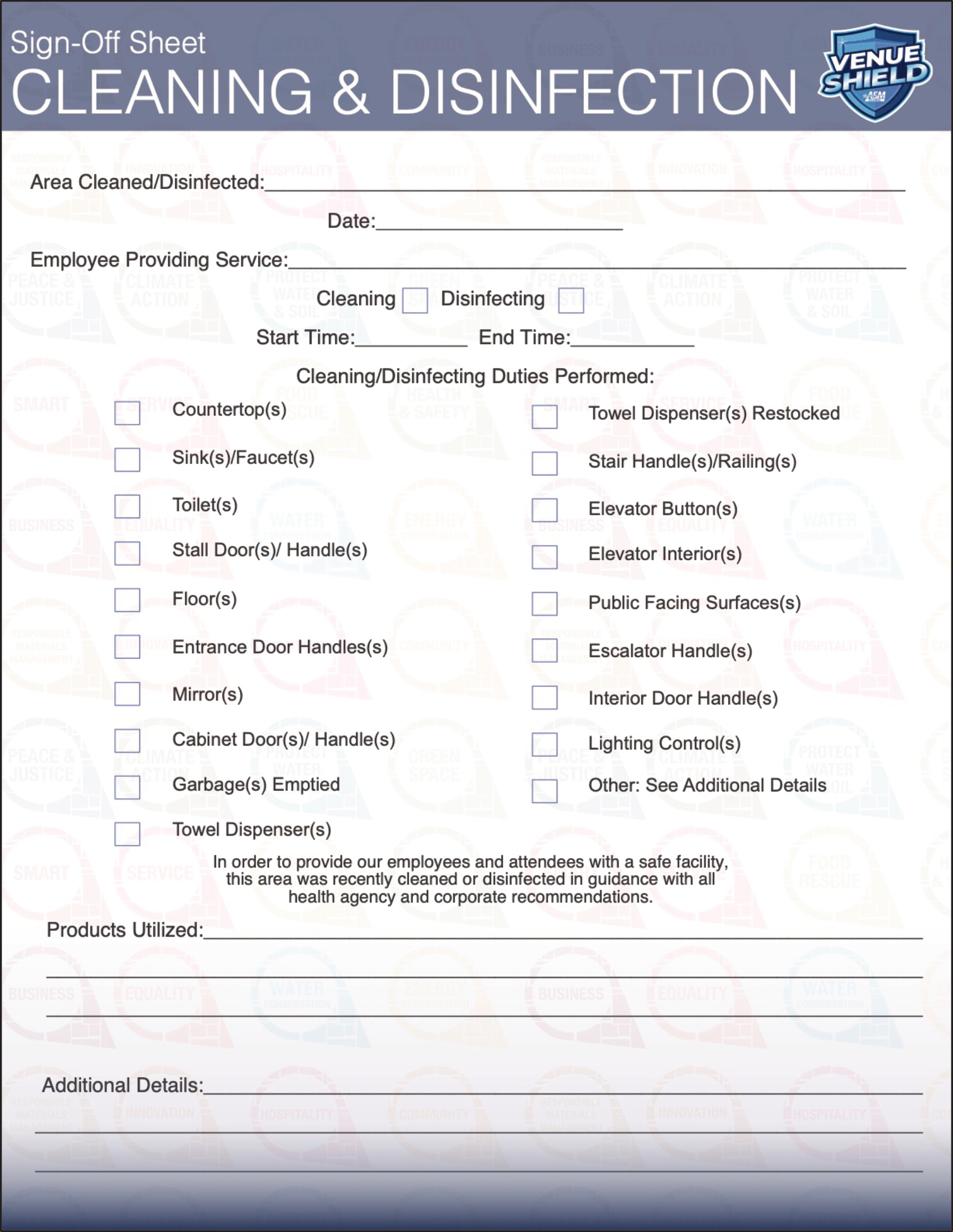 SUMMARY OF CLEANING FREQUENCY & SURFACE TYPES
As of this writing, studies have shown that hard, non-porous surfaces can harbor SARS-CoV-2 for more than 3 days. Surfaces must be disinfected frequently to prevent virus transmission. Surfaces can be categorized as heavy-touch and light-touch surfaces. Heavy-touch surfaces are items that require frequent touching to operate and use and include door handles, toilet flush and sink spigot handles, push plates/ switches for lighting, railings, elevator buttons, telephones, keyboards, security tags, pens, pencils, tables, counters, and card readers. Light- touch surfaces are those that are seldom touched and include vertical wall surfaces that could be touched (e.g.,vertical surfaces in toilet stalls). Due to the usual distance between the stall door and the toilet, touching the vertical walls of a stall often occurs upon entry and exit. Cleaning of all high-touch and public areas will occur as often as is feasible. The chart shown below indicates what we strive to achieve based on surface type: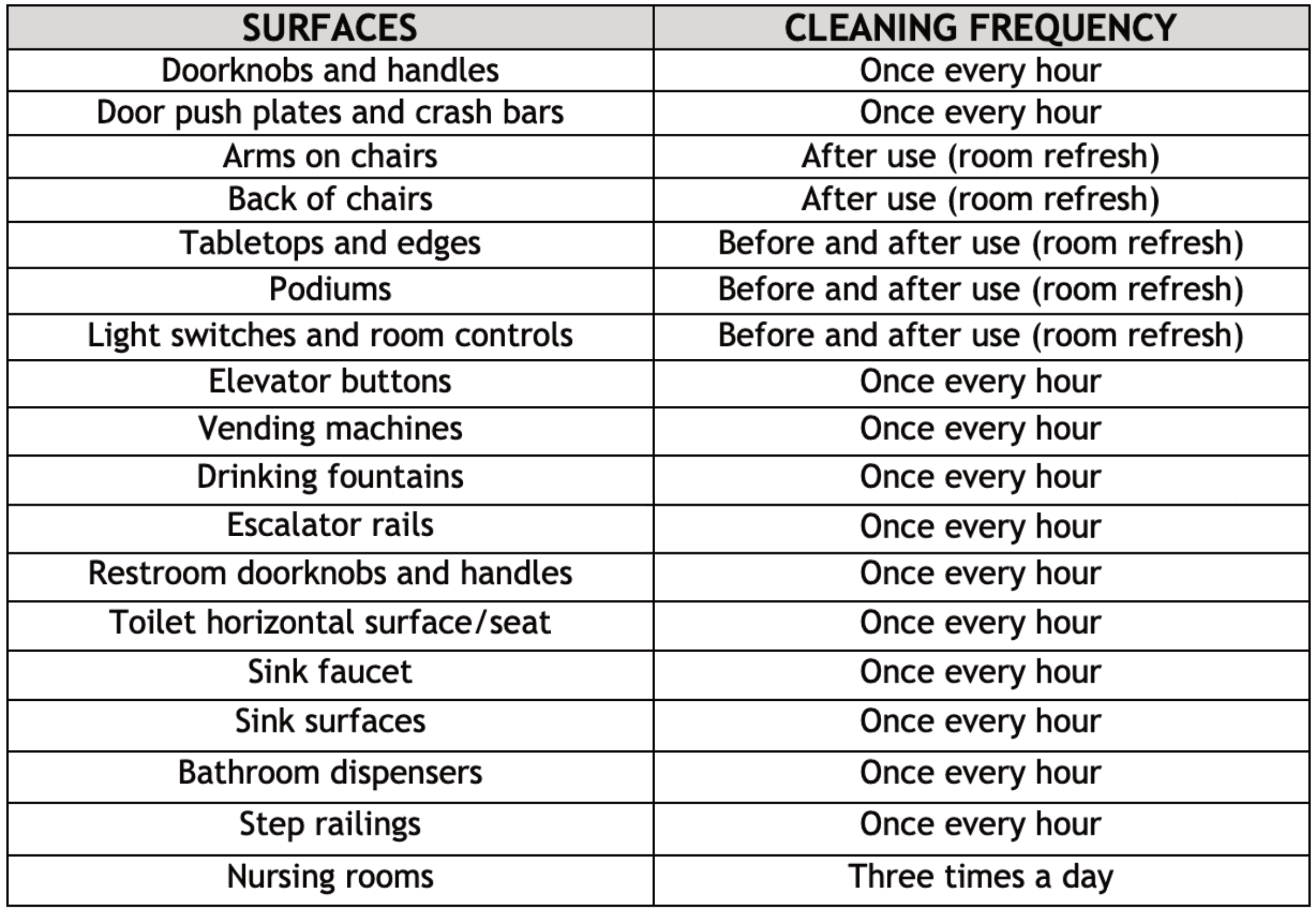 It is likely that in order to allow proper cleaning and disinfection, adjustments to event schedules will be needed. If a space is being utilized for several separate functions, additional disinfection or cleaning periods may be needed. If there is ever a concern that an area has not been properly cleaned or disinfected we will have detailed records to monitor and provide details. Additional cleaning and disinfection can be requested and can be discussed with your Event Manager.
PERSONAL PROTECTIVE EQUIPMENT (PPE)
ASM Global must select appropriate PPE and provide it to workers in accordance with OSHA's PPE standards (29 CFR Part 1910, Subpart I) and ASM Global SOP 02.02.13.01 Personal Protective Equipment. All staff and workers must receive training on and demonstrate an understanding of when to use PPE; what PPE is necessary; how to properly put on, use, and take off PPE in a manner to prevent self-contamination; how to properly dispose of or disinfect and maintain PPE; and the limitations of PPE.
 All training is to be documented per ALTUM (our internal management system).

 Any reusable PPE must be properly cleaned, decontaminated, and maintained after and between uses.

 Contractors are responsible for administering their own OSHA-compliant PPE program, but we are happy to provide recommendations and partnership.
WASTE
All disposable supplies from routine cleaning and disinfection, such as cloths, disinfecting wipes, and PPE, must be disposed of in sealed or closable containers.
All disposable supplies from cleaning and disinfecting suspected or assumed sources of SAR-CoV-2, such as vomit, blood, or mucous, must be disposed of as biological waste in accordance with Federal, state, and local regulations. Materials must be collected and stored in red biohazard bags and ridge containers. Containers must be wiped with disinfectant before being removed from the site of disinfection.
  All waste bags must be secured and closed before being transported and must not be thrown, dropped, or otherwise handled in a way that could lead to puncture or  rupture.

  Spent disinfectants, partially or completely empty disinfectant containers, and materials treated with disinfectants may be considered a regulated or hazardous waste.

  Staff will routinely conduct a hazardous waste determination in accordance with Federal, state, and local regulations for materials and articles remaining from disinfecting work.
HAND HYGIENE
Hand sanitizing stations will be placed around the facility to meet the demands of all events. Placement will be determined on attendee density and function. The facility will provide these stations at no additional cost to an event. With the addition of hand sanitizing stations, we have also implemented additional hand washing signage and etiquette encouragement. We also strongly recommend events supply additional sanitizers if available, and encourage attendees to have personal sanitizers on their person for times of need.

GLOBAL BIORISK ADVISORY COUNCIL (GBAC) ACCREDITATION
The Salt Palace Convention Center and Mountain America Exposition Center are committed to achieving the GBAC STAR Accreditation. GBAC (GLOBAL BIORISK ADVISORY COUNCIL), a division of ISSA, is staffed with subject matter experts with experience in academia such as Harvard, Penn State, Emory University, and USA Governmental Agencies. GBAC was created specifically to deal with pandemics such as we are experiencing today with absolute effectiveness and integrity.
GBAC is Build Around Three Key Areas Of Focus:
Prepare: We are committed to preparation for all biorisk threats. Specifically to COVID-19, we aim to build cutting edge hygiene practices so that events can prosper once again.

Respond: In the event that our venues or an event experience a COVID-19 exposure, we have quarantining and tracing strategies in place. Our utmost priority is the health and safety of our staff, clients, attendees, and local community. More information can be found in the Customer Journey and Workforce sections of this document.

Recover: After the response has been made, we work to offer transparent communication and positive outcomes for our stakeholders in recovering from an exposure (or potential exposure) situation.

partners