On October 13, 2020 Governor Herbert updated the state guidance system to replace the color coded Utah Leads Together plan. The new Utah Health Guidance levels represent the collaborative work of state and local public health officials to clarify the health metrics used to determine the transmission level for each county. It also outlines important health behaviors, based on epidemiology and medical science to protect yourself, your family, and your community from COVID-19.
Utah Leads Together 2.0 
From the Salt Lake Chamber: As the COVID-19 curve begins to flatten, Utah's Economic Task Force released the plan — Utah Leads Together 2.0 — today for reactivating the economy through a process that is described not as a "switch" but a "dial," and calls for vigilance, confidence, patience, innovation, and engagement. The plan proposes a series of protocols for a color-coded health guidance program, including a seal of approval for businesses trained to comply with health protocols, addressing issues of business liability, continuing engagement with federal relief programs, the management of personal protective equipment, and special provisions for education.

When the Economic Task Force was established weeks ago it was with an eye towards getting us back to work. As the Governor laid out today, the next step to reactivate our economy is outlined in version 2.0 of the Utah Leads Together Plan. The Economic Task Force assembled subject matter experts into working groups from nearly 80 industry associations, as well as local chambers of commerce, the health care community, education community, and businesses of all sizes.

According to the plan, five principles are necessary for full reactivation of the economy:

1. Vigilance to minimize economic harm and avoid a resurgence of the virus;
2. Data-informed judgment that uses key economic and health indicators to guide decision-making;
3. Respect for geographic differences to allow those areas with low risk to open businesses and related activity accordingly;
4. Care for the vulnerable; and,
5. New protocols for safety to accelerate reactivation of the economy through appropriate use of protective equipment.

Read the updated plan, share it with your employees, and adapt it for your business. Click here to view the plan.

Phased Opening Guidelines for the Visitor Economy
There are many questions about how to re-open and what is required of businesses. Visit Salt Lake is working with ResPro to provide this guide on Prevention Guidelines and Best Practices for COVID-19. 
Download the Guide updated 06/15/2020

 
Salt Lake County Resources
Economic stability and recovery is a key focus of the County. Our Economic Impact & Recovery team has been formed to
1. Minimize the current and future impacts on local businesses and retain as many jobs as possible

2. Educate businesses on how they can continue to operate during the epidemic as well as educate consumers on how to safely interact with businesses, and

3. Serve as a conduit of information and resources for businesses, community stakeholders, and residents suffering hardship during this time.
We want to help you during this uncertain time. Check out the full list of resources available by city in Salt Lake County. The following resources are available to businesses impacted by the COVID-19 pandemic.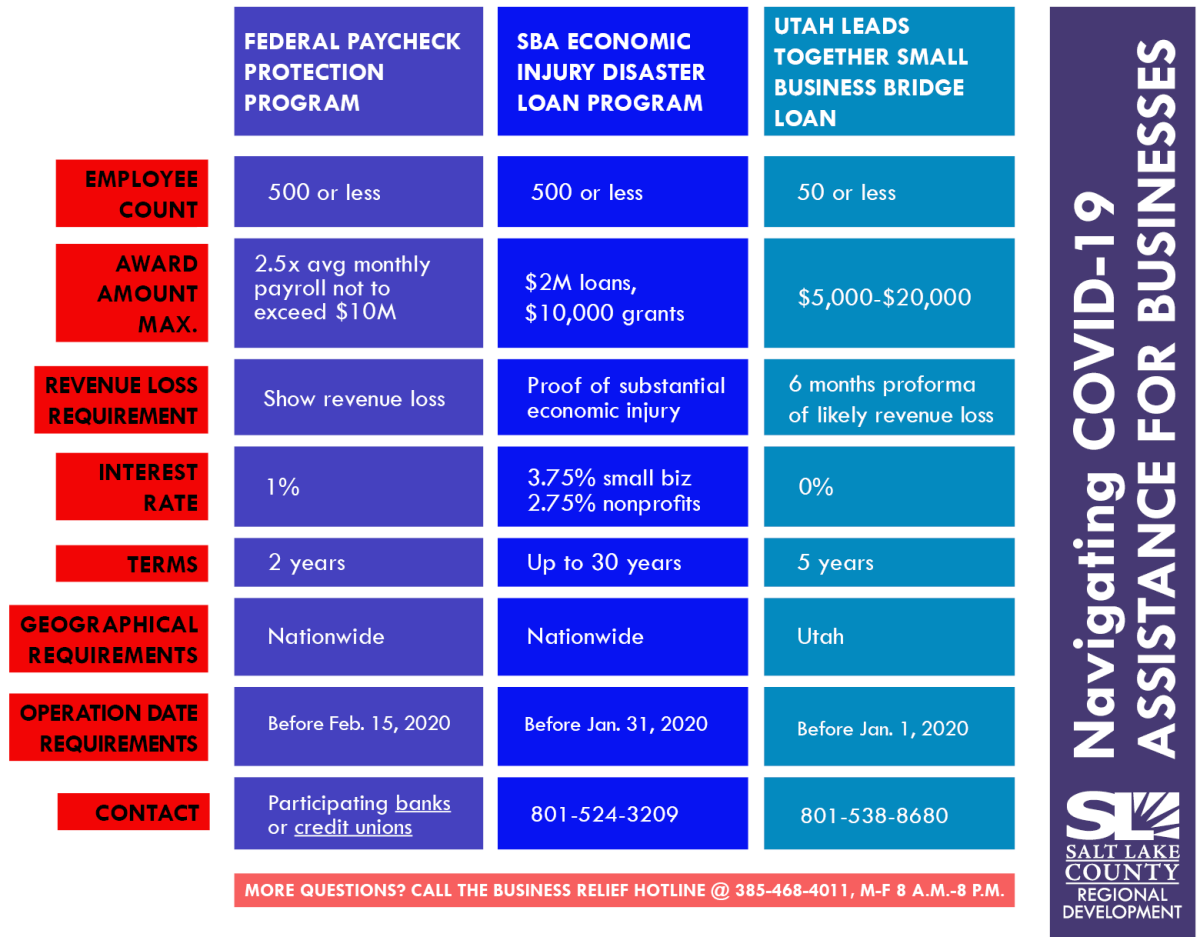 Federal Updates - $484 Billion Interim Economic Stimulus Package Signed 
The Utah Economic Response Task Force is committed to providing Utah businesses with the most relevant and up-to-date information regarding the many Federal programs and resources available. The $484 Billion Interim Economic Stimulus Package was passed by Congress and signed into law by President Trump on April 24, 2020.
Highlights include another $310 billion to replenish the Paycheck Protection Program (PPP) for small businesses impacted by the COVID-19 pandemic and $60 billion to supplement the Economic Injury Disaster Loan (EIDL).  
The Small Business Administration (SBA) will resume accepting PPP loan applications on Monday, April 27 at 10:30AM EDT from approved lenders on behalf of any eligible borrower.
Please read below for additional information regarding these two programs. It is highly recommended that eligible Utah companies apply for these resources if they have not done so already. 
Paycheck Protection Program (PPP)
The PPP is designed to help small businesses keep their workforce employed. Loans are backed by the SBA through local lenders and businesses should apply with an SBA-approved lending institution. Local lenders can be found at: utah.bank/advocacy/resources/covid-19/ppp-banks or utahscreditunions.org.
Economic Injury Disaster Loan (EIDL)
EIDLs are administered and approved by the U.S. Small Business Administration. EIDLs offer a bridge loan program of $10,000 to cover immediate costs and is forgiven if certain criteria are met. Apply at SBA.gov/disaster.

Google Listing Management
Communication during an event like this is imperative, which means maintaining an accurate Google My Business listing. Remember, your customers are more likely going to turn to Google for information about your business before any other source.
Need guidance on how to do this?
Below is an 11-minute video explaining how to update your business hours, take-out / delivery, posts, phone number, menu options and other useful items powered by Google.

An update on Coronavirus relief efforts from Senator Mitt Romney
The following letter sent to the Salt Lake Chamber members is filled with links to essential information for your businesses, employees, family and our community.
Chamber Members,

All across Utah, families, workers, and business owners are facing extraordinary challenges as a result of COVID-19. And to better understand the financial burdens you all are facing, I've held calls and virtual meetings to speak with members of your chamber, as well as with chambers and employers across the state. These calls have also helped me better understand how I can best serve you as the Senate works to deliver relief to those in need.

Utah's small businesses have been especially hard hit, and while there are several ways to seek federal financial assistance, navigating them can be tough. In addition to the coronavirus resources page on my website, my team has created a "Help for Small Businesses" page designed to help Utah's small businesses stay updated with resources for assistance. We'll be regularly updating this webpage with responses to FAQs—frequently asked questions our office is getting from small business owners—as well as federal, state, and local government assistance resources.

On this page, you can find information and direction on how to apply for financial assistance through the SBA—including the Paycheck Protection Program (PPP) or an Economic Injury Disaster Loan. We've also compiled links directing you to tax guidance from the IRS, resources from the USDA, employer and worker guidance from the Department of Labor, workplace recommendations from the CDC, and more.

While these SBA programs are now operational, the demand is high and some applicants have experienced difficulty resulting from technical glitches. As the SBA works to resolve these issues, I encourage anyone who needs additional assistance to contact my Salt Lake City office at (801) 524-4380.

Additionally, through the Utah Governor's Office of Economic Development, the Utah Leads Together Small Business Bridge Loan program is offering loans to provide gap funding for Utah's small business and nonprofit entities. The next round of applications for these bridge loans will open on April 13. More information can be found here.

It's clear that while this assistance will help meet some short-term needs, additional funding will be needed to further sustain businesses and the unemployed. As Congress continues discussions about next steps, I want to ensure any further legislation is targeted directly to those who need relief and not used as a vehicle for political pet projects.

PIease know how much I appreciate the efforts all of you are making during this unprecedented and difficult time, and don't hesitate to reach out to our office if we can be of assistance.

Stay safe,

Senator Mitt Romney