Historic Salt Lake
Historic Salt Lake - From Past to Present 
Duration: 1.5 - 5 hours
Highlights: Temple Square, Historic Main Street, Utah State Capital, Historic South Temple and the Avenues, This Is The Place Heritage Park, University of Utah, Fort Douglas, Utah State Capital, Salt Lake Public Library, City Creek Center
This tour is a complete historic look at what makes Salt Lake City so fascinating. You will begin by seeing the historic downtown area, including the world-famous Mormon Temple, Historic Main Street, and brand new City Creek Center. From there, your journey will continue on to the newly-renovated Utah State Capital, originally completed in 1916. Passing the beautiful historic homes of the "Avenues" and South Temple, this driving tour continues through the University of Utah, the first University built west of the Missouri river, site of the 2002 Winter Olympic Village, and home to Fort Douglas, which was founded by Abraham Lincoln in 1862.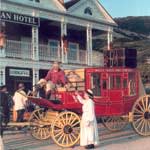 Next stop, This is the Place Heritage Park - the landmark where the Mormon pioneers entered the Salt Lake Valley in 1847 and Brigham Young uttered the now famous words, "This is the place...". The final stop will bring you to Salt Lake City's newest historic wonder, the Salt Lake Public Library. This unique architectural triumph has won over 10 architectural awards including "Best Unexpected Place to Bring Out of Towners" in 2004. Allow us to turn the pages and tell you Salt Lake's story.
It's that time of year again—the wind is getting brisk, the colors are changing on the mountains, and the sound of leaves blowing down the street are followed by pumpkin lattes and co-eds sporting Han Solo boots-and-vest style on campus. That's right, one of the best holidays of...
Read More
partners