Genealogy Tour
Genealogy in Salt Lake: What's In Your Family Tree?
Duration: 2 hours, plus research time 
Highlights: Temple Square, Family History Library, Church Museum of History & Art, LDS Conference Center, Temple Square Restaurants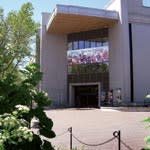 This tour will truly highlight the most visited attraction in Salt Lake City, The Church of Jesus Christ of Latter Day Saints and world famous Temple Square. You will have the opportunity to unlock the mysteries of your past at the world's largest genealogy data base found in the Family History Library, discover a collection of pioneer, Native American, and religious art and artifacts at the Church Museum of History and Art, and tour one of the country's newest architectural wonders at the new LDS Conference Center. Looking for more? Take your group to any one of four amazing restaurants on the Temple Square grounds, including the Lion House Pantry-former home of Mormon leader Brigham Young. This is a tour your group will not soon forget!
Note: If your trip falls on a Thursday or Sunday, be sure to catch a viewing of the Mormon Tabernacle Choir.
It's that time of year again—the wind is getting brisk, the colors are changing on the mountains, and the sound of leaves blowing down the street are followed by pumpkin lattes and co-eds sporting Han Solo boots-and-vest style on campus. That's right, one of the best holidays of...
Read More
partners