My Big Fat Utah Wedding: Bigger! Fatter! Utah-ier!
Thu, Jan 17
Presented By:

Desert Star Playhouse

at:

Desert Star Playhouse
4861 South State Street, Salt Lake City, UT 84107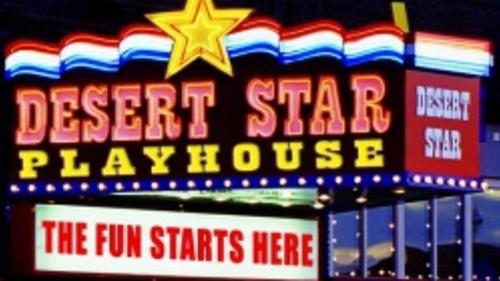 When "My Big Fat Utah Wedding" was originally performed at Desert Star in 2004-2005, it ran for an astounding 18 months, making it Utah's longest running theatrical production. Now, Desert Star is bringing back it's most popular show ever for a limited 11-week engagement."My Big Fat Utah Wedding" is the story of Gretchen, a free-spirited young woman who is twenty-six and unmarried, much to the dismay of her staunch LDS parents, Heber and Betty.  Gretchen is waiting for Mr. Right, but mom and dad would settle for just about anybody at this point. Just when Gretchen is ready to give up on love, Dax comes into her family's diner.  He's instantly smitten with Gretchen, and after a whirlwind courtship, the two decide to tie the knot.  But first they must break the news to Gretchen's family that Dax is a non-member!  And to top it off, Gretchen's jealous friend Annie wants to steal Dax for herself. With wedding planners running amok, interfering relatives, and scheming friends, will it be happily ever after or the wedding bell blues for Dax and Gretchen?
Event Info
Presented By: Desert Star Playhouse

Dates: 1/12/2019, 1/14/2019, 1/16/2019, 1/17/2019, 1/18/2019, 1/19/2019, 1/21/2019, 1/23/2019, 1/24/2019, 1/25/2019, 1/26/2019, 1/28/2019, 1/30/2019, 1/31/2019, 2/1/2019, 2/2/2019, 2/4/2019, 2/6/2019, 2/7/2019, 2/8/2019, 2/9/2019, 2/11/2019, 2/13/2019, 2/14/2019, 2/15/2019, 2/16/2019, 2/18/2019, 2/20/2019, 2/21/2019, 2/22/2019, 2/23/2019, 2/25/2019, 2/27/2019, 2/28/2019, 3/1/2019, 3/2/2019, 3/4/2019, 3/6/2019, 3/7/2019, 3/8/2019, 3/9/2019, 3/11/2019, 3/13/2019, 3/14/2019, 3/15/2019, 3/16/2019, 3/18/2019, 3/20/2019, 3/21/2019, 3/22/2019, 3/23/2019

Location: Desert Star Playhouse

Address: 4861 South State Street, Salt Lake City, UT 84107

Time: 8:30 PM to 10:30 PM
partners