Marvin Gaye - What's Going On + You're The Man (Selected Works) : LISTEN
Presented By:

EnvelopSLC

At:

EnvelopSLC

November 22, 2019

8:00 PM

- 9:30 PM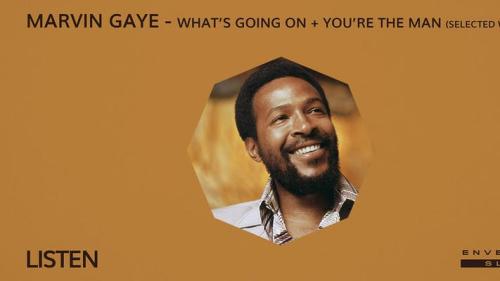 8pm General Admission7:30 PM Doors | 8:00 PM Start

The defining album from Marvin Gaye and a touchstone for soul and pop. We've upmixed the rare quadraphonic mix of this album for the 32 speakers of Envelop SLC and it sounds remarkable. Mixing gritty social commentary and anguished dissatisfaction with expressions of religious devotion; the singer once stated that the album had been written by God and merely delivered by Gaye. Non-standard musical arrangements, which heralded a new sound at the time, gives What's Going On a chilling edge that ultimately underscores its gravity. This listening event also includes our favorite selections from Marvin's follow-up to "What's Going On", a lost album until 2019 titled "You're The Man".

Envelop SLC is located at 660 North 300 West.Doors close 15 minutes after the start time.This is an all-ages event.Envelop is a nonprofit that amplifies the power of music through immersive listening experiences. With 32 speakers surrounding the audience, our immersive sound venues and free open source spatial audio tools, provide a space to deeply listen, relax and reset. We host a diversity of events ranging from spatial music performances and album listening events, to wellness and 3D audio education. Envelop allows us to be inside the music.
Event Info
Presented By: EnvelopSLC

Dates: November 22, 2019

Location: EnvelopSLC

Address: 660 N 300 W, Salt Lake City, UT 84103

Time: 8:00 PM to 9:30 PM

Categories: Music, R&B & Soul
Map & Location
660 N 300 W, Salt Lake City, UT 84103
partners