Historic 25th Street Wicked West Ghost Walk
Presented By:

Story Tours (Ogden and SLC Ghost Tours)

At:

Ogden's Historic 25th Street

October 17, 2019

8:00 PM

- 9:45 PM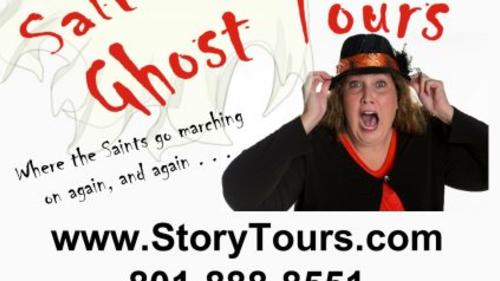 Stroll down the WEST blocks of Historic Two-Bit Street and back in time.  Learn about the GHOSTS who continue to dwell in these local HAUNTS.  Stories of murders, madams and mayhem will keep you on your toes as you join this GHOST WALK in one of the most haunted cities in the United States.Meeting Place: Pearl Milk Tea Club

 110 25th Street, Ogden, Utah 84401

The Wicked West Ghost Walk covers the buildings/stories of the WEST portion of 25th St beginning at the Pearl Milk Tea Club across from the Union Station on the North side of 25th St.


Event Info
Presented By: Story Tours (Ogden and SLC Ghost Tours)

Dates: 10/12/2019, 10/17/2019, 10/18/2019, 10/19/2019, 10/24/2019, 10/25/2019, 10/26/2019, 10/31/2019, 11/1/2019, 11/2/2019

Location: Ogden's Historic 25th Street

Address: 25th Street Wall Avenue to Grant Avenue, Ogden, UT 84401

Time: 8:00 PM to 9:45 PM

Categories: Humanities, Storytelling, Special Events, Discounts & Free, Student Discounts, Family, Festivals & Special Events, History & Heritage, Holiday
Map & Location
25th Street Wall Avenue to Grant Avenue, Ogden, UT 84401
partners