Francisco Cantú, Natalie Scenters-Zapico, Antonio Ruiz-Camacho, and Yuri Herrera Reading
Thu, Apr 04
Presented By:

University of Utah Guest Writers Series and Hivemi...

at:

Salt Lake City Public Library (Main Branch)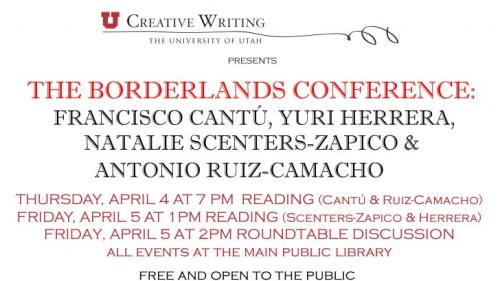 The University of Utah Guest Writers Series presents the Borderlands Conference, with readings by Francisco Cantú, Antonio Ruiz-Camacho, Natalie Scenters-Zapico, and Yuri Herrera. A roundtable discussion with all four writers will take place on Friday, April 5th, from 2 – 3pm.

Francisco Cantú served as an agent for the United States Border Patrol from 2008 to 2012, working in the deserts of Arizona, New Mexico, and Texas. A former Fulbright fellow, he is the recipient of a Pushcart Prize and a 2017 Whiting Award. His writing and translations have been featured in Best American Essays, Harper's, n+1, Orion, and Guernica, as well as on This American Life. He lives in Tucson.

Antonio Ruiz-Camacho was born and raised in Toluca, Mexico. He has received fellowships, scholarships and residencies from the Dobie Paisano Fellowships program from the University of Texas at Austin and the Texas Institute of Letters, the Journalism Knight Fellowships program at Stanford, the Corporation of Yaddo, Sewanee Writers' Conference, Bread Loaf Writers' Conference and Elisabet Ney Museum. He earned his MFA from The New Writers Project at UT Austin. His work has appeared in The New York Times, Salon, Texas Monthly, and elsewhere. His debut story collection, Barefoot Dogs, won the Jesse H. Jones Award, was named one of the best books of 2015 by Kirkus Reviews Best Book, San Francisco Chronicle, Texas of Observer and PRI's The World, and was published in Spanish in translation by the author. Ruiz-Camacho lives in Austin with his family, where he's currently at work on a novel.

Natalie Scenters-Zapico is a fronteriza from the sister cities of El Paso, Texas, USA and Cd. Juárez, Chihuahua, México. She is the author of The Verging Cities (Center for Literary Publishing 2015), winner of the PEN America/Osterweil, GLCA, and Utah Book Awards, as well as Lima :: Limón (Copper Canyon Press April 2019). She holds fellowships from the Lannan Foundation, CantoMundo, and the Poetry Foundation. She teaches poetry at Bennington College. 

Yuri Hererera was born in Actopan, Mexico, in 1970. He studied Politics in Mexico, Creative Writing in El Paso and took his PhD in literature at Berkeley. His first novel to appear in English, Signs Preceding the End of the World, was published to great critical acclaim in 2015 and included in many Best-of-Year lists, including The Guardian's Best Fiction and NBC News's Ten Great Latino Books, going on to win the 2016 Best Translated Book Award. He is currently teaching at the Tulane University, in New Orleans.

The event is free and open to the public. It's made possible with support from the University of Utah English Department, the University of Utah Office of Senior Vice President for Academic Affairs, the University of Utah Center for Latin American Studies, the Utah Humanities Council, the Salt Lake County Zoo, Arts and Parks Program, the Utah Division of Arts and Museums, and the Salt Lake City Arts Council.


Event Info
Presented By: University of Utah Guest Writers Series and Hivemi...

Dates: 4/4/2019, 4/5/2019

Location: Salt Lake City Public Library (Main Branch)

Address: 210 East 400 South, Salt Lake City, UT 84111

Time: 1:00 PM to 3:00 PM
Map & Location
210 East 400 South, Salt Lake City, UT 84111
partners