Win an Awesome Prize in the Salt Lake Exposed Photo Contest

Do you know an enchanted corner of Salt Lake City? An uncaptured angle? A local dish, scene, or work of art prime for its pixel-y debut? Well, now's your chance to represent.
Salt Lake Exposed is a photo competition for photographers of all levels. It doesn't matter if you snap quickies with your phone or painstakingly compose long exposures; we want to see the city through your eyes. Here's how to enter and win...
Contest Details
Enter the contest on the Visit Salt Lake Facebook page between June 19th and July 6th. You can submit as many photos as you like, in the following five categories:
Salt Lake After Dark
Urban Adventure
Art & Architecture
Gather 'Round
Taste of Salt Lake
All approved submissions will be viewable in a gallery on Facebook.
There will be seven winners in total: one overall grand-prize winner, five first-place winners (one per category), and one "fan favorite" winner.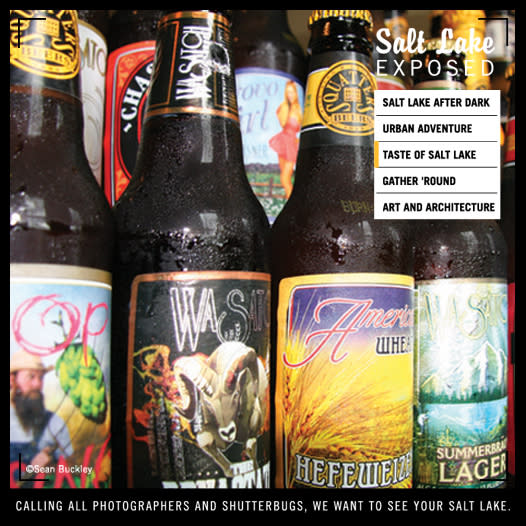 Judging
The panel of judges will select the grand-prize winner, the five first-place winners, and the 15 "fan favorite" contenders (three from each category). Visit Salt Lake's Facebook fans will then vote on these contenders.
Prizes
Grand Prize (1): $750 Pictureline gift certificate
First Place (5): $500 Pictureline gift certificate
Facebook Fan Favorite (1): $500 Pictureline gift certificate
All winning images will be featured in the 2015 Spring/Summer Visit Salt Lake Visitors Guide, with a possible cover feature.
Free Photography Workshops
If you're dying to get your hands on one of those Pictureline gift certificates and could use some expert advice to hone your skills, there will be two free workshops during the contest window:
June 25th, 5-6:30 pm: Photo 101 Workshop, hosted by Pictureline | Pictureline Camera Store [link to listing], 305 W 700 S, Salt Lake City, UT 84101
July 1st, 5:30-7:30 pm: Improve Your Photography Workshop, hosted by Lee Cohen, local adventure photographer | Squatters Pub Brewery, 147 W Broadway, Salt Lake City, UT 84101
Add these events to your calendar, grab your camera, and let the Salt Lake exposition begin!