Wasatch Mountain Table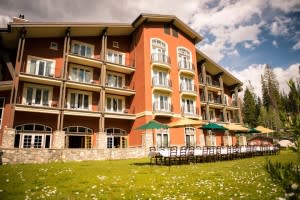 If you're thinking of escaping the summer heat this year, make sure Solitude Mountain Resort is at the top of your list. Starting June 29th the resort begins their excellent Wasatch Mountain Table dinner series, under the expert watch of executive chef Michael Richey.
Richey's experience in Utah includes time as executive chef at Pago, sous chef at the Treeroom (Sundance), sous chef at The Aerie (Snowbird) and sous chef at the Globe restaurant. Couple that experience with a focus on highlighting local producers such as M & M Farms and Beehive Cheese, not to mention wines from Ruth Lewandowski Wines, and you've got a dinner series as delicious as it promises to be beautiful. Dates for this years dinners are as follow:
June 29th, 2013
July 13th, 2013
August 3rd, 2013
August 17th, 2013
September 7th, 2013
During the series, local farmers and ranchers often pop by, and meals include an appetizer reception followed by a four course dinner (with optional wine pairings) at a communal "Mountain Table" alongside Big Cottonwood Creek. Dinners are priced at $75 per person or $110 per person with wine pairing. Reservations are recommended, (801) 536-5722.
Still need convincing? Check out this sample menu…