Twilight 2013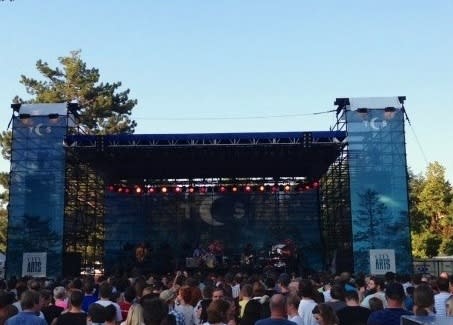 Thursday evening, July 18, 2013, marked the start of the highly anticipated 2013 Twilight Concert Series.  Now in its 26th year, with an admission fee of only $5, the series of Thursday night shows boasts an impressive lineup of artists (find the full lineup here: Twilight Concert Series full lineup). 
The recent rise in temperatures has melted anyone and anything who dares walk outside, but the 100 degree heat is nothing compared to the face melting guitar riffs that are sure to come this season.  With big names like the Flaming Lips and Kid Cudi set to play the Twilight stage, mingled with a few rock-scene stalwarts and several up-and-coming bands, Twilight offers something for every music fan. 
As the series kicked off last night, the excitement and anticipation were palpable, crowds of expectant concert-goers flocking to Pioneer Park in a flurry. The city's music fanatics, deprived of their weekly concert fix through the long, cold winter, seemed eager to make up for lost time. 
Twilight Concert Series fan and supporter, Clinton Baker, made the bold exclamation that Twilight is his "favorite part of summer in Salt Lake City!" 
With the first guitar strum of the series, Portland-based ensemble Blitzen Trapper kicked things off, followed by the headliner Belle and Sebastian.  Playing for a crowd of nearly 14,000, the sun setting behind them, the scene was a welcome reminder of the fantastic summer activities that Salt Lake has to offer. 
The Twilight Concert Series has brought energy and vibrancy to summertime downtown, and contributed to the rising sense of pride that locals feel for their city.  The buzz generated by the series provides a helpful boost for downtown businesses, and adds another great set of events to the long list of Salt Lake concerts slated for this summer. 
If you're new to the city, Twilight is certainly worthy of your summer to-do list.  And if you're a seasoned Twilighter, here's to another successful summer of music in Salt Lake City!