Treasure Hunting / Geocaching in Salt Lake
First attempt at geocaching (treasure hunting) in Salt Lake = FUN.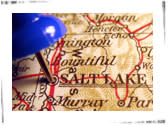 But before I go too far into details about my treasure hunting experience, you might ask 'what is geocaching?'. I asked the same question last week in Seattle, where I had the pleasure to visit Groundspeak (the company that manages geocaching.com and other location based adventures).

Prior to visiting Groundspeak, I had little knowledge of geocaching. But I learned of the worldwide enthusiasm for geoaching: a real-life treasure hunting adventure where you get clues and GPS coordinates to a geocache (treasure location); I saw an interactive map of "Trackables" (treasure pieces) move around the globe with over 2,341,423 active geocaches and over 6 million geocachers worldwide; and I heard from volunteers who became Groundspeak employees because of their passion for geocaching. I also learned that Salt Lake has 17,877 geocaches. At this point, I was hooked. I love adventure, maps, puzzles, treasure, 'The Goonies' - and now geocaching.

So I was fairly excited to go on my first Salt Lake treasure hunt. Back home, I entered my location into geocaching.com, looked at the list of nearby Salt Lake geocaches and found a description that was rated 3 ½ stars out of 5 for difficulty. Perhaps a bit too advanced for my first attempt, but it was intriguing. Thus, I set out on a lovely evening stroll with my iPhone in hand (after downloading geocaching.com and a GPS app) and began the hunt.

45 minutes later, a dead phone battery and no geocache in site, I could not be more pleased at failing! It was a beautiful sunset, I explored my neighborhood seeing new sites that I had not noticed before, talked to neighbors, met pets, and had my own adventure (also it was fun trying to be inconspicuous while picking up rocks and branches).

The next day my roommate and I woke at dawn to find a less difficult, nearby SLC geocache and SUCCESS! I found it, found some fun creatures inside the cache, logged it, and earned geocaching points. Also, I think my roommate is just is excited as I am and will be my new geocaching excursion partner. 

So even though I have not found my original geocache yet, I will continue to try and I look forward to finding more geocaches in Salt Lake.

If you want to join in the on the fun of geocaching, check out this site for some starter tips and remember:
• Geocaches are hidden, but not buried.
• Make sure your phone and GPS device are charged.

• Anyone can be a geocacher.

• You can go alone or with friends/family.

• Have fun and enjoy the adventure!