In 2009, the first Craft Lake City DIY Festival launched with the mission to educate, promote and inspire local artisans while elevating the creative culture of the Utah arts community through science, technology and art. Craft Lake City does this by showcasing locals with exceptional technical skill and promoting regional spending through creative commerce in Utah. Eleven years later, craft fairs and farmers' markets are now as "Salt Lake City" as mountain views or our collective worker-bee spirit⁠⁠⁠.
This year, The 12th Annual Craft Lake City DIY Festival will bring us together to celebrate the do-it-yourself (DIY) mentality, even with the challenges presented by COVID-19, says Angela H. Brown, Executive Director of Craft Lake City. Although 2020's Festival will be hosted in a virtual reality environment, the format has been designed so you can still interact with 150-plus craftspeople, makers and engineers who craft with technology, create innovative household products and decorative objects. Attendees, volunteers and exhibitors will communicate inside the platform using digital avatars to represent themselves and talk using their computer microphones or headsets. Here, three of these local artists discuss their wares and participation in the Virtual DIY Festival.
Cándida Duran Taveras, Sunlight Vida
Duran Taveras is as bright and colorful as her tie-dye: She's an artist, award-winning filmmaker and a birth worker/doula. "My art is how I am able to express myself and share it with the world while bringing in funds so that I can provide my doula services at a sliding scale to [Black, Indigenous and people of color]," she says. "Systemic racism and implicit bias are rampant … in reproductive healthcare. Did you know you're three-to-four times more likely to die for being pregnant while Black? Birth workers of Color are crucial in challenging the disparities our communities face in reproductive healthcare … I strongly believe that anyone who wants to have a doula should be able to."
 
When she started dying clothing, "I started off like everyone else," she says. "I was a kid buying kits and dyes from the grocery store, but about 10 years ago, I started researching how to make my tie-dye look better and found online communities of people who tie-dyed professionally. Then I really got into it and worked my butt off to get to their level."

In terms of how she's been impacted by the pandemic, Duran Taveras says that when COVID hit, she didn't know how her small businesses would react, but the DIY Festival's virtual format is helping participants to adopt new technologies for their stores. "We are encouraging artisan participants to build their own virtual galleries so they are learning a new DIY skill in a technology platform," says Brown. "They are digital pioneers."
Regarding the Virtual Festival, Duran Taveras is excited for what this Festival format has to offer. "After seeing the roll out of the plans, I think it will be a very cool experience." You can find more information about Sunlight Vida at her Etsy shop and doula information at sunlightvida.com.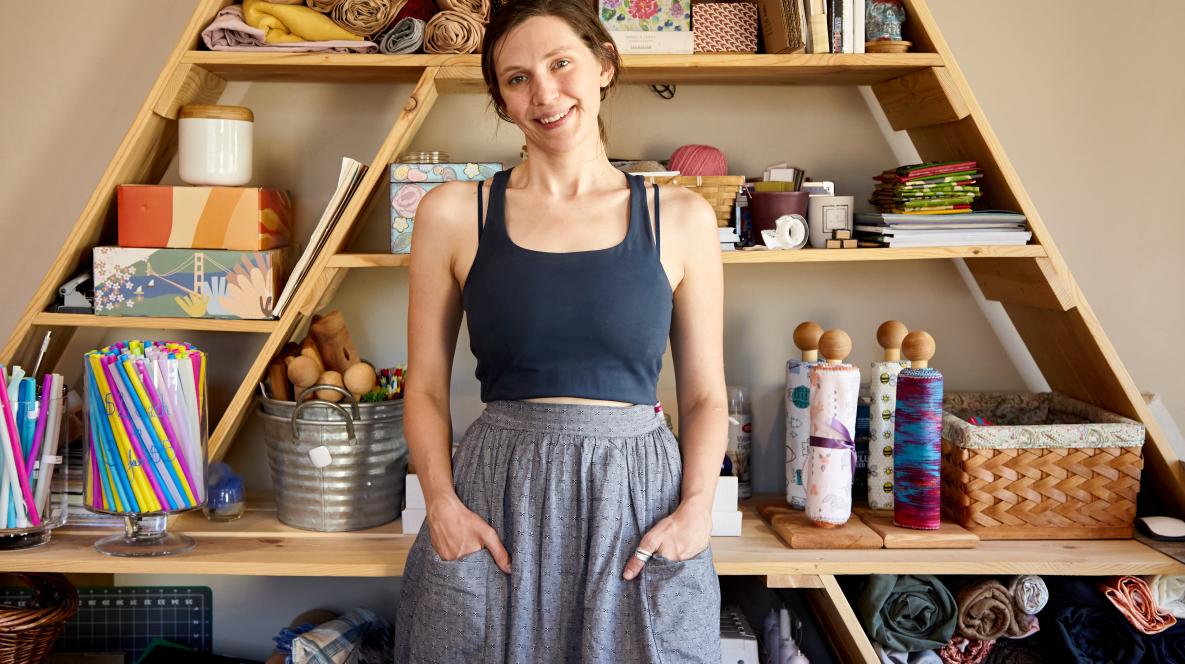 Faith Elenbaas, EcoBloom
One solution she's created this year are zippered snack bags with wipeable linings, so lunches don't have to leave behind their traces for centuries or millennia. Her website also sells metal smoothie straws, bamboo utensils, wool dryer balls and no-waste sets such as the Plastic Free Children's Easter Basket.
 
Elenbaas says her business has been impacted by the pandemic. "COVID has made it harder to sell my products," says Elenbaas. "I mostly sold at markets like the DIY Fest prior, but now I'm looking for new ways to make my website more widely known so my products can help people reduce their waste and work towards a future that is less harsh on the environment."

The Virtual DIY Festival puts all of Elenbaas' and other artisans' crafts into one place with two different virtual experience options. Virtual DIY patrons can either enter the festival by visiting alphabetical artisan profiles with links to their stores, social media and their virtual gallery, or via a 3D virtual experience by selecting an avatar, entering the lobby of a festival area and locating their exhibitor's gallery alphabetically. They may shop by clicking on the exhibitors store links and chat virtually with the artisan.
To check out her eco-friendly wares ahead of the festival and learn more about EcoBloom and Elenbaas' products, see her Instagram and website.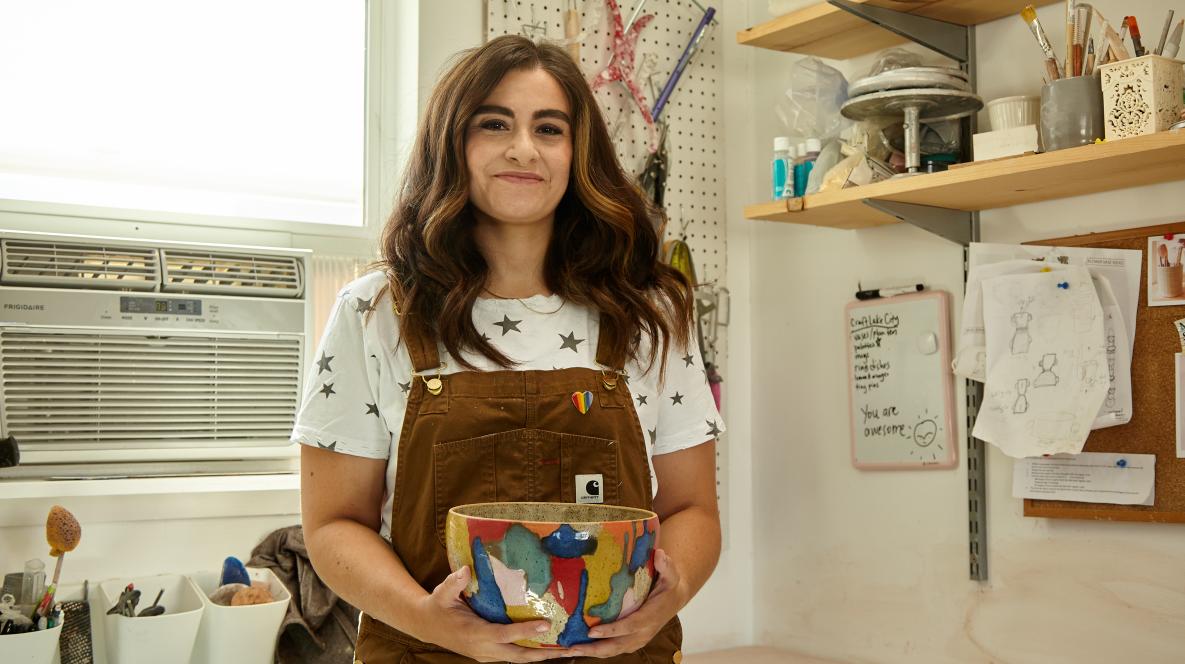 Betsy Croft, Betsy Croft Pottery
"I have always lived an artistic life, so I spend all my days thinking creatively and breathing life [into] my work. I never considered art to be a passing pursuit or a fleeting interest; it was destined to be a part of my life in a very serious way," she says. "When I am not making art, I am thinking about making art. Every aspect of my life revolves around art. I began to sell art when I realized that my passion needed to be funded, and talents and skills compensated."

She includes creative and cute items in her product line you don't always see in ceramics, including an avocado mirror, a bird-shaped spoon rest and a ceramic-house tea light. "My favorite way to decorate pottery is with a variety of colorful glazes, and with simple yet striking designs," Croft says. "Even when I paint with a rainbow palette of colors, I try to treat each surface like a composed painting. Every pot I make is intended to be its own work of art."
Attend Craft Lake City online in August
2020 put a wrench in a lot of plans, but the powerhouses behind the Virtual 12th Annual Craft Lake City DIY Festival presented by Harmons have found innovative ways to bring artisans and art lovers together. "We identified key components that make the Annual DIY Festival unique and special, like face-to-face interactions, and workshopped new ways to provide those opportunities," says Brown. "We created a vision for this year's Festival without knowing how to manifest it and then worked through concepts one at a time. We searched for the right team. We searched for funding. We stayed positive and believed in our collective vision."

The Craft Lake City Virtual DIY Festival Presented by Harmons will take place Aug. 7–9, 2020. Craft Lake City has created an exclusive URL for the virtual version of the event, virtualdiyfestival.com. As mentioned above, you will be able to choose from two options to experience the festival and meet artisans, so you can still get some of the things you love about traditional craft festivals. Sign up to receive emails about the Virtual DIY Festival at craftlakecity.com/diy-festival, and don't forget to follow @craftlakecity, #clcdiyfest and #craftlakecity for updates.