The Natural History Museum of Utah
Geckos Live!
The Natural History Museum of Utah is an adventure into the past for young and old alike. If you haven't been recently, we recommend a visit to see the new Geckos Live exhibit.  
Geckos Live!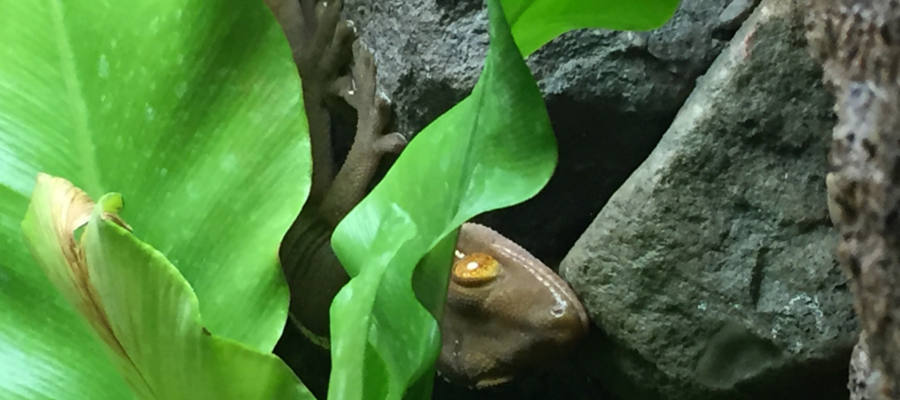 Bulging eyes, sticky toepads, incredible night vision and disposable body parts—welcome to a gecko's world! Geckos are incredibly adaptable and have conquered habitats from balmy tropical beaches and lush rainforests to frigid mountain slopes and parched deserts. More than 1,200 species range from shadowy, nighttime hunters with bulging eyes and squawking voices to bold, nectar eaters that scamper around in daylight, adorned in neon colors. 
Come meet live geckos from around the world that re-create their natural environments in astonishing detail. Then explore interactives that allow you to experience gecko night vision, listen to gecko voices, try to spot camouflaged geckos, and build a custom gecko for various environments. Geckos Live! is included in the price of general admission. Free to members. The exhibit ends on May 1st.
Past Worlds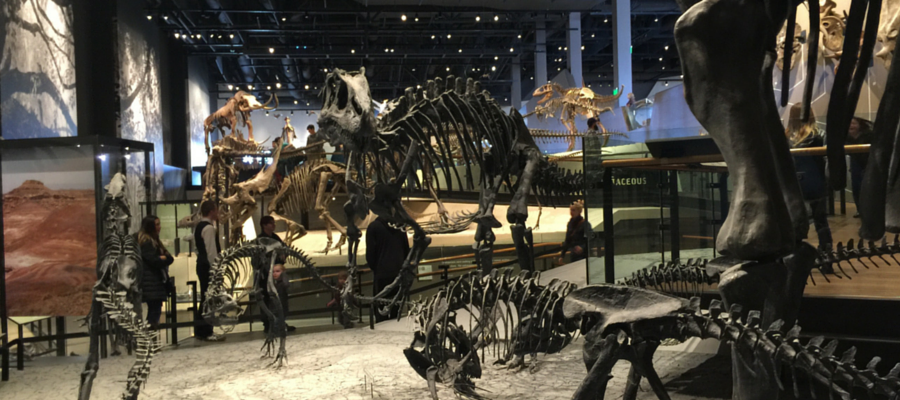 Specimens dating back hundreds of millions of years are brought to life in displays that capture plant and animal diversity, sights, sounds and smells of the time. In this gallery, there are many skeletal reconstructions on display, including a Gryposaurus (duck-billed) dinosaur made of original fossil material, and the world's largest display of 14 Ceratopsian (horned) dinosaur skulls.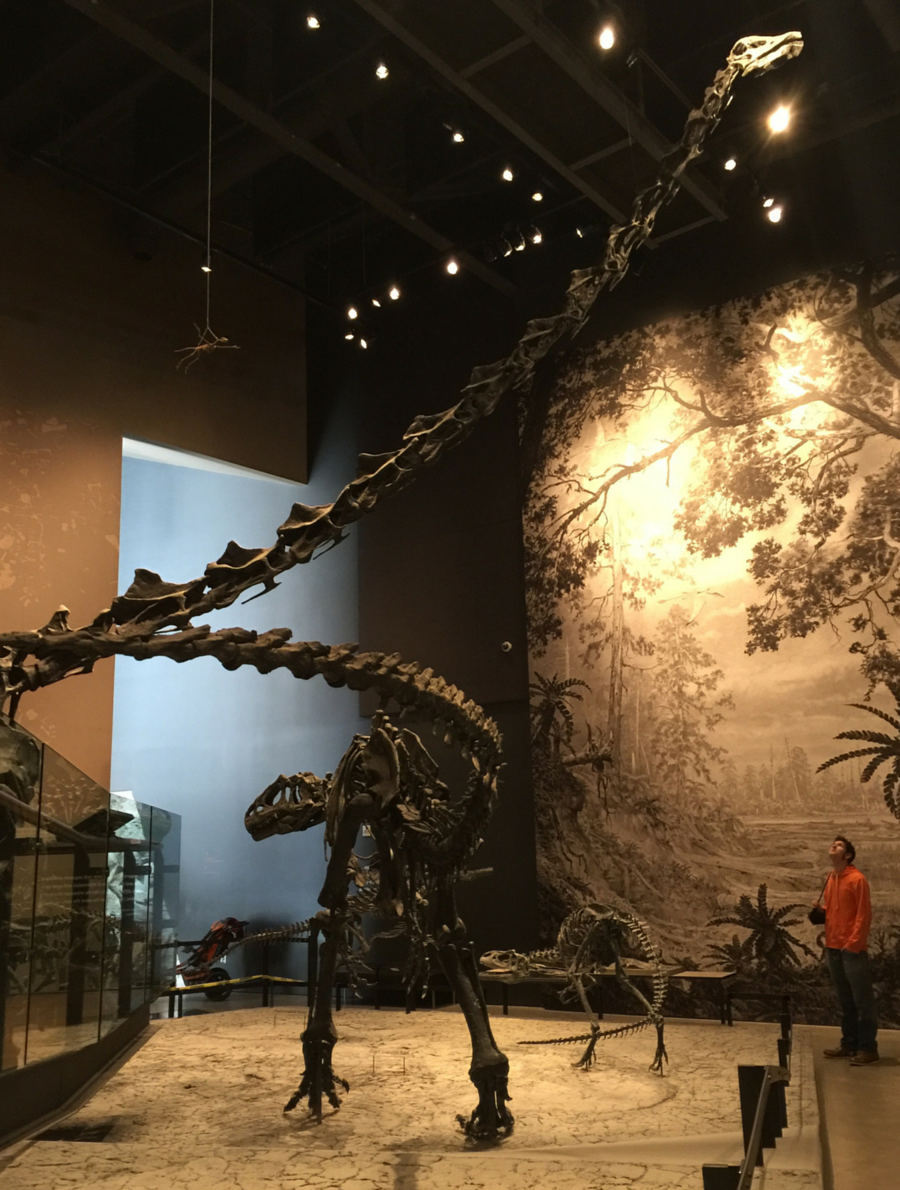 Even people who are 6'4" are impressed...
A sequence of snapshots in time spanning 500 million years depicts a range of Utah's ancient environments and their changing life forms.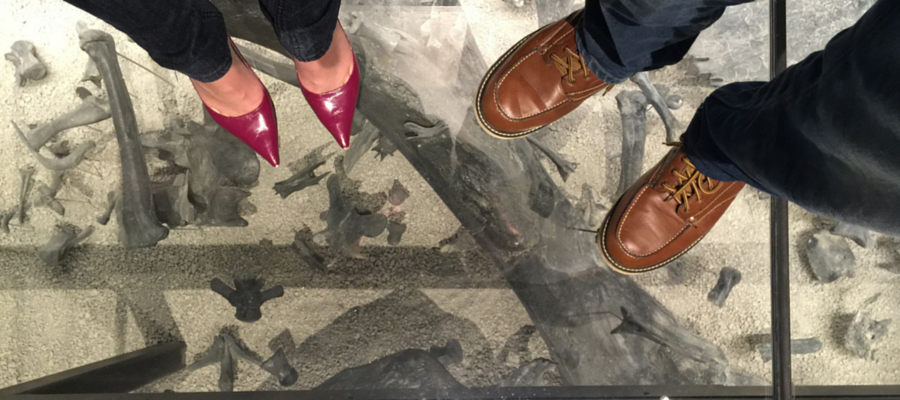 You can even walk over glass floors and see what a fossil dig looks like close up. Utah's Late Cretaceous and Eocene are brought to life in displays that capture plant and animal diversity, sights, sounds and smells of the time.
Our Backyard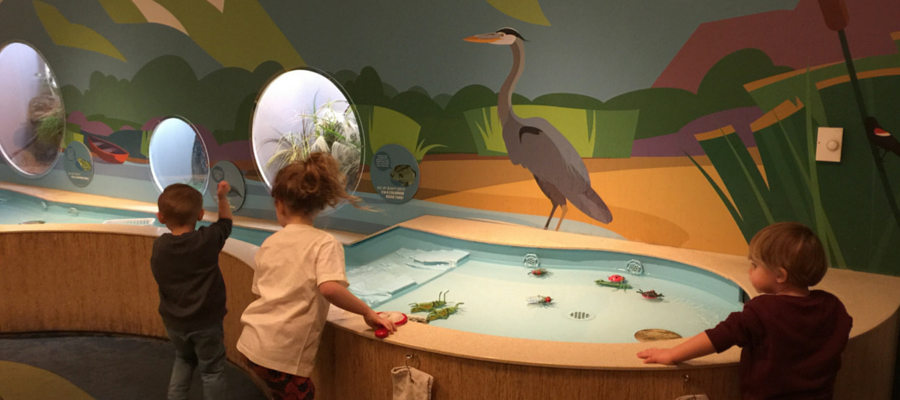 An intimate, discovery-based environment invites our youngest visitors to experience natural history first hand.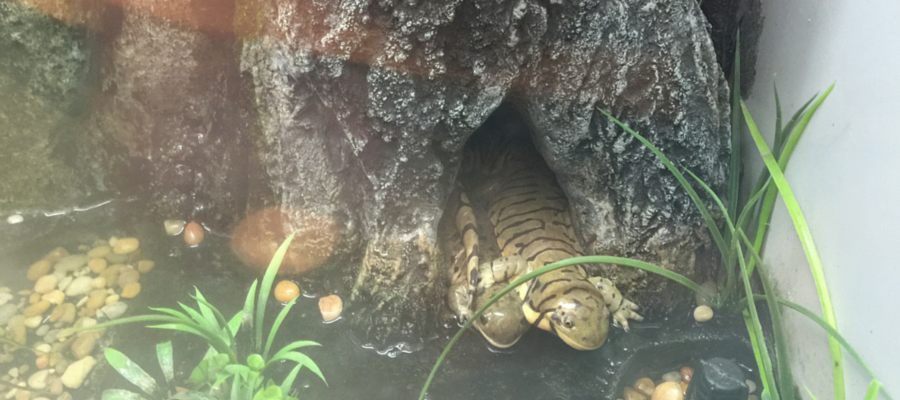 Have a look at live species that can commonly be found in your backyard at home. We found these little salamanders squeezing in a cuddle before lunch.
 "Meet" life that thrives underground in the underground crawl area, and get your hands wet in the pond/stream play area. This fun, inviting space is sure to encourage curiosity.
Gems and Minerals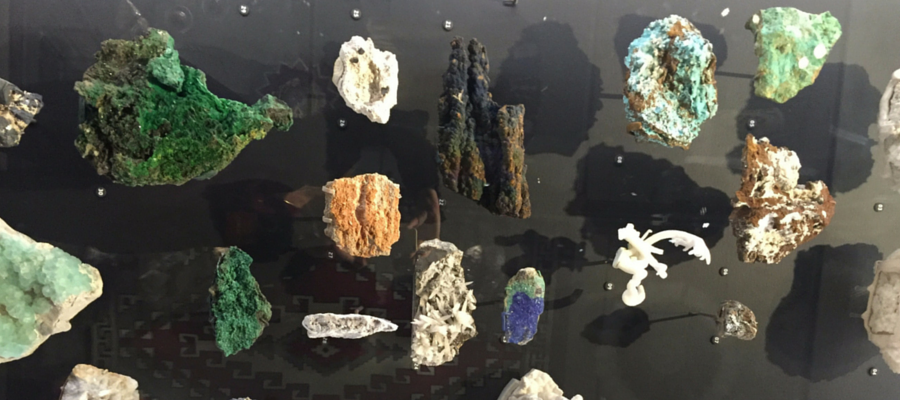 Rough mineral forms are juxtaposed with elegant cut gemstones, all in brilliant colors. Peer in to see minerals that fluoresce and take in 12 vertical feet of minerals suspended before you. The Gems and Minerals exhibition is located in the O.C. Tanner Hall. 
Sky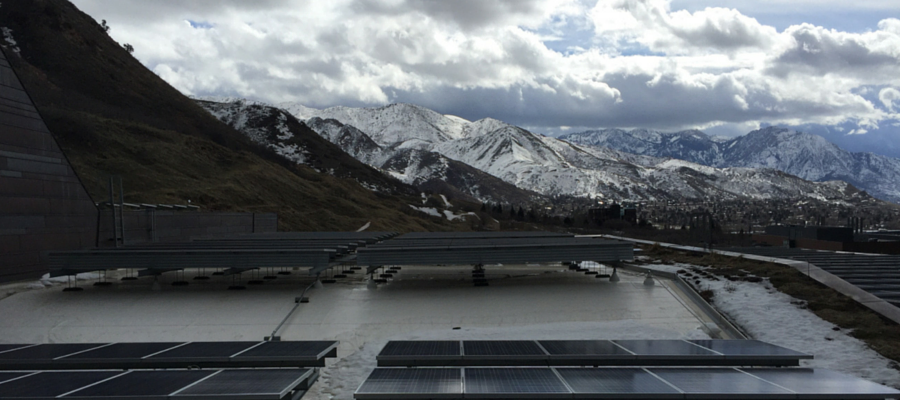 Weather, climate, astronomy, and the sun are interpreted in this gallery with its adjacent rooftop terrace. Check out the views of the Salt Lake Valley and learn about some of the Museum's "green building" features from the Sky terrace.
Native Voices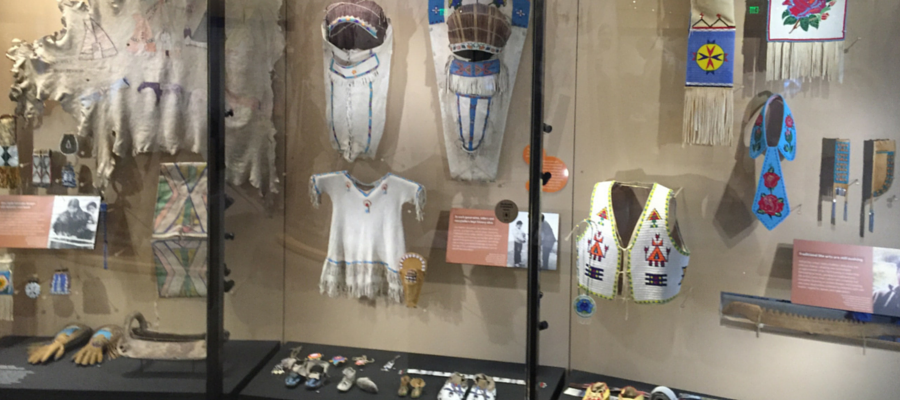 The traditions of Utah's native people are featured in this circular gallery nestled in the hillside at the top of the building. Designed in consultation with Utah's Indian community, this exhibition depicts Native American art and culture and interprets the deep memory and contemporary presence of Utah's indigenous people. Visit the Storytelling circle where you can listen to stories of origin and connection to the land. 
Life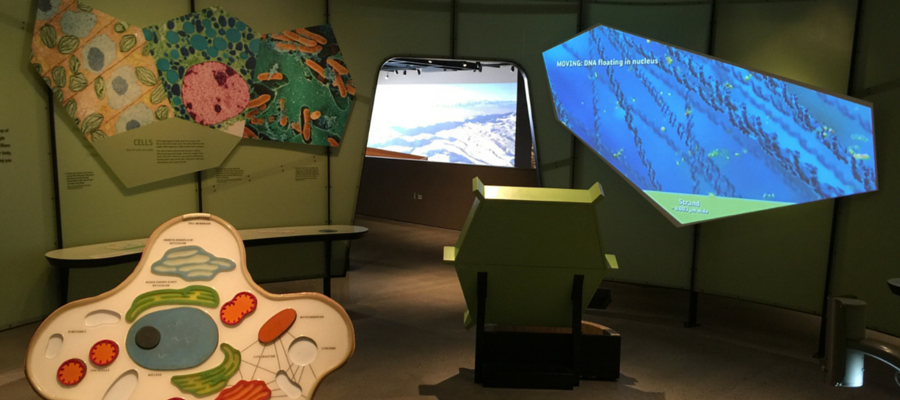 The web of life is illustrated in a series of exhibits exploring complexity from DNA to Ecosystems, with a focus on Utah's extraordinary biological diversity. This exhibition is rich with images, sounds of the landscape, hands-on experiences, live animals, and research stories. 
Land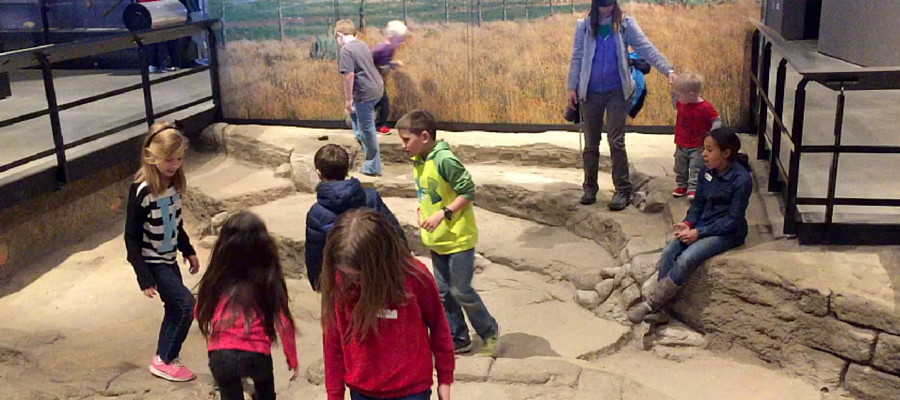 A journey through three distinct physiographic regions formed over millions of years, the Land showcases Utah's Middle Rocky Mountains, Basin and Range, and Colorado Plateau. While navigating the switchbacks, touch real rock specimens and explore interactive exhibits on earthquakes, plate tectonics, erosion and much more.
First Peoples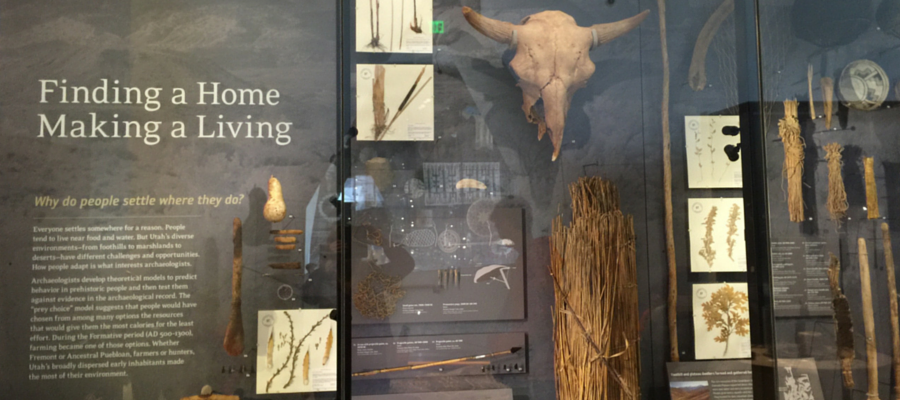 The story of Great Basin's prehistoric peoples is told while putting visitors in the shoes of archaeologists who use science to interpret the past. Explore Median Village, a reconstruction of an actual archaeological dig site excavated in the 1960s in Sevier County, Utah. Stop in the Dry Caves Learning Lab to learn more about what makes Utah so spectacular for preserving archaeological evidence.
Great Salt Lake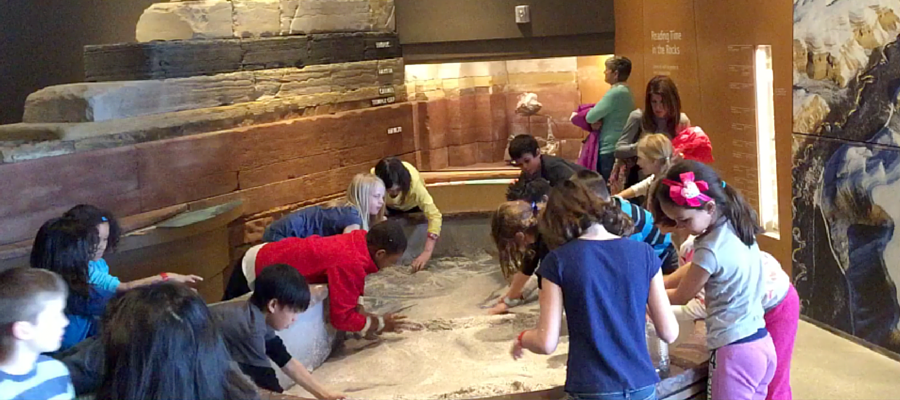 The compelling narrative of the Great Salt Lake, a remnant of ancient Lake Bonneville is brought to life through hands-on interactives, sounds, smells, and a spectacular view of the Lake itself. 
Take a "walk around" this large terminal body of water in the midst of a vast inland desert. Get an up-close view of some of the lake's smaller inhabitants.  
Annual Museum Membership
With stunning and sustainable design, inventive exhibits, dynamic programs, breathtaking views and access to adventures across Utah the Natural History Museum of Utah is a place you'll want to visit again and again. And when you join the Museum as a Member, you become an integral part of it.
All membership levels include the following benefits for one year: 
Unlimited free Museum admission with express entry
10% discounts in Museum Store, Café, and on Museum Workshops
Invitations to Members-Only previews of Special Exhibits including admission to Hospitality Suite
Admission to Hospitality Suite at our annual "Behind the Scenes" event Free or reduced admission to 300+ museums and science centers worldwide through the ASTC Passport Program (local institutions excluded; visit ASTC.org for details)
Opportunity to reserve advance tickets for the NHMU Lecture Series keynote lecture 
Individual - $59
All member benefits for one person
Dual - $79
All member benefits for two individuals in the same household
Family - $109 
All member benefits for two adults in the same household and up to 6 children in household or up to 6 grandchildren; children and grandchildren 18 years or under 10% discount on Summer Camps 10% discount on Birthday Parties for children 
Naturalist - $250 
All Family-level member benefits Free admission for 2 guests on every visit 15% discount on Summer Camps 15% discount on Birthday Parties for children 
Curator - $500 
All Naturalist-level member benefits Access to private, guided tour Invitations to exclusive curator-led tour of Museum's collections
To learn more about Museum Membership benefits — Click Here