The Largest Disco Ball in the US
Eve WinterFest is Salt Lake's biggest New Years' Eve party, drawing 40,000 plus attendees. Locals mix with vacationing skiers and boarders at this community event, which costs just $20 for a three-day pass that includes access to a dozen venues downtown, from a Utah Jazz game to museums, comedy shows, movies, and more.
This year Salt Lake will become Disco City for a night and change things up with a clean-air alternative to fireworks: the largest disco ball in the U.S. A 20-foot-wide ball will be suspended over downtown on December 31st, and will feature lasers and lights to ring in the New Year in a unique way. An ambitious art installation of this size and scale would illuminate the city with an awesome light show, and it'll be unlike anything you've ever seen.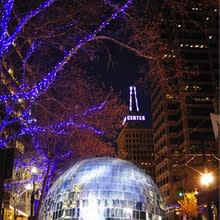 When asked why EVE WinterFest decided to swap fireworks with a disco ball, Nick Como responded "Fireworks are easy—anyone can do them. But a record-breaking disco ball that's 20 feet wide? Now, that's awesome. Add in some laser beams, and everyone from John Travolta to Dr. Evil would be ready to bust a move on New Years EVE in SLC."
One thing is for sure: you'll have the best ski vacation story when you return from Salt Lake (aka Ski City.) Deep powder and disco? We can't think of a better pairing.
Contribute to or learn more about the project here.