Take a Stroll Down Libation Lane
You probably won't make it to all of the fine establishments on this list, but even an excerpt of the full crawl will make for a fun night out with friends or colleagues.
START: Brigham Young's Statue
In Salt Lake, all roads lead to Temple Square. The street numbering system originates at the square. Four streets border it—North Temple, West Temple, South Temple, and Main Street—and the street counts out from there by 100s, forming a grid. Your downtown bar crawl starts at the top of Main Street, at the feet of Salt Lake founder Brigham Young. Follow his stern gaze down Main Street in the right direction of SLC's thirstier side.
PHOTO OP: Before you embark, check out Main Street Plaza's reflecting pool and spectacular Salt Lake Temple.
FIRST STOP: GRAPES OR GRAINS?
Grapes?
Head south on Main Street and take a left on 100 South, the first street south of South Temple. On the right is BTG Wine Bar, where you'll find more than 75 varietals by the glass and a tasty menu of small bites from next-door Caffe Molise.
ALONG THE WAY: This block of Main Street bisects City Creek Center, downtown Salt Lake's state-of-the art shopping destination. Pop into one of many popular stores, including Tiffany's, Nordstrom, Free People, and J. Crew, or stop into the wonderful local Chalk Garden Co-op on the northwest corner of Main and 100 South.
Grains?
Head south on Main Street, cross 100 South, and on the right you'll see the Beerhive, a manly pub with a long bar, an ice rail, a huge list of craft beers, and knowledgeable bartenders to guide you through it.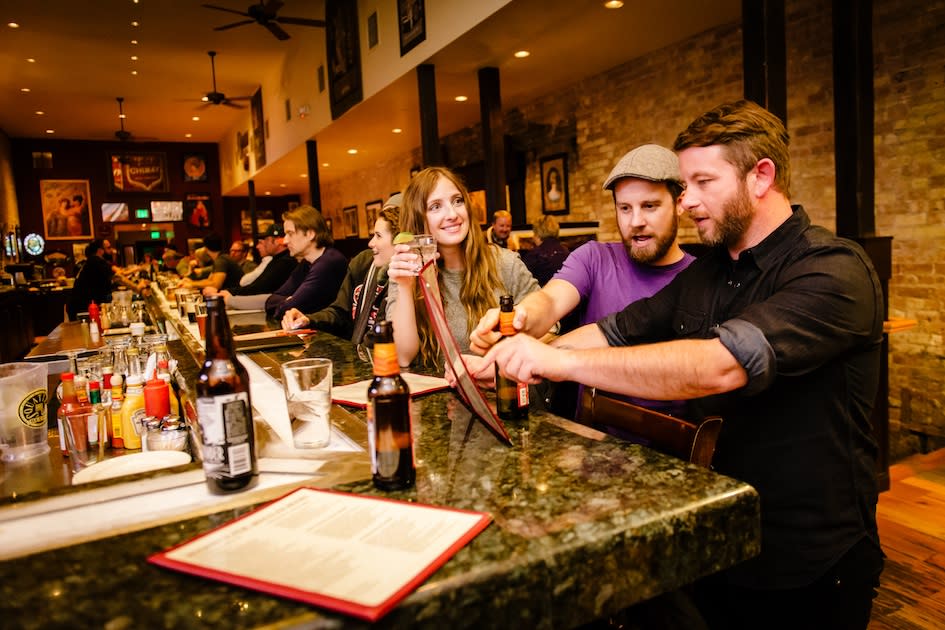 ALONG THE WAY: Notice the ornate Zions Bank building on the southwest corner of 100 South and Main, the oldest commercial banking structure in the Intermountain West.
STOP 2: THE VAULT AT BAMBARA
The Vault is the classy bar located in the back of Bambara Restaurant on the ground floor of Hotel Monaco. With its excellent wine list and cocktails, this is an elegant spot to nosh, sip, and meet fellow Salt Lake visitors. (Try the blue cheese potato chips.)
STOP 3: BAR-X AND BEER BAR
Head east on 200 South to these celebrity-owned sister bars in the lively 2nd and 2nd micro 'hood. Bar X is a sultry cocktail bar whose handcrafted cocktails and dim mood lighting contrast the rowdier German-beer-hall-style Beer Bar, which features hundreds of local and imported beers, artisanal sausages, and a fun bus to Real Salt Lake matches at the Rio Tinto stadium.
PHOTO OP: You'll pass by Gallivan Plaza, where you'll often find food trucks, live music, and/or festivals.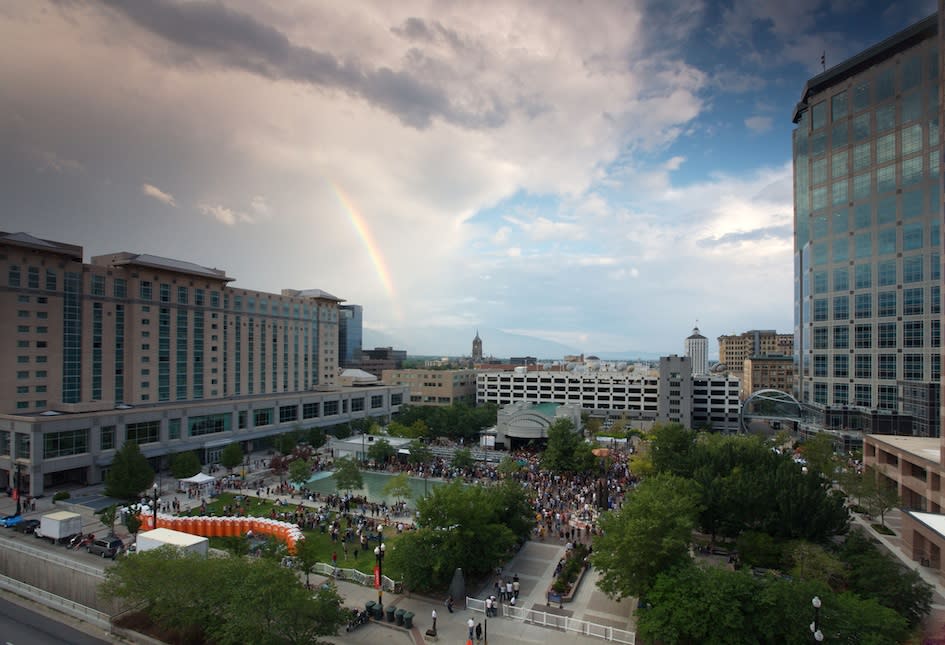 STOP 4: COPPER COMMON
Cross 200 South and head down Plum Alley to Copper Common, a hip yet cozy space where you'll find refreshing seasonal cocktails, wine on tap, an excellent raw bar with fresh oysters and sashimi, and an excellent small-plates menu. The outdoor seating area is perfect for people-watching.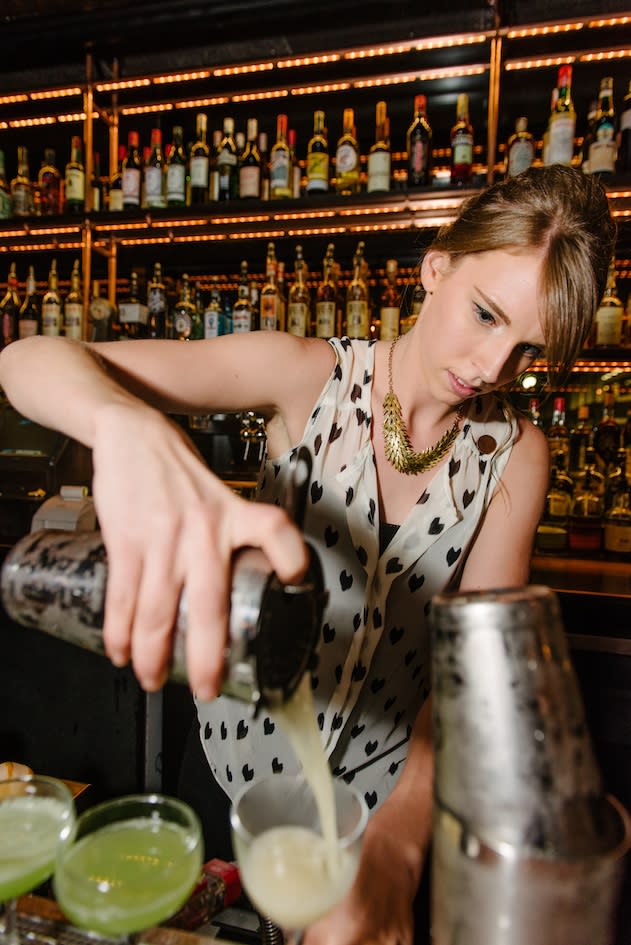 ALONG THE WAY: You'll travel through Plum Alley, which was center of Salt Lake's historical Chinatown. It was also notoriously one of Salt Lake's red-light districts, where railroad workers and miners came to gamble and patronize brothels.
PHOTO OP: Near the entrance to the alley, on the building at 160 East 200 South, is one Salt Lake's many works of street art, the Virgin Mary by artists El Mac and Retna.
STOP 5: JUNIOR'S TAVERN
Leaving Copper Common, head west on 300 South (also known as Broadway), cross State Street, and enter Junior's Tavern. This is a small, quaint, friendly bar with a group of diverse and devout regulars ranging from city councilmen to 60-year-old hippies. There are no fancy cocktails or organic tapas here, just well-priced pints and pitchers.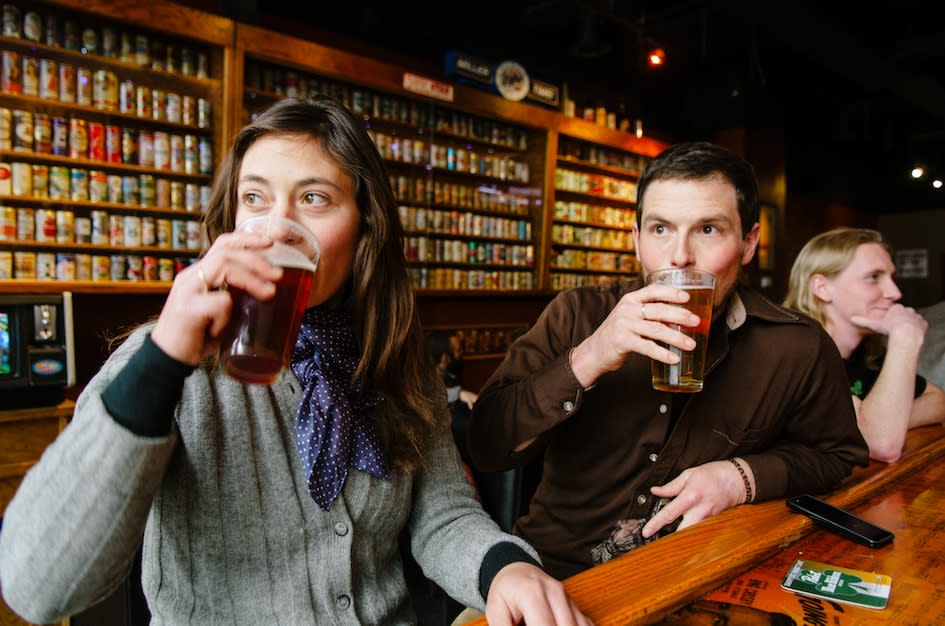 ALONG THE WAY: Refuel with Mediterranean street food from Spitz, across from Junior's. You can even bring your doner back to the bar if you like.
STOP 6: WHISKEY STREET
Round the corner and head back onto Main Street, which becomes Whiskey Street at approximately 320 South. This is where lovers of brown get down—the impressive whiskey list represents the world, and the lunch menu is mouth-watering. Try the short-rib grilled cheese.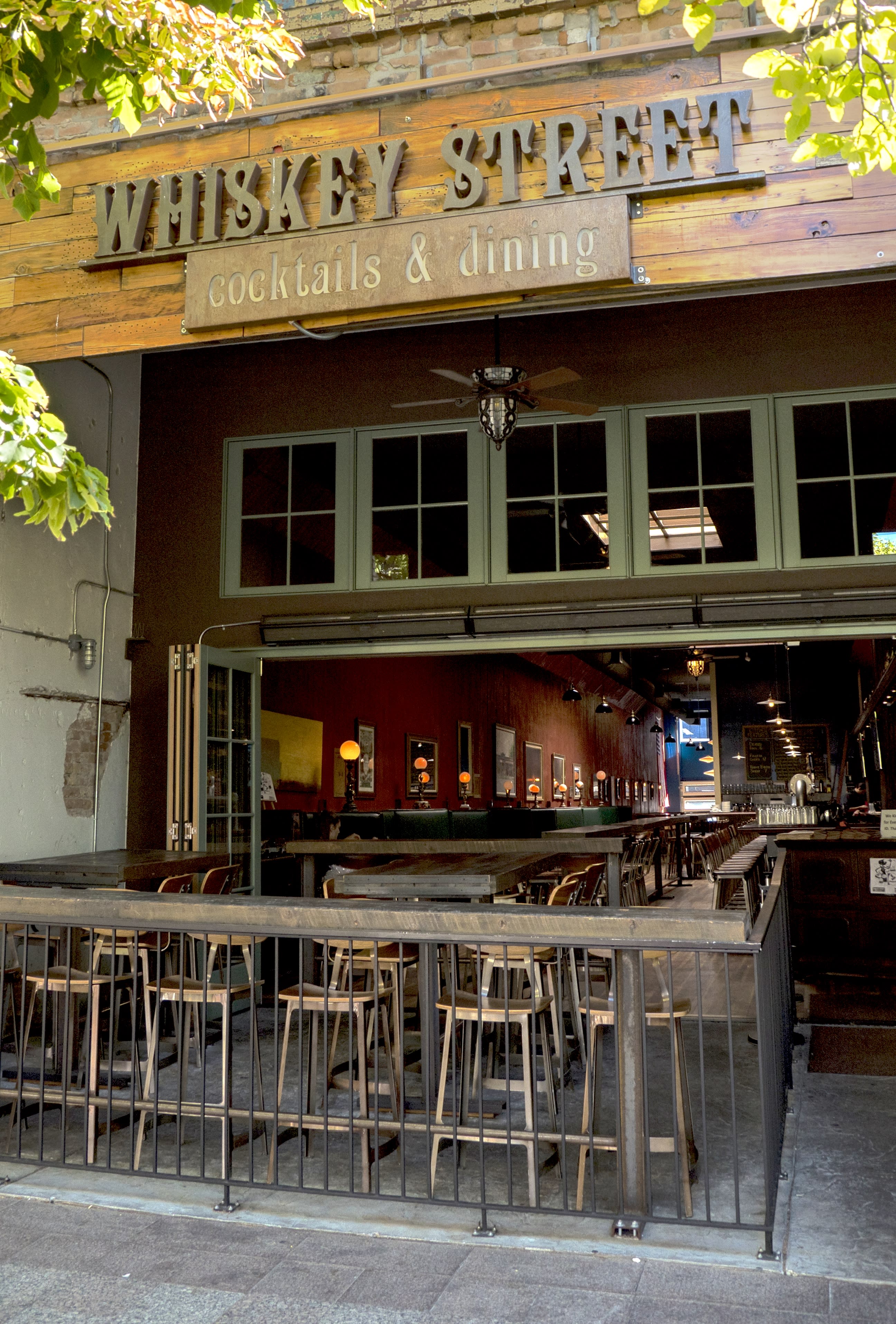 ALONG THE WAY: Peek into Cheers to You, a dive bar with a die-hard karaoke crowd.
STOP 7: THE GREEN PIG
Frequent blues music, lots of tables, and plenty of bar games make The Green Pig a great spot for your group to cut loose. The rooftop bar is a must-do in nice weather.
PHOTO OP: Along the way you'll walk between the Boston and Newhouse buildings, which once housed the Salt Lake Stock Exchange where mining magnates did business.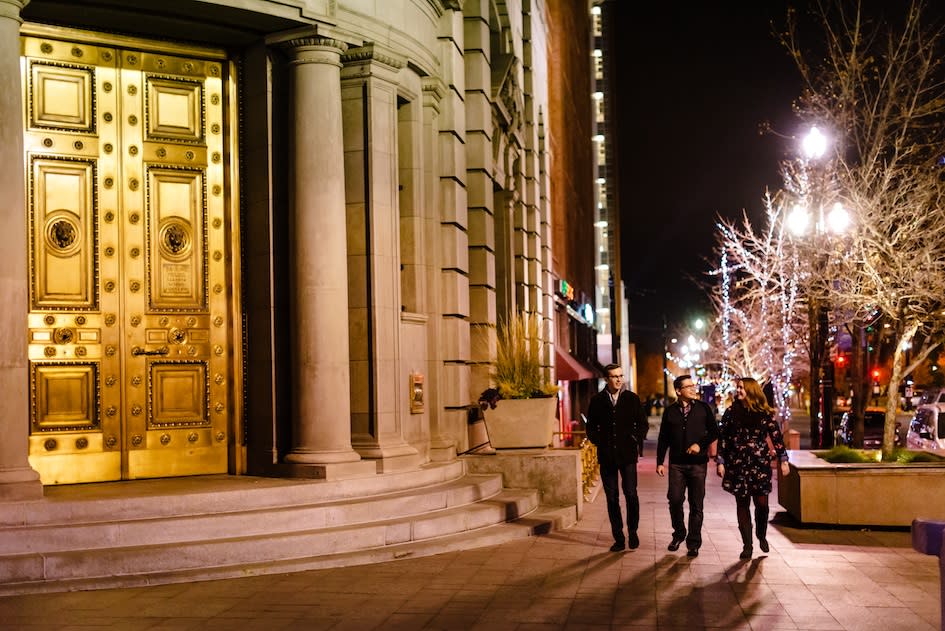 STOP 8: GRACIE'S
Back on Main Street, turn west on Market Street and hit West Temple, where you'll find Gracie's, a multi-level bar featuring one of Salt Lake's best outdoor patios, a packed weekend dance floor, pool tables, skeeball, and more.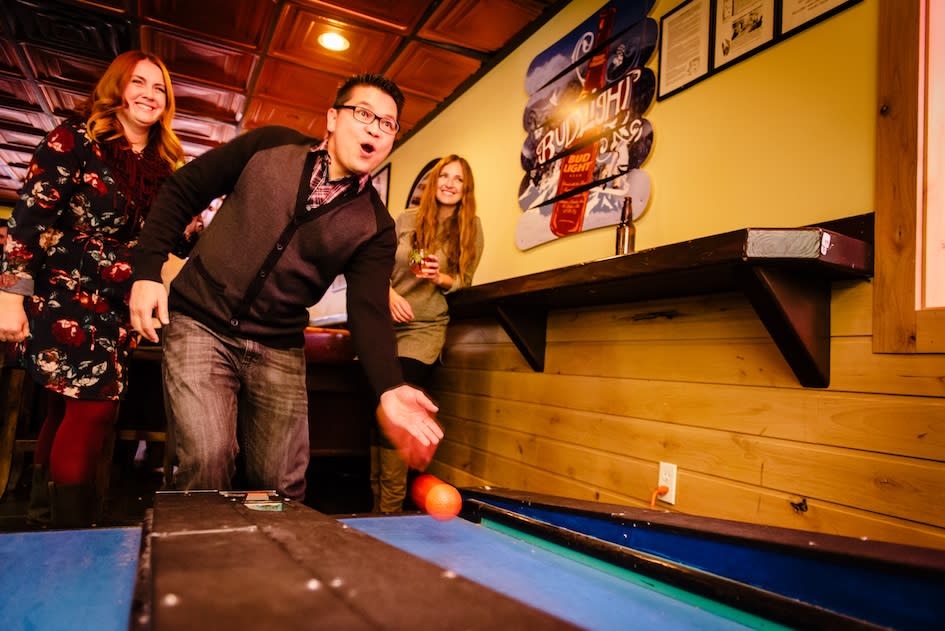 ALONG THE WAY: You'll walk down Market Street's historic buildings and one of Salt Lake's best Japanese restaurants, Takashi.
STOP 9: SQUATTER'S PUB AND BREWERY
Get back on 300 South and beeline it to Squatter's, a pioneer in modern Utah beer brewing. The pub is both a sit-down restaurant with a nice menu and a bar where you can try a freshly brewed pint of local beer. Fans of IPA, try the Hop Rising. It packs a punch.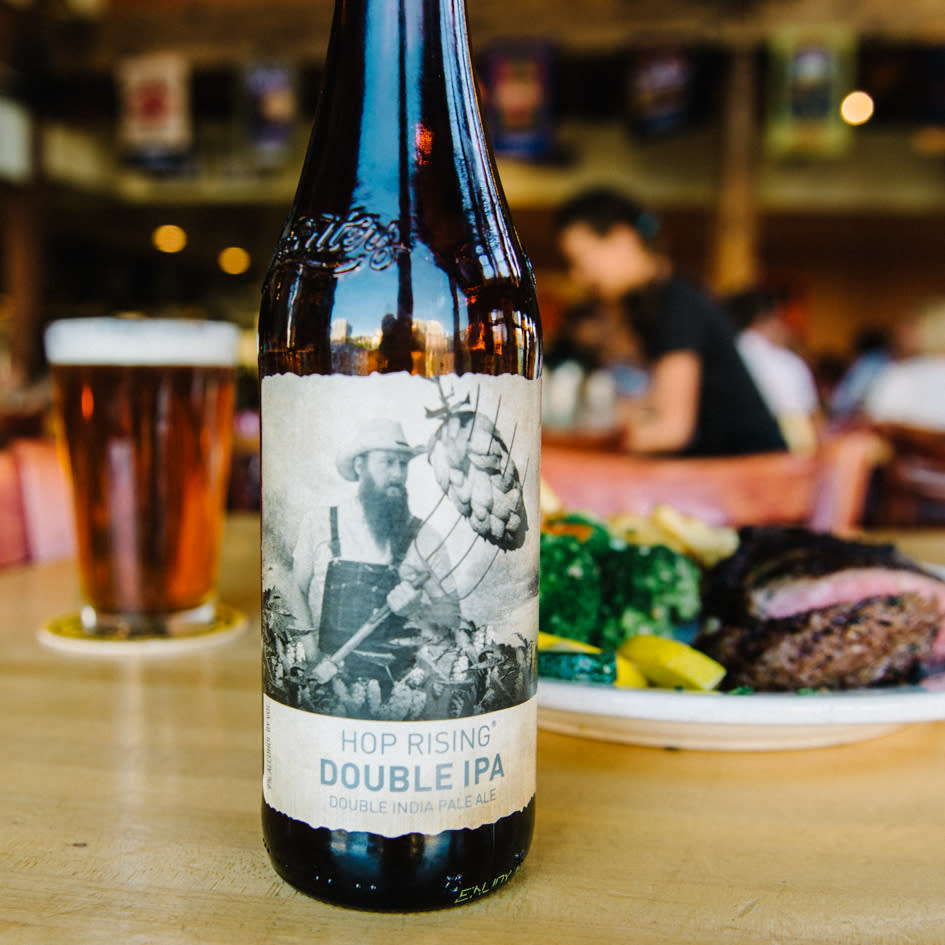 PHOTO OP: Four of Salt Lake's strange and whimsical "Flying Objects" art installations (utahculturalalliance.org) hover in the median just outside Squatters.
STOP 10: THE RED DOOR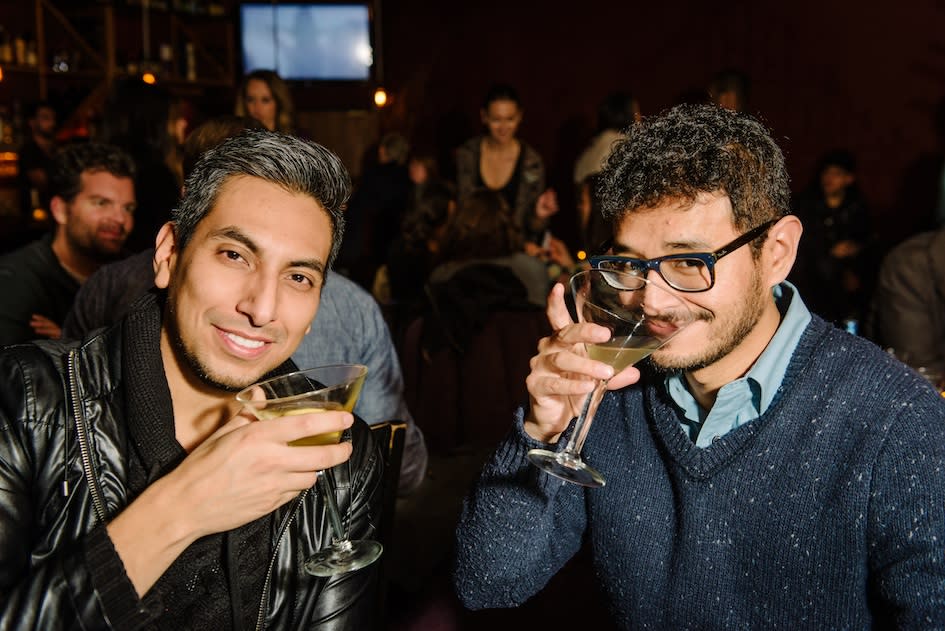 If you've made it this far, head to West Temple toward your final destination: The Red Door, one of Salt Lake's most intimate drinking establishments. This martini bar is where convention attendees go to make eyes at each other after a stimulating roundtable session and where locals go for a hot little hideaway.