Sushi SLC - Best Bets for Sushi in the Salt Lake Valley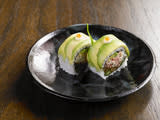 Sushi is not as exotic as it may have been a decade ago - it's easy to find passable ready-made sushi in many grocery stores. But the best sushi is still made by trained chefs in sushi restaurants, and there are plenty of places in the Salt Lake area to get fresh, beautiful, creative sushi. Here are a few of my favorites in different parts of the Salt Lake Valley.
* = highly recommended
SLC Central
Widely regarded as the best sushi restaurant, and one of the best restaurants overall, in SLC. Absolutely gorgeous sushi, elegant atmosphere. It's expensive and usually crowded. Recommended: TNT roll, Strawberry Fields roll.
18 W Market St., Salt Lake City, UT 84101, 801-519-9595.
* Naked Fish Japanese Bistro
Naked Fish serves a lot more than sushi - as of fall 2013 they switched their lunch menu to only ramen (amazing, homemade ramen, not the kind you ate in college). Tonkotsu ramen is their claim to fame, but Naked Fish serves excellent sushi, tending toward fresh, clean, simple flavors. They are committed to getting their fish from sustainable sources.