SLC Chef Changes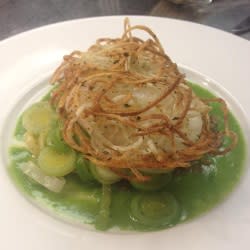 The last few days and weeks has seen a merry go round of SLC chefs at local restaurants. So much so, here's a quick recap of some of the more notable changes.
Greg Neville is no longer associated with East side Italian eatery Lugano and is instead moving on to the Solitude Resort. Jonah Hornsby, former chef di cucina, has taken over the restaurant bringing chef Barney Northrop on board. Speaking to Hornsby he told me:
"My vision is to build on the concept that Greg had created but update the kitchen methods, use more local products, modernize presentations and elevate service. We have hired a restaurant consultant and a new chef di cucina and are excited about the direction we are heading.". On chef Northrop he also continued:
"he worked at Lugano years ago and since has been rolling sushi at Tsunami for a few years and has ran a few other kitchens. The menu is very close to Greg's concepts but we have changed the recipes. The nightly specials are really where the chef gets creative. Last week we had Seared Diver Scallops, stewed cannellini beans, romesco and crispy prosciutto as an appetizer on the special list as well as a sashimi grade yellowfin tuna, organic rugula, white truffles, Hawaiian black salt, blood orange puree, shaved manchego and finished with a very aromatic EVOO".
Sounds delicious and definitely one to keep an eye on.