Skiing Is for the 'Birds'
Wednesday October 9, 2013
The resorts have had their first snowfall and that means winter is upon us. With this year's snowfall comes a great new set of programs for women. It's a good year to be a female skier.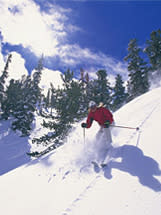 Brighton Resort is introducing their women's only terrain park, equipped with pink rails and designed to be ideal for women. To help promote their park Brighton has teamed up with female Olympic athlete Grete Eliassen. Be sure to keep an eye out for women ride clinics going on at Brighton as well.
Big Cottonwood Canyon isn't alone in sharing the love with ladies. Snowbird Ski and Summer Resort's SkiMums welcomes any mom who is interested in skiing with other women. Once the season starts, SkiMums ski Snowbird every Wednesday at 9 a.m. If you are looking for company and to improve your ski form Snowbird also offers women's camps. Extremely popular, these camps help provide a supportive environment and help push you to your best ability.
Right next door at Alta, women will find plenty to do. Meet up with "Ski With the Girls" every Tuesday for two hours or sign up for one of Alta's numerous women's programs. My favorite is Alta Ladies Day, a six-week program that meets every Thursday morning. Ski with a certified Alta instructor in a less intimidating group setting and discover all the best places on the mountain.
Remember if you're looking to experience all of Salt Lake's Four ski resorts the Ski Salt Lake Super Pass allows you to choose your number of days without being locked into one resort. For more information visit here.