Ah yes. You've heard much of it: the skiing in this fair city is impossible to beat. But are you also up to speed on Salt Lake's public ski transit system? While beleaguered skiers in other towns begin and end their days idling in hours of traffic, here in Salt Lake, you could also be sailing through the ski-day commute in the cozy confines of a Utah Transit Authority ski bus.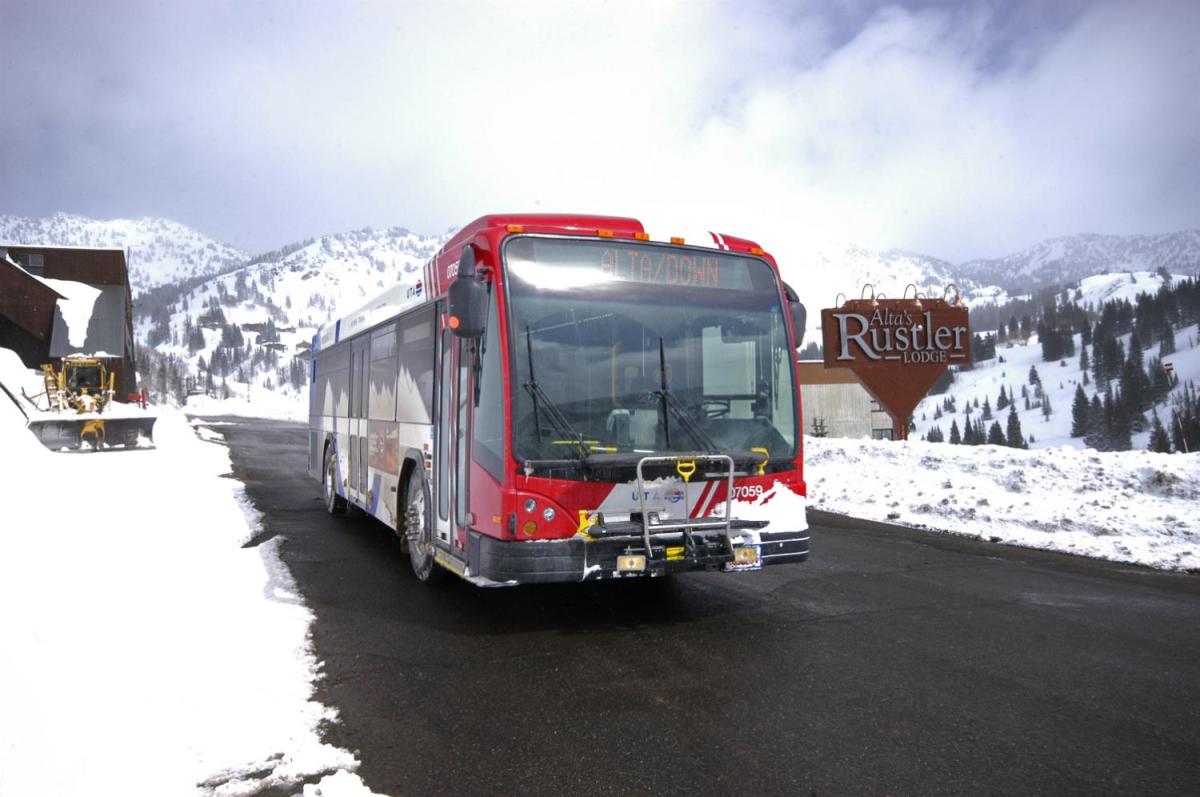 That's right. It would be a real shame to start or end a fine powder day jousting with other drivers for parking or jostling through the canyon intersections. For this reason, Salt Lake has built the finest ski transit system in all the land (not sure if there's a scientific study conclusively proving this, but seriously check it out and you'll be sold).
What it is: a network of climate-controlled, canyon-worthy steel chariots
All year round, Salt Lake's bus and TRAX train system buzz along routes criss-crossing the valley. But in the winter, several Ski Bus routes are added to go up Big and Little Cottonwood Canyons. During busy times, busses go up Big and Little every 15 minutes, while in the less demanding hours they go up and down every 30 minutes.
The UTA Ski Buses all leave from the TRAX train stations directly downhill from the canyons, in the center of the valley. They work their way up Ft. Union and 9400 S. towards Big and Little Cottonwood, ultimately winding up the ski resorts' canyons with multiple stop options for hikers/backcountry skiers along the way.
Along each route, the buses stop at several official "Park and Ride" parking lots, where ski commuters are welcome to ditch their cars in the free lots for the day. It means that when you arrive at the resort, you'll be able to hop right off and skip the rigamarole of searching for a parking spot.
The fact that the bus routes go all the way to and from the TRAX train stations means that if you live downtown or in the far south end of the Salt Lake valley, you can easily combine the one-two punch of train-to-bus ski commuting.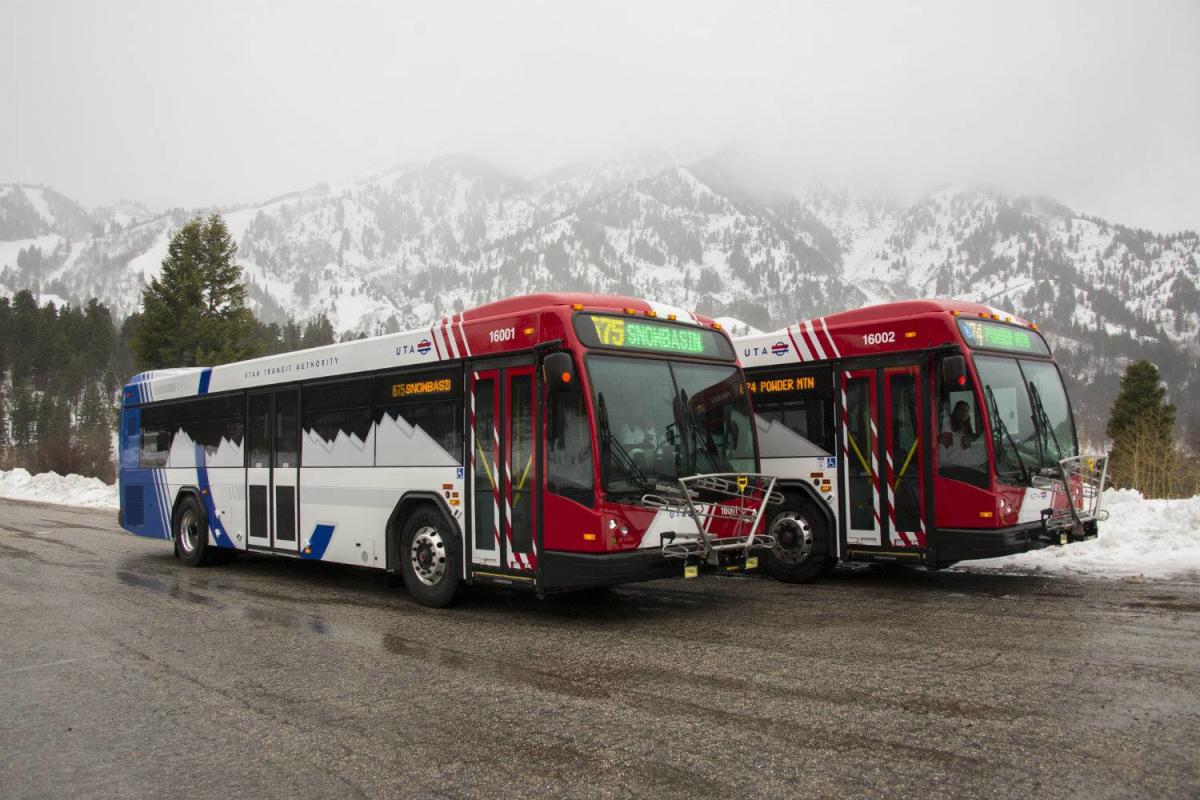 Every ski bus is outfitted with giant ski racks on the exterior so everyone can drop their skis or boards in for safe carrying. The buses also have snow chains for their tires, which means that on super-snowy (scary driving) days, you can rest easy. These suckers go up and down the mountain roads like bomber snow-tanks unfazed by the biggest storms the Wasatch winters deliver.
How to use the power of public transit for your next ski day.
Thanks to technology, it's pretty darn simple to plot. You can get on RideUTA.com to check out the current year's Ski Bus routes and schedules. If you want a little extra help figuring out which exact bus, train, or time, you can use the site's trip planning application to determine it for you. You can even lean on Google Transit to tell you, too.
However, it's pretty darn simple.
Have a look at the Ski Bus route maps on RideUTA.com and determine the closest Park and Ride lot to you.
Have a gander at the schedules for the routes that stop at that Park and Ride.
You'll notice the times that they leave the lot, as well as the times they leave the ski resort to return after your ski day.
Roll up, hop in, and pay! You can either pay the driver exact change ($4.50 each way) or buy a digitally reloadable Fare Card ahead of time. You can order a Fare Card online or pick one up at many grocery stores and gas stations around the valley.
If you live downtown or anywhere along the TRAX route, you might combine a train ride with your Ski Bus plans and carry out the whole she-bang without touching your car. Now, that's Ski City life at its finest.
The benefits of getting on board.
Oh let us count the ways we love the Ski Bus.
For one, it's excellent for the environment—and if you're a skier, you should highly prize anything that combats climate change. And everyone in the Salt Lake Valley has a stake in preserving clean air. Vehicle emissions play a huge part in valley air pollution, so when you hop on the bus, you're also doing the right thing for all of our lungs.
In an additional effort to curb traffic congestion, all four Cottonwood ski resorts are participating in the R.I.D.E app for the 2019/2020 ski season. The Reducing Individual Driving for the Environment (R.I.D.E.) carpool program encourages skiers to take the UTA ski bus or carpool with 3+ people to any of the four Cottonwood Canyon ski resorts and rewards users with points redeemed for prizes. Season pass holders to any of the ski resorts in the Cottonwood Canyons are able to ride the ski bus free of charge.
Second, it's a low-stress solution. A Ski Bus trip does often take a little more time than if you drove yourself. However, you're replacing driving time with downtime. Go ahead, sip a coffee, pull a book from your pack, scroll on your phone, or gaze upon the pleasant alpine landscapes outside the bus window.
Third, you're here for the skiing—not the highly competitive sport of parking. Our resort parking lots fill up quickly, and it's frustrating when you miss the boat and have to schlep your gear from way down the road. To combat this problem, some resorts, like Solitude, are starting to charge for parking. Solitude will charge $20 this winter for cars containing less than four people, which suddenly makes the Ski Bus fare look even nicer.
Questions? RideUTA is at the ready.
One fantastic thing about our local transit authority is they have a helpline all day, every day, which you can call to ask questions. It can be something as simple as "When's the next bus coming by the stop I'm standing at?" or you can ask a more complex trip-planning question, or find out where you can pick up a Fare Pay card locally. Their number is the memorable 801-RIDE-UTA, and they're always at the ready.