From incredible mountain-backdrop views to summer-friendly options for the kids, Salt Lake City has some incredible parks. Combine the scenic setting with beautiful summer sunsets, and you get an idea of why so many people are moving to Salt Lake. Equal parts urban and mountain-set, our range of public parks has something for everyone. Pack a picnic and some sunscreen, and get planning your next weekend afternoon park adventure because we're giving you the goods on Salt Lake's top ten public parks.
Liberty Park
A Central City gem, the 80-acre Liberty Park is the second-largest public park in Salt Lake. In 1860, the land belonged to Brigham Young, who planted the mulberry, cottonwood, and other trees that make this one of the shadiest parks in the city. The park is listed on the National Register of Historic Places, as is the Isaac Chase Mill (the oldest commercial building still standing in Utah) on the park grounds. Near the mill, you'll find the Chase Home Museum of Utah Folk Arts, where traditional artists from diverse Utah communities share crafts, dance, and music.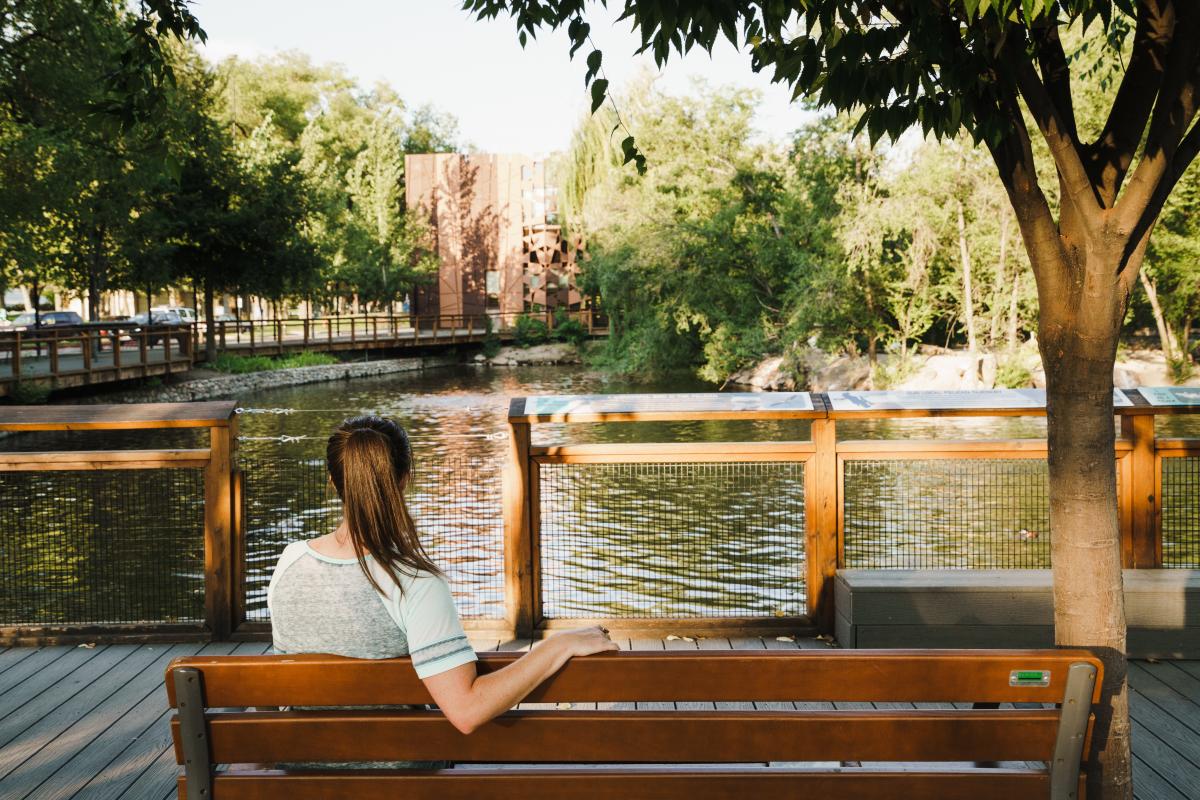 The park is also home to the Tracy Aviary (a rare and exotic bird sanctuary), a kids' amusement park, weekly drum circles and summer farmers' markets, and the Seven Canyons fountain and splash pad, modeled after the canyons that flow into the Salt Lake valley from the Wasatch mountains. 
Amenities:
Playground
Swimming pool
Splash pad
Kids' amusement park
Picnic facilities
BBQ grills
Sand volleyball courts
1.5-mile wood chip running trail
Tennis and bocce ball courts
Horseshoe pits
Pond and paddle boats
Walking paths
Restrooms
Drinking fountains
This small, picturesque park, is tucked away at the bottom of the Avenues neighborhood. It was constructed in the 1920s to honor the soldiers lost in World War I and features several memorials to Utah's veterans, as well as a replica of the Liberty Bell. Not only is Memory Grove just a few minutes' walk from downtown, but it also connects to City Creek Canyon which features a winding creekside forest road perfect for walking, running, and cycling, as well as several trails. Memory Grove Park itself is an on-leash area, but as soon as you hit the trails, your pup can roam free.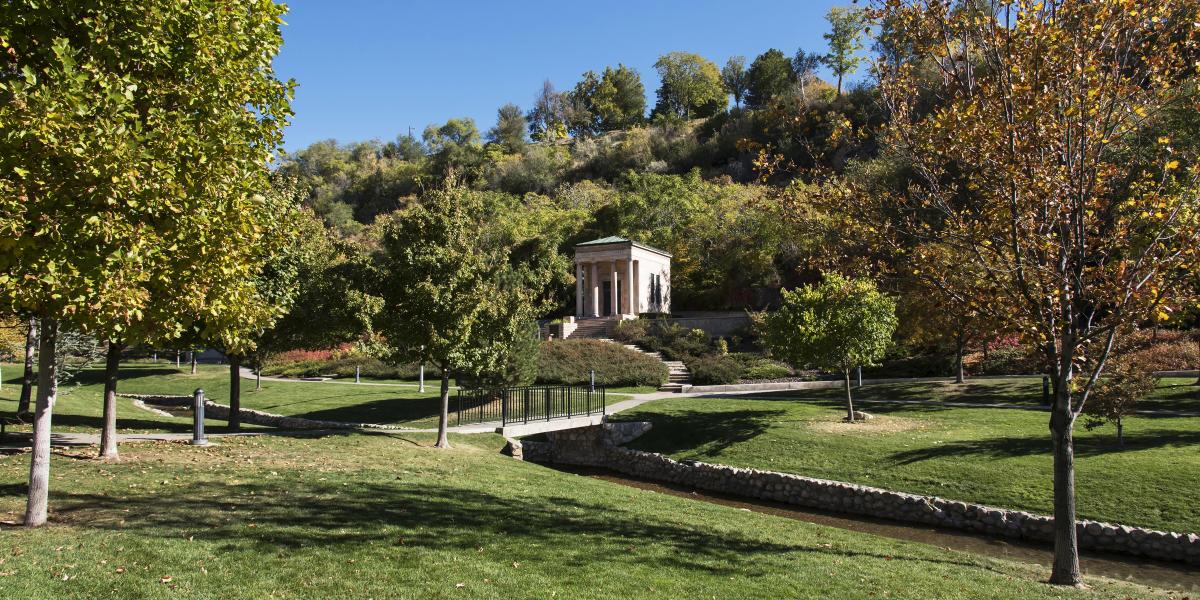 The Memorial House, located within the park, is an intimate, elegant, and historic venue set near the greenery and waterways of the canyon. Call to reserve it for your wedding, reception, or party.
Amenities:
Walking path
Drinking fountain
Picnic tables
Restrooms
Drinking fountain
Off-leash area
Salt Lake's largest park covers an expansive 110 acres. The federal government operated the Utah State Prison here for nearly a century before the city redesigned and repurposed the site as a public park. This giant space has everything you need for a family or community party, a sports event (see: basketball court donated by the Utah Jazz), or just a morning cardio workout—the 1.38-mile road encircling the park features a 16-foot-wide inside lane for walkers, runners, cyclists, roller-bladers, and skate-ski trainers. Set up a picnic near the large, duck-filled pond, or follow the sidewalk on the park's west edge under 1300 East and explore Hidden Hollow's meandering paths, native vegetation, and rushing Parley's Creek. 
Amenities:
Multiple reservable pavilions
Regulation soccer and baseball fields
Basketball court
Seven volleyball courts
Playground
220-capacity amphitheater
Bocce ball area
Horseshoe pits
Sledding hill
Restrooms
Drinking fountains
Tanner Park & Parley's Historic Nature Park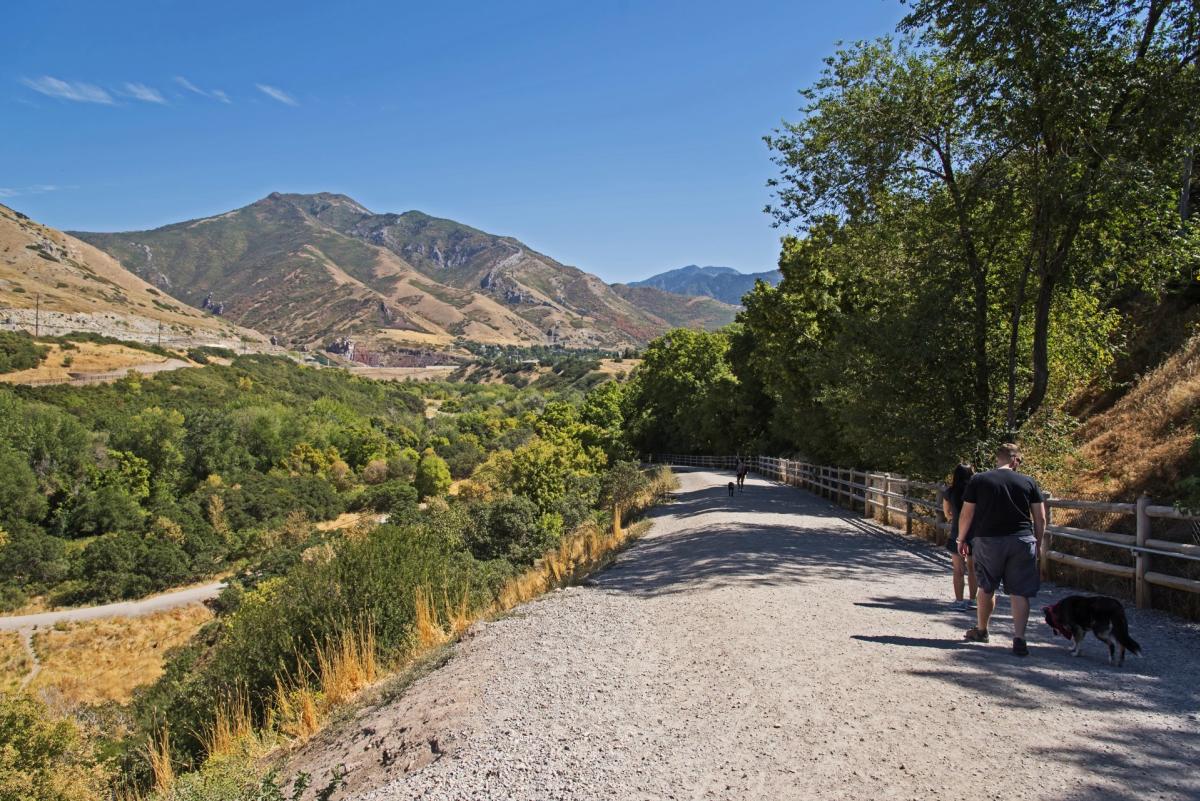 Tanner Park is a 10-acre park near the mouth of Parley's Canyon. It offers views of the valley and the mountains and connects directly to the recently finished Parley's Trail, a paved two-way path running eight miles from 900 West to Wasatch Boulevard. The park is also adjacent to Parley's Historic Nature Park, featuring trails, natural vegetation, Parley's Creek, BMX tracks, and an off-leash dog park. There are two creek-fed watering holes for dogs to use, located at either end of the main trail. Trash cans and waste bags are provided, though you might want to bring your own bags (just in case). 
Amenities
Playground
Tennis courts
Reservable pavilion
Amphitheater
Trails
Bike-jumping tracks
Restrooms
Drinking fountain
Off-leash area
Canyon Rim Park
Located in Millcreek, the 16-acre Canyon Rim Park is the quintessential community park, teeming with kids of all ages, sports, and community events, including the free Venture Out summer festival, featuring outdoor activities, recreation clinics, live music, food trucks, and outdoor movies. It's a fun place to bring the fam and connect with friendly Salt Lakers.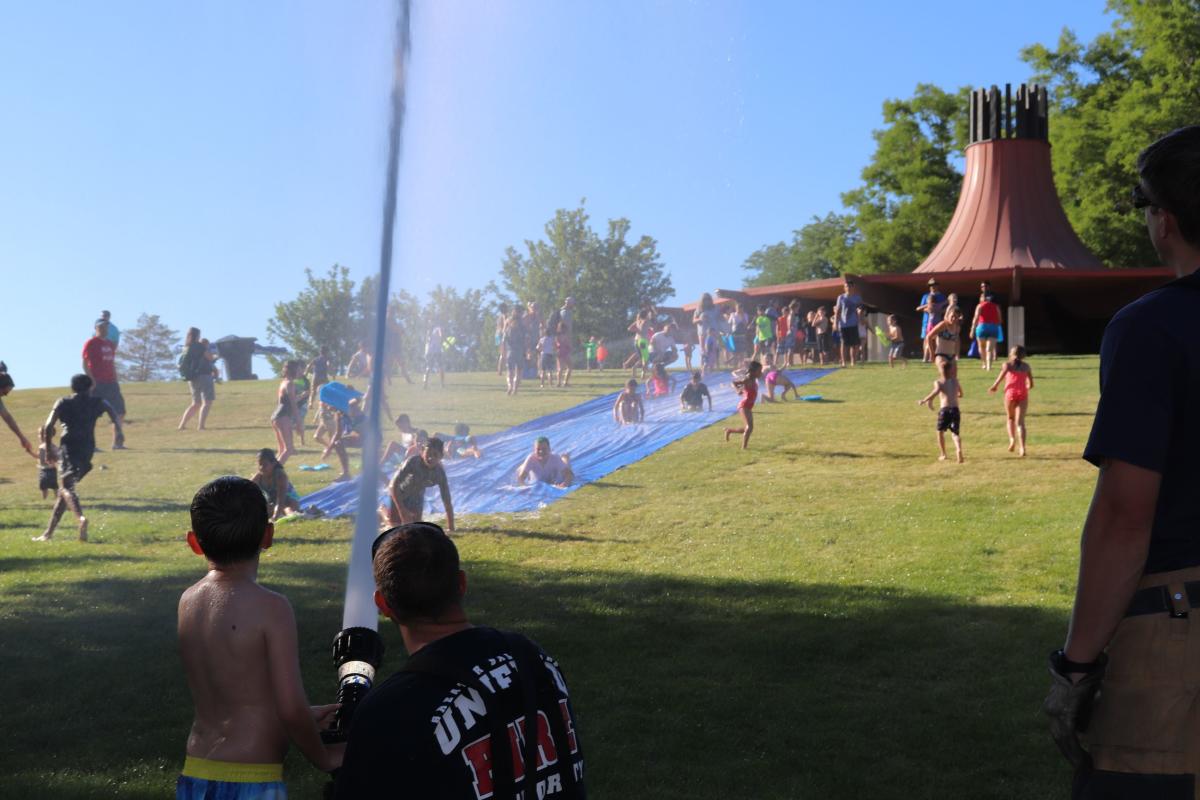 Amenities:
Reservable pavilion
Picnic tables
BBQ stands
Playground
Baseball field
Pickleball and tennis courts
Volleyball nets
Horseshoe pit
Walking path
Amphitheater
Restrooms
Drinking fountain
Washington Square Park
This one-block (10-acre) park is more for the history buff than the family of five. Originally constructed by free masons in the early 1890s, the historic City and County Building resides in this square, which was named for George Washington and is the site of the original 1847 Mormon pioneers camp in Salt Lake. Trees, walkways, benches, and statues create a relaxing place to admire the City and County Building's Romanesque sandstone spires and impressive clock tower.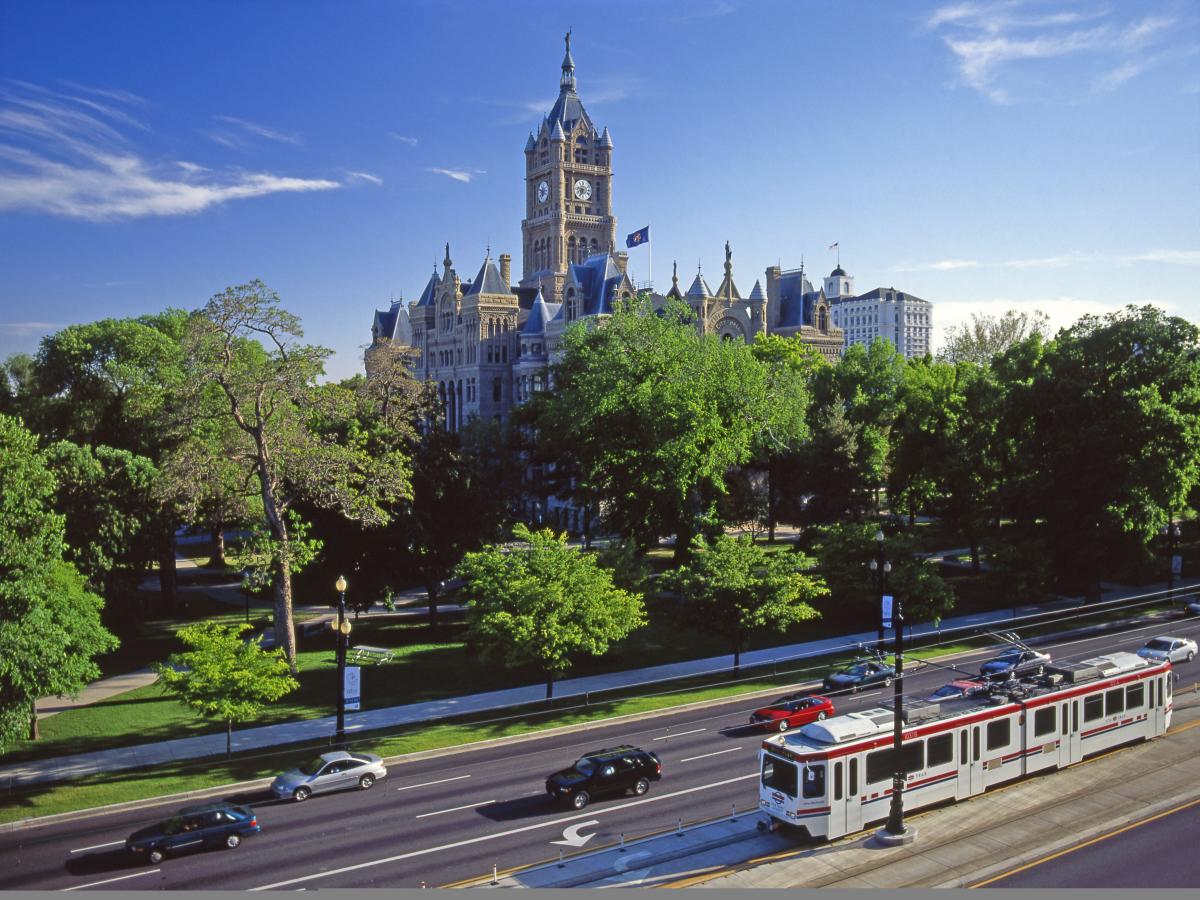 If you need a little more energy and action in your park-going experience, visit Washington Square during one of the awesome events that take place here during the summer, including the Utah Pride Festival, the Utah Arts Festival, the Salt Lake City Jazz Festival, and the Living Traditions Festival, which celebrates the diverse cultures that make up the state.
Amenities:
Jordan Park
Located on the bank of the Jordan River, Jordan Park is a green oasis shaded by mature trees and cooled by the nearby waterway. In addition to a full list of common public park amenities, Jordan Park has a bike polo court, a skate park, a greenhouse, an off-leash area for dogs, and The International Peace Gardens.
The Peace Gardens was founded as a citizenship project encouraging peace and understanding between nations. It was conceived in 1939 and dedicated in 1952. Each participating Utah-based nation group was allotted a plot and has created a garden with native plants, sculptures, architecture, and statues typical of its homeland and culture. The Peace Gardens currently represents the cultural diversity of twenty-six nations.
Amenities:
2 Reservable pavilions
3 Playgrounds
Bike polo court
Skate park
Softball fields
Sand and cement volleyball courts
Horseshoe pits
Restrooms
Drinking fountains
Off-leash area
Mountview Park
The aptly named Mountview Park in Sandy offers unobstructed views of the Wasatch Mountains for parents to enjoy as their kids tire themselves out. One of this park's best features is the two separated playgrounds designed for small toddlers and bigger kids respectively. Your littlest ones can now enjoy park playtime without getting mowed over by overly energetic eight-year-olds, and your America Ninja Warrior Juniors can now create competition challenges without toddlers as obstacles. A colorful and creative splash pad helps keep everyone cool in the high desert summer.
Amenities:
Reservable pavilion
2 Playgrounds
Splash pad
Tennis courts
Basketball court
2 Soccer fields
BBQ grills
Walking path
Sledding hill
Restrooms
Drinking fountains
Lone Peak Park & Dimple Dell Park
Lone Peak Park is the second-largest developed park in the Sandy Parks System, covering 29 acres and offering mountain views by the eyeful. The park is fully equipped for large gatherings and legitimate sports competitions—it even has a concession stand and a scorekeepers' building. 
Best of all, Lone Peak Park butts up against Dimple Dell Park, which offers a variety of mellow hiking, biking, horseback-riding, and dog-walking trails through more than 600 acres of natural landscape to help you escape from the city for a few hours. Access Dimple Dell Nature Park at The Wrangler Trailhead at 10400 South 1300 East. There are restroom facilities, picnic tables, and a drinking fountain available at the trailhead. Check out the video below for a Google Earth overview of the trail.
Amenities:
Indoor pavilion
3 Outdoor lighted pavilions
3 Full-sized soccer fields
2 Baseball/softball fields
Scorekeepers' building
Concession stand
2 Playgrounds
Basketball court
Walking path
Hiking/biking/horseback-riding trails
Restrooms
Drinking fountains
Off-leash area
Wardle Fields Park
Wardle Fields Regional Park is the most adrenaline-fueled, kid-craved park in Salt Lake County. Located in Bluffdale, the 40-acre park was once a farm run by the Wardle Family, who grew alfalfa, barley, and sugar beets there for nearly 50 years. The family then sold the land to the The Church of Jesus Christ of Latter-Day Saints, who sold it to Salt Lake County in 2008. It's now a destination playground and the place to go for birthday parties, sports, and fun family outings. 
Amenities:
3 Reservable pavilions
Toddler playground
Fire watchtower with slides
Spinning pyramid
2 Racing ziplines
Bouldering wall
Climbing wall
Climbing net
Large splash pad with waterfall
General-use sports field
Basketball court
16 Pickleball courts
Walking path
Benches
Restrooms
Drinking fountains