We know. You came to Salt Lake to ski. But maybe you pushed your quads to the max and need a recovery day. Or maybe your non-skiing other half agreed to join you in Ski City on the condition that you spend a day off the slopes together. Or maybe you're just a well-rounded person who likes art, culture, and good food as much as you like Utah powder. No matter your story, there's so much to see, eat, drink, and do in Salt Lake (and it's all so close to the resorts), that you won't mind taking a mountain intermission. Here's a few recommendations for your day off.
See
The Natural History Museum of Utah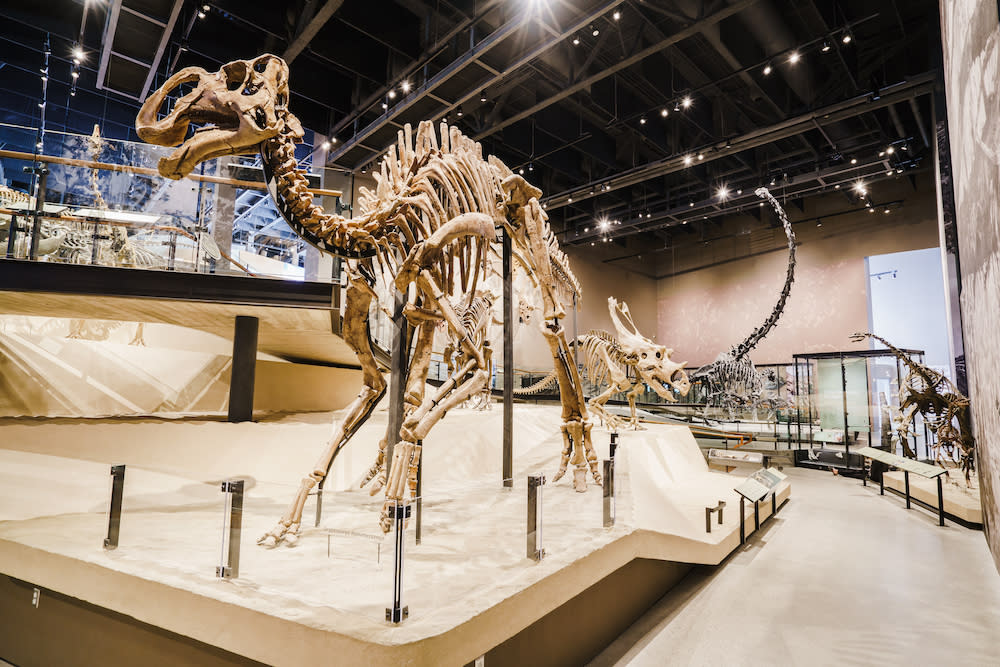 Nestled in the foothills near the University of Utah, the Natural History Museum of Utah is a fascinating place to spend an afternoon. The museum, whose mission is to illuminate the natural world and humans' place within it, focuses on the anthropology, paleontology, and ecology of Utah and the Intermountain West. Ten permanent exhibits take visitors on a journey through the region's past worlds, first peoples, gems and minerals, and more, while rotating special exhibitions explore everything from the world of chocolate to the historical significance of the horse. While the museum's true treasure is undoubtedly its expertly curated and expansive collections, its rock-formation-inspired, copper-wrapped architecture is an awesome sight in its own right.
City Creek Center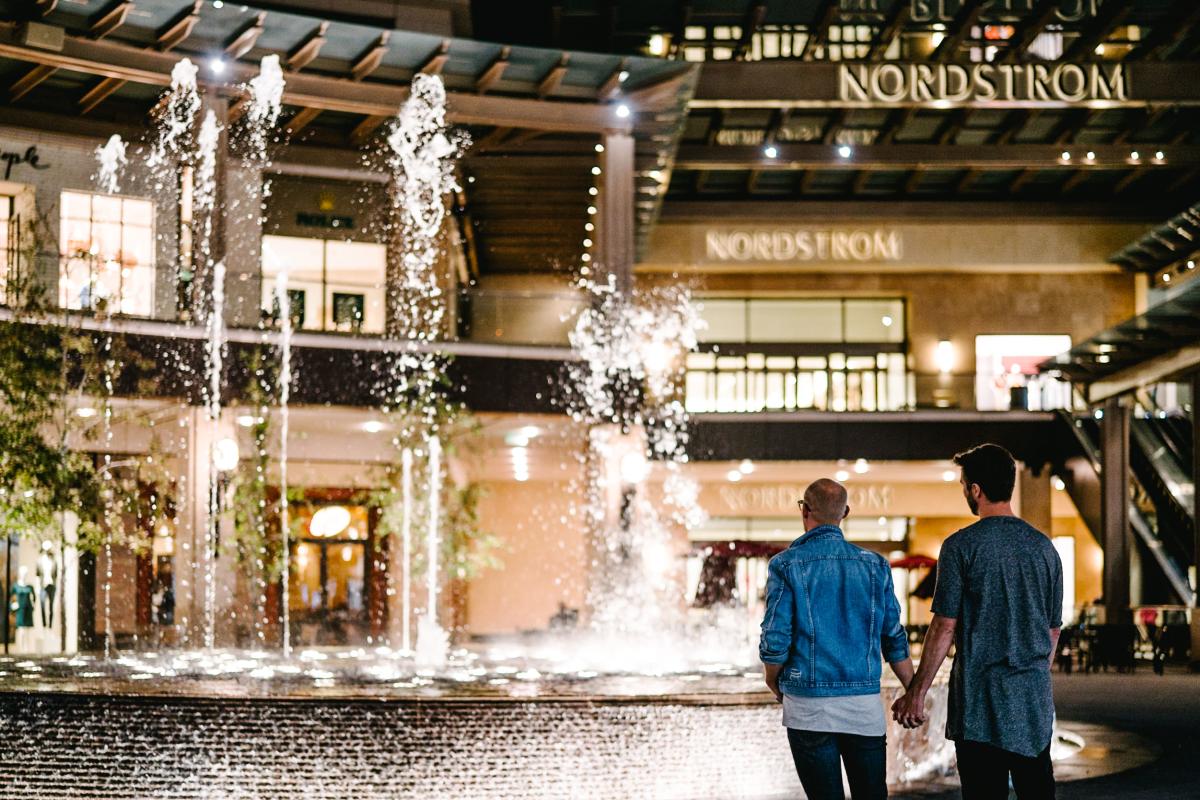 City Creek is home to over 100 popular and high-end stores, including West Elm, Tiffany & Co, Free People, and Utah Woolen Mills. But even if you're not looking to buy a new jacket or play with the latest Apple products, Salt Lake's state-of-the-art downtown shopping mall is worth the trip. Its dazzling fountains were designed by the creators of the Fountain of Bellagio in Las Vegas, the stream running through the mall is stocked with local trout, and the giant retractable roof offers the bright, open-air feeling of an outdoor shopping mall while protecting you from the elements in inclement weather.
Temple Square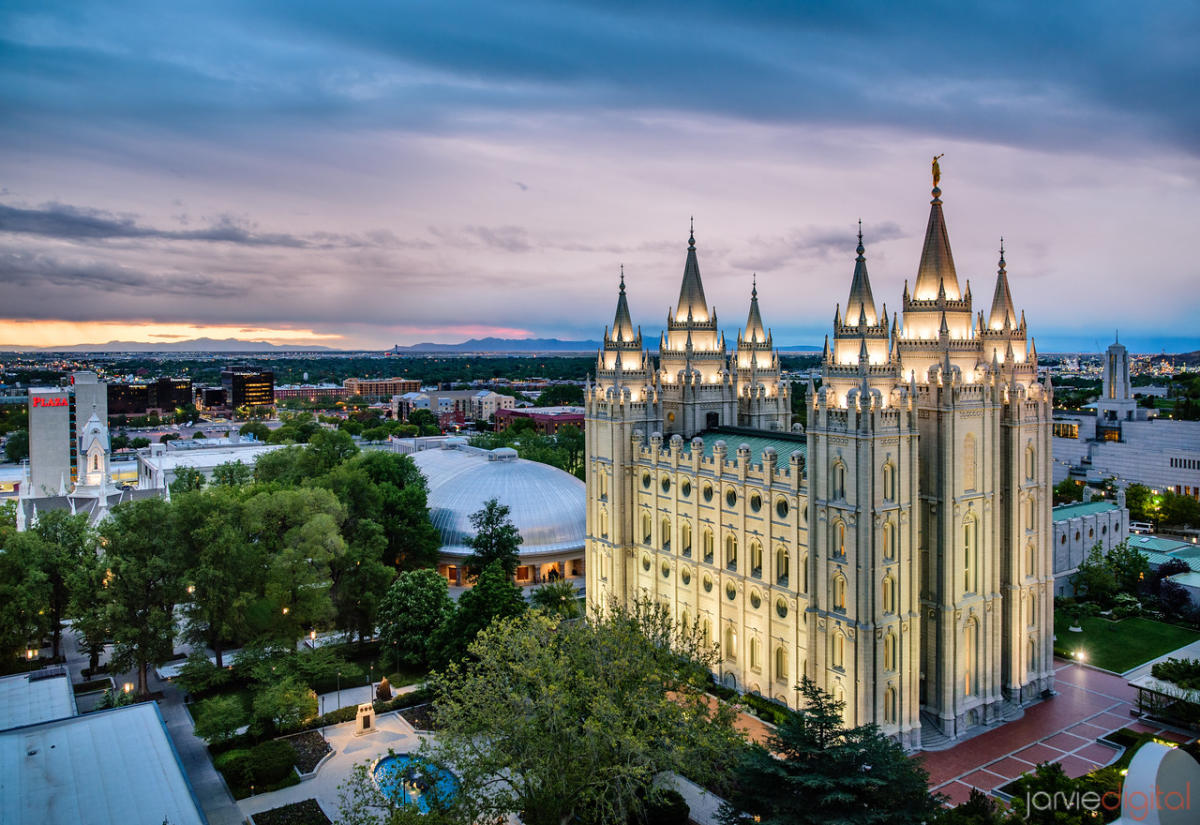 A trip to Salt Lake wouldn't be complete without visiting the city's most popular attraction. Take a guided tour of the temple grounds, learn more about Utah's Mormon history, admire the extraordinary Christmas lights between November 25 and January 3, catch an organ recital in the Tabernacle, and wonder at the 11-foot marble Christus statue in outer space. Also be sure to stop by the Family Search Center in the Joseph Smith Memorial Building and look into your ancestral past. All resources are free and open to the public.
Eat
Current Fish & Oyster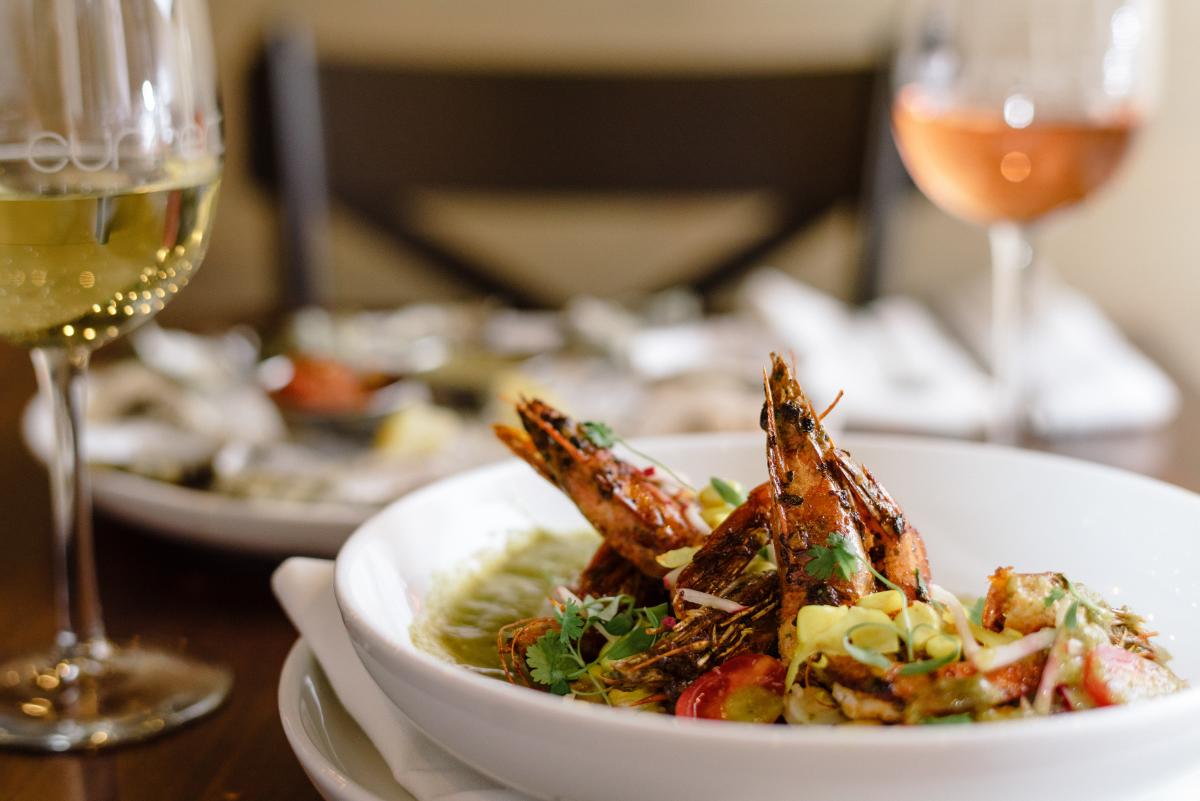 Head to the hip corner of 3rd and 3rd in downtown Salt Lake City, and the reclaimed facade and outdoor fire installations at Current Fish and Oyster will pull you in like a magnet. As Chef Logen Crew puts it, the fish is the star of the plate here. You might not think of seafood in landlocked Utah, but logistical factors (i.e. Salt Lake's Delta hub) actually bestow our city with some of the freshest seafood in the country. Try the oysters, whole branzino, or fish of the day, and then check out the adjacent Under Current, a swanky cocktail bar with a penchant for absinthe.
Lucky 13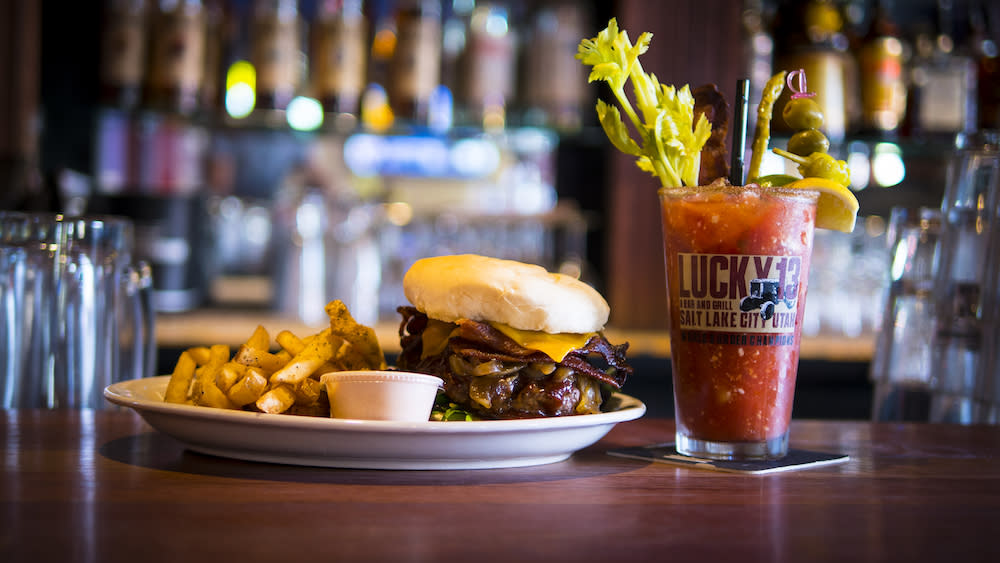 Sometimes after a day of skiing, the only thing that will satisfy is a big, huge burger. They have those at Lucky 13. In fact, we're pretty sure that Lucky 13 is the maker of the biggest, hugest burger in Salt Lake: The Big Benny, "a foot-tall burger with house-smoked bacon, ham, cheddar, swiss, caramelized onions, Lucky 13 sauce, and 28oz of fresh ground chuck." Not a superhuman with a bottomless belly? Don't worry. There are plenty of mouthwatering burger options for mere mortals, and any of the burgers on the menu can be made with a veggie patty.
Settebello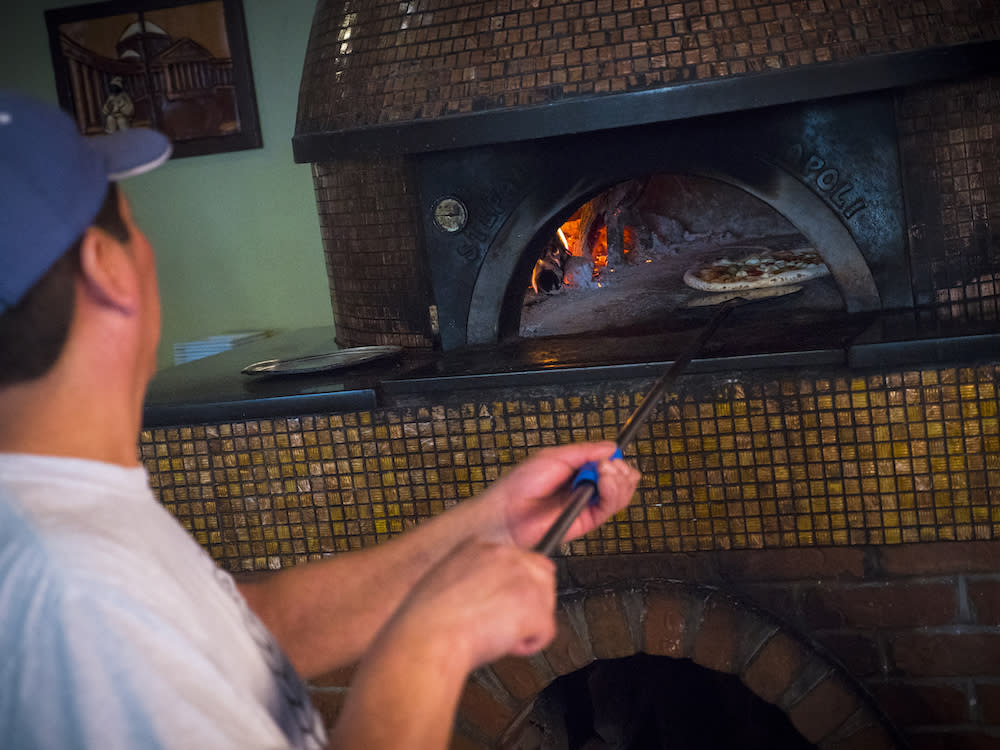 There are two types of people in this world: those who want a burger after skiing, and those who want pizza. Settebello is a slice of pizza heaven for the latter. This bustling downtown restaurant serves up pizza Napoletana from a handmade wood-fire oven, according to Vera Pizza Napoletana (a strict set of guidelines created in Napoli, Italy that also mandates the use of only fresh milk or buffalo milk mozzarella).
Mazza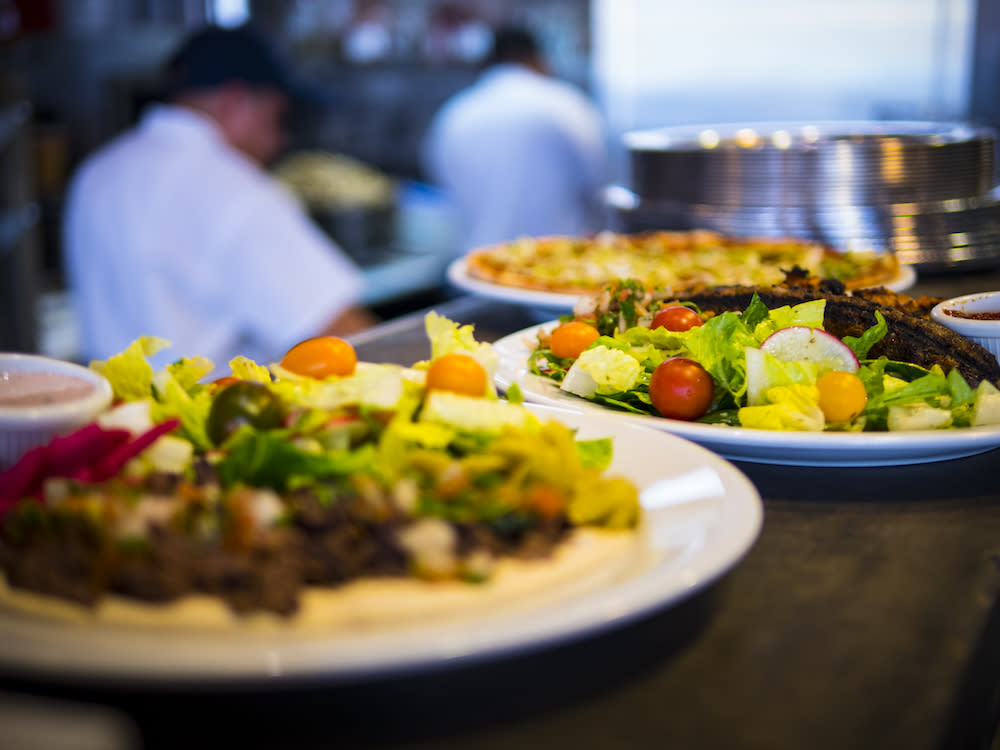 With two locations in central Salt Lake, Mazza is one of the best Middle Eastern lunch and dinner destinations in town. Try a small-plate combo, which lets you mix and match your favorites (and even try something new without feeling too committed). And from shawarma to kebabs to Mazza's signature seasonal dishes, the entrees are awesome immersions into Middle Eastern flavor. End your meal with an orange-blossom infused creamy phyllo roll for dessert.
Drink
Squatters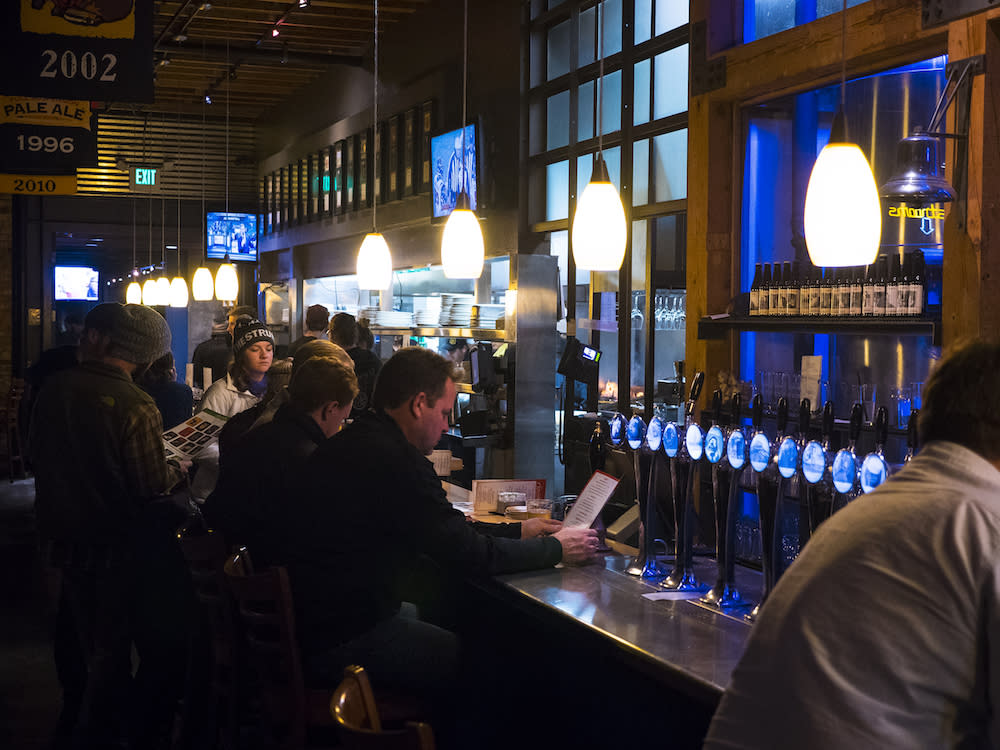 One of Utah's longest-running breweries, Squatters has been crafting award-winning beers for 28 years. Longtime favorites include the Polygamy Porter (try it on nitro), Black Forest Schwarzbier, and Full Suspension Pale Ale. The intense Hop Rising IPA will knock your socks off, and be sure to scope the seasonals. You can find Squatters beers at most bars and restaurants throughout the city, but for the full experience, hit up the big, buzzy Squatters Pub Brewery downtown.
BTG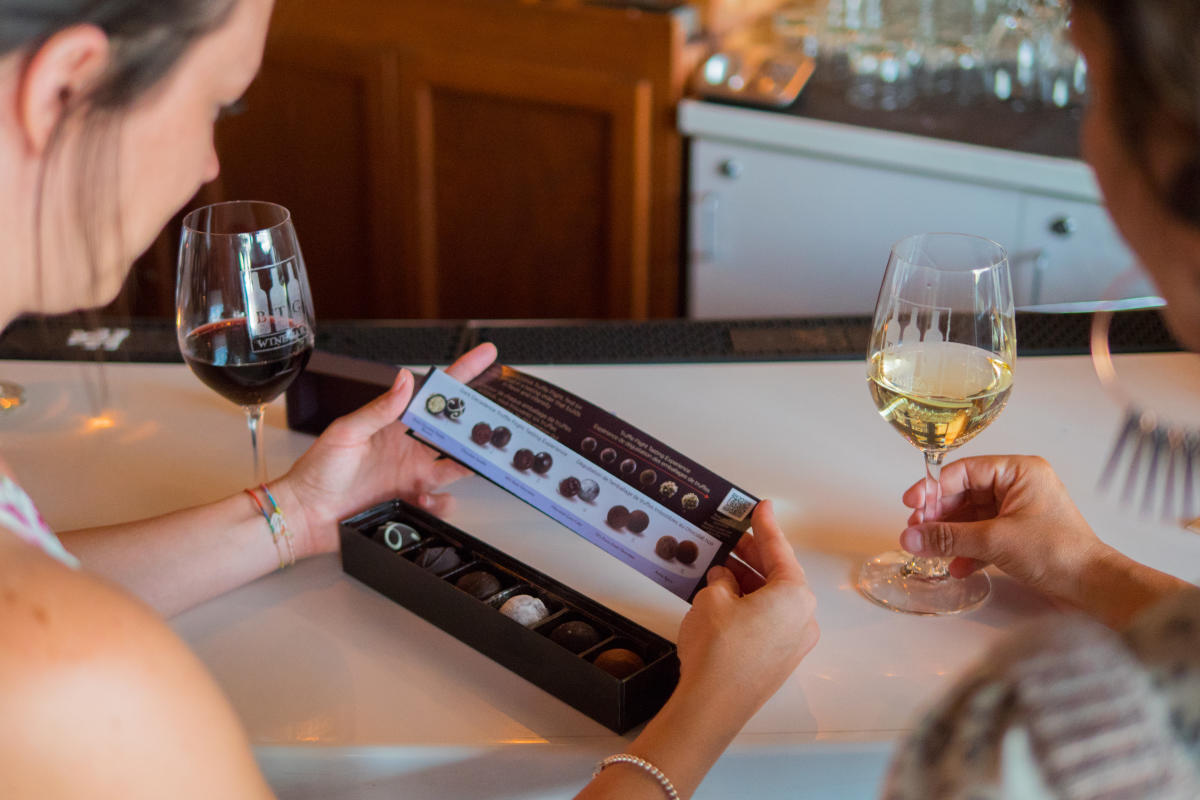 Catering to a somewhat sophisticated crowd, BTG is an elegant yet comfortable wine bar at the Historic Eagle Building. BTG serves over 75 wines; order a 2oz taste, a flight, a glass, or a bottle to share with friends. The bar also serves beer, craft cocktails, and Italian small plates and entrees from Caffe Molise upstairs.
Bar X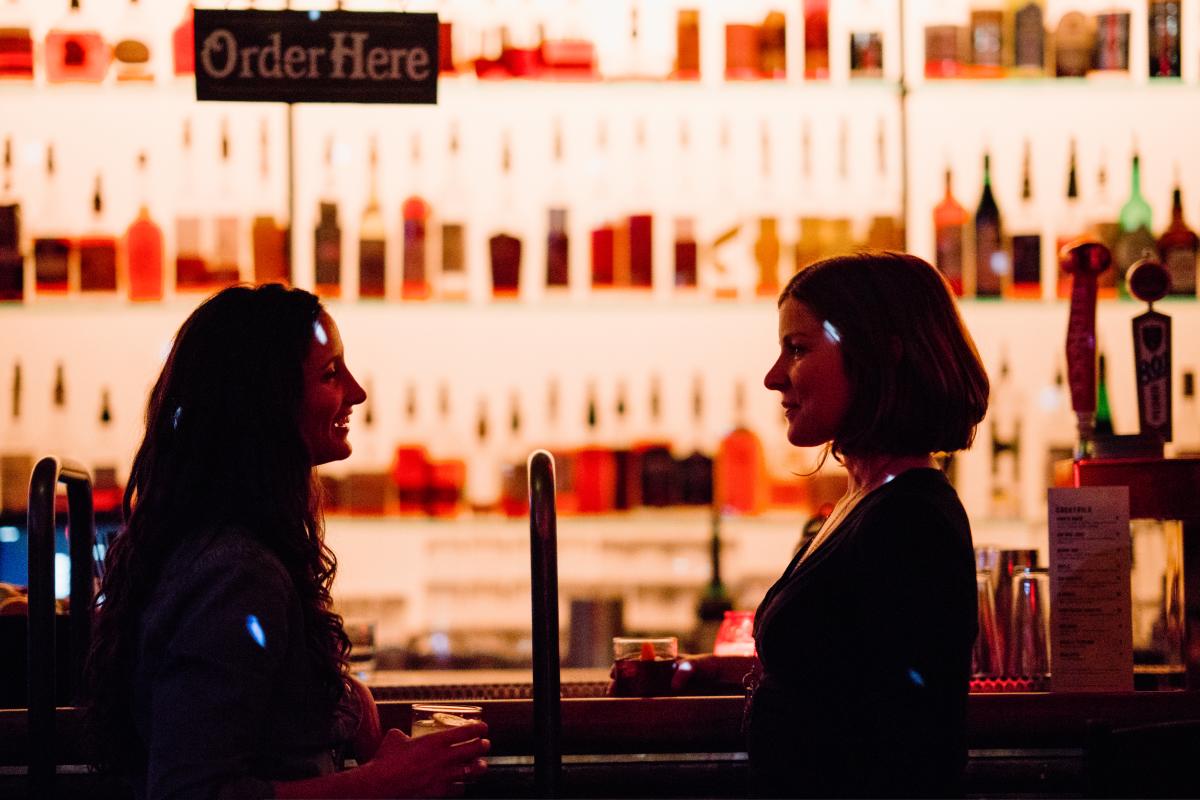 If artful mixology is your thing, you'll probably want to pop into Bar X for a negroni, a sazerac, or one of the bar's artfully crafted, pallette-popping featured cocktails. The setting here is dark and sexy, and if you go on a weekend, plan on getting pretty cozy with the crowd. There's often live jazz or a DJ, and when you feel like switching scenes, it's as easy as stepping through a doorway into the bright, open, beer-hall-inspired Beer Bar next door.
Epic Taproom  
It's easy to miss, located next to a used car dealership on State Street, but Epic Brewery is home to big bottles of some of the best beer ever to come out of the state. You can buy a self-made sampler of 22oz bottles to go, but we suggest hitting the "tapless tap room" first to sample the goods.
Personal favorites include the Utah Sage Saison, the Big Bad Baptist Imperial Stout (brewed with cocoa nibs), and the Los Locos Mexican-Style Lager (with lime and sea salt), but Epic brews more classic beers, as well. The Spiral Jetty IPA and Cross Fever Amber Ale are ways to begin your tasting adventure, and be sure to order a tasty sandwich to accompany you on your journey.
Do
Music Venues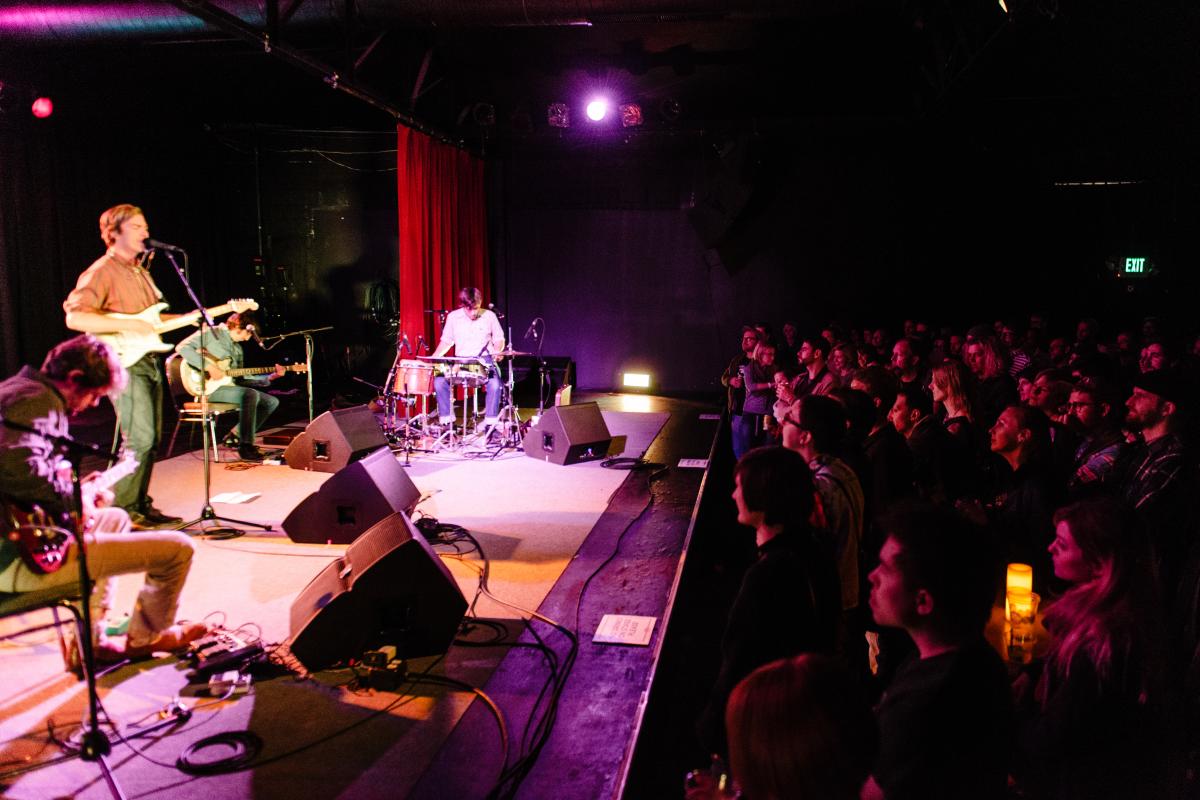 There's always a good show in Salt Lake, whether it's an obscure indie band playing to a passionate all-ages crowd at Kilby Court, an acclaimed blues guitarist wowing folks at the State Room, or a DJ packing the dance floor at Metro Music Hall. Find out more about Salt Lake's best music venues, or check the Ski City live music events calendar to see who's playing while you're in town.
Boutique Shopping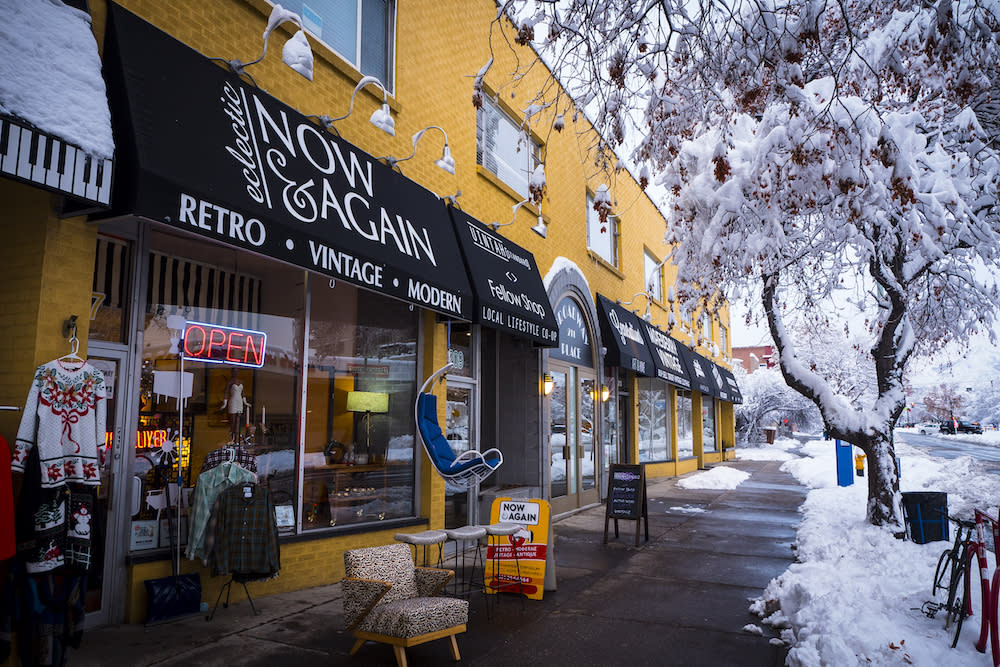 If you prefer to shop locally made and locally merchandised goods, you're in luck: Salt Lake has a strong boutique scene. Start your browsing on Broadway (also known as 300 South), where you'll find The Green Ant, home of mid-century modern furniture; Now & Again, featuring retro decor; and Uintah Standard, site of on-trend fitness apparel. Also nearby are Ken Sanders Rare Books, Fice Gallery, and Mod-a-Go-Go. Afterward, head to the 9th and 9th district, another walkable 'hood chock full of boutique shopping opportunities.
Performing Arts
Winter is a prime time to see performing arts in Salt Lake. The Utah Symphony season is in full swing at Abravanel Hall, Capitol Theatre hosts The Nutcracker, Swan Lake, and The Little Prince, and the brand new Eccles Theater has an impressive lineup of Broadway shows, live music events, comedy, and more. For something a bit off the beaten path, check out Ririe-Woodbury or Repertory Dance Theatre's performance schedules, browse the events at the Rose Wagner Center, or buy tickets to a Salt Lake Acting Company play.