Red Butte Announces Its Full Season Lineup!
Red Butte Gardens, Salt Lake's favorite outdoor concert venue, has just announced 28 shows running the gamut from big band to southern rock to hip hop to dubstep violin.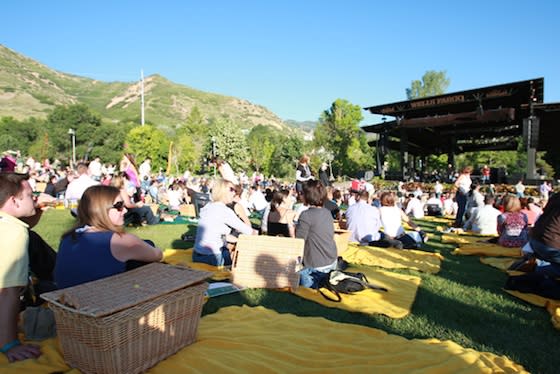 Starting the season off will be Passion Pit, The Decemberists, Chromeo, and Lindsay Stirling.

The full lineup is as follows:
Friday, May 22 at 7:30 pm: Passion Pit with opening act Holychild
Tuesday, May 26 at 7:30 pm: The Decemberists with opening act Wartime Blues
Wednesday, May 27 at 7 pm: Chromeo and Odesza with opening act Classixx
Friday, May 29 at 7:30 pm: Lindsey Stirling (sold out)
Tuesday, June 2 at 7:30 pm: Ryan Adams
Friday, June 12 at 8 pm: Tedeschi Trucks Band and Sharon Jones & the Dap-Kings with opening act: Doyle Bramhall II
Tuesday, June 16 at 7:30 pm: Cooder-White-Skaggs with opening act Robert Earl Keen
Thursday, June 25 at 7 pm: Rob Thomas with opening act Plain White T's
Thursday, July 9 at 7:30 pm: Brian Wilson with opening act: Rodriguez
Tuesday, July 14 at 7:30 pm: Hank Williams Jr.
Sunday, July 19 at 7 pm: Mavis Staples and Patty Griffin with opening act Amy Helm & The Handsome Strangers
Tuesday, July 21 at 7:30 pm: Steve Miller Band
Wednesday, July 22 at 7:30 pm: Harry Connick Jr.
Sunday, July 26 at 7:30 pm: Lyle Lovett & His Large Band
Monday, July 27 at 7 pm: Sugar Ray, Better Than Ezra, Uncle Kracker and Eve 6
Tuesday, Aug. 4 at 7:30 pm: Alabama Shakes
Thursday, Aug. 6 at 7:30 pm: Michael Franti & Spearhead
Friday, Aug. 7 at 7:30 pm: John Fogerty
Wednesday, Aug. 12 at 7 pm: Trampled By Turtles and The Devil Makes Three
Sunday, Aug. 16 at 7 pm: Brandi Carlile
Monday, Aug. 17, 7:30 pm: Rodrigo y Gabriela
Tuesday, August 18 at 7 pm: Wilco
Monday, Aug. 24 at 7:30 pm: Orquesta Buena Vista Social Club
Tuesday, Aug. 25 at 7:30 pm: Garrison Keillor's "A Prairie Home Companion"
Monday, Aug. 31, 7 pm: Yes and Toto
Sunday, Sept. 6, 7 pm: Cake
Tuesday, Sept. 15 at 7 pm: Mark Knopfler
Wednesday, Sept. 16 at 7 pm: Ben Harper & The Innocent Criminals
Also be sure to check out the Twilight Concert Series lineup.