Nosh On, Night Owls
Late-Night Eats in Salt Lake
If you're in Salt Lake, there are a number of reasons you might need a late-night meal. From craving a quick nosh after the ballet to wanting to inhale a burger after a Jazz game to desperately needing a slice after one cocktail too many (you'd never do that!), an after-hours appetite is a problem we can solve.
Stand Back, I'm Starving!
If you're more than just a little peckish, you might want to sit down for a full meal at one of the following establishments.
Specializing in Döner Kebab, SLC's resident rotating meat feast will hook you up with delicious Middle-Eastern fare, though if delicious lamb, beef, or chicken aren't your thing, they have great vegetarian and vegan options as well. Plenty of spice and garlic, but won't kill your wallet.
Open until midnight on Fridays and Saturdays, 10 p.m. the rest of the week.
Downtown: 35 E. Broadway, SLC UT 84111
Sugar House: 1201 Wilmington Ave #101, SLC UT 84106
This neighborhood hot-spot is a great place to walk through the Aves to. Take your time on the spicy Prop-corn (trust), the house-brewed Proper Ale, and the Fish and Chips before sauntering home.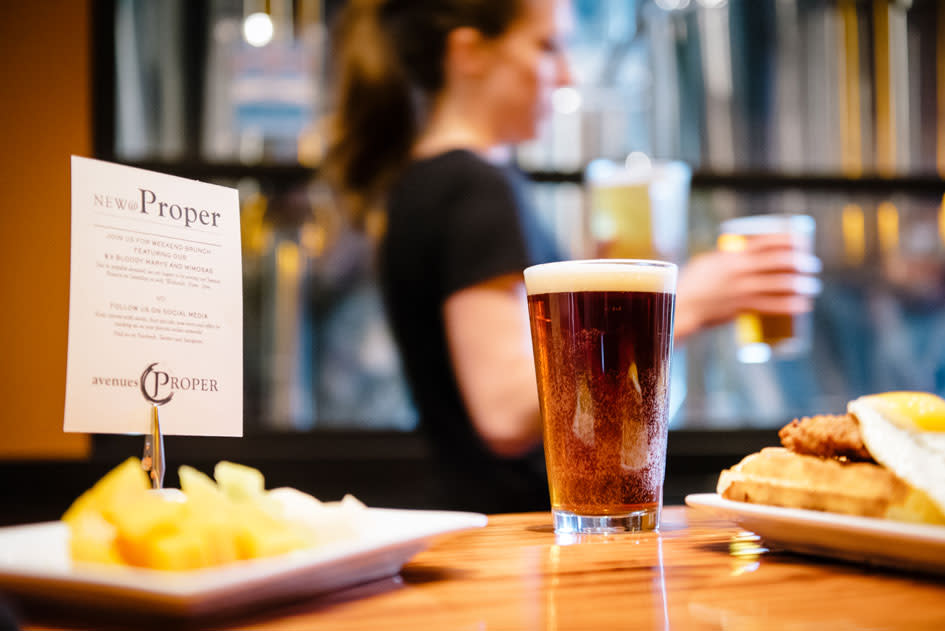 Open until midnight on Fridays and Saturdays.
376 8th Ave, Suite C, SLC UT 84103
Another neighborhood nosh, East Liberty Tap House has kicked up the nightlife in the 9th and 9th district, especially for those looking for a late-night bite. The sloppy lamb burger, y'all. It's late, but you're already eating a lamb-based sloppy joe, so you should probably go all out and get that whisky brownie. You're welcome.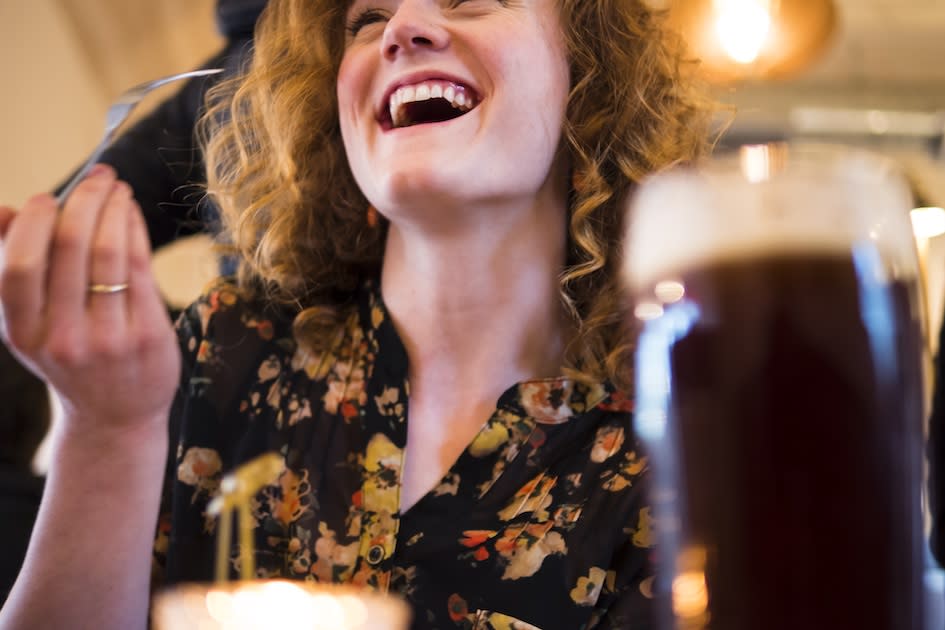 Open 'til midnight seven days a week
850 East 900 South, SLC UT 84105
You're Not in Downtown Anymore, Honey
Sometimes, it's late and you're starving, and you're nowhere near downtown. Fear not—enticing opportunities await!
It might not be a full meal, but a boba tea should hold you over until morning, or at least until the next drive through. The boba tea at Gossip is top notch; try one of the traditional red bean flavors.
Open until 11 p.m. Friday and Saturday
1629 West 3500 South, SLC, UT 84119
There is a special place in late-night heaven for the good people at Chef Gao. Many a prayer to the munchie gods have been offered in request of 11:30 p.m. Kung Pao chicken, and lo, it exists.
Open until midnight, locations in Downtown, Midvale, and Orem
220 West 7200 South, Midvale, UT 84047
Check it: if you've never had lomo saltado (and you're a meat eater), you need to remedy that, STAT. Juicy steak and tomatoes with vinegar over fries. The portions of everything at Puro Peru will fill you to capacity, but don't worry, on the weekends, you can dance the calories off to live music.
Open until midnight Friday and Saturday
8475 South State Street, Sandy, UT 84070
The Pizza Pie
Let's face it, sometimes nothing will cut that late-night craving like a greasy (or not so-greasy) slice.
There's something about Este that just makes tummies happy. Perhaps it's the fact that they've been known to deliver to Rose Park, or that their garlic knots have killed vampires by mere mention. It's good pizza, folks.
Open Friday and Saturday until midnight
Sugar House: 2148 South 900 East, SLC, UT 84106
Downtown: 156 East 200 South, SLC, UT, 84101
The pie is classic, super-cheesy, chewy-crust, tons-of-toppings pizza. When you need to order a pie that will feed fifteen people and leave delicious leftovers the next morning, the Pie is your magic pizza.
Open Monday-Thursday until 1 a.m., Friday and Saturday until 3 a.m., Sunday until 11 p.m.
University: 1320 East 200 South, SLC UT 84102
Midvale: 7186 South Union Park Ave, Midvale, UT
South Valley:10627 South Redwood Road, South Jordan, UT
When you've finished your drinks for the evening and you want a slice to soak up that last Jaeger shot, bro, the Pie Hole is there for you, picking up the pieces and putting them right in your gaping maw. Bless you Pie Hole, for we have sinned.
Sunday-Thursday until 2 a.m., Friday and Saturday until 3 a.m.
344 South State Street, SLC UT 84111
The Brew Pubs
Believe it or not (you should really start to believe these things), Salt Lake is a beer town, and the brew pubs are a great place to grab a late-night bite and beverage.
You can't go wrong with the Latter Day Stout or the Happy Valley Hefeweizen, but if you're not inclined to imbibe, the food at Desert Edge is pretty stellar, too. The chile verde is nothing to turn your nose up at, and we always order the house pasta salad.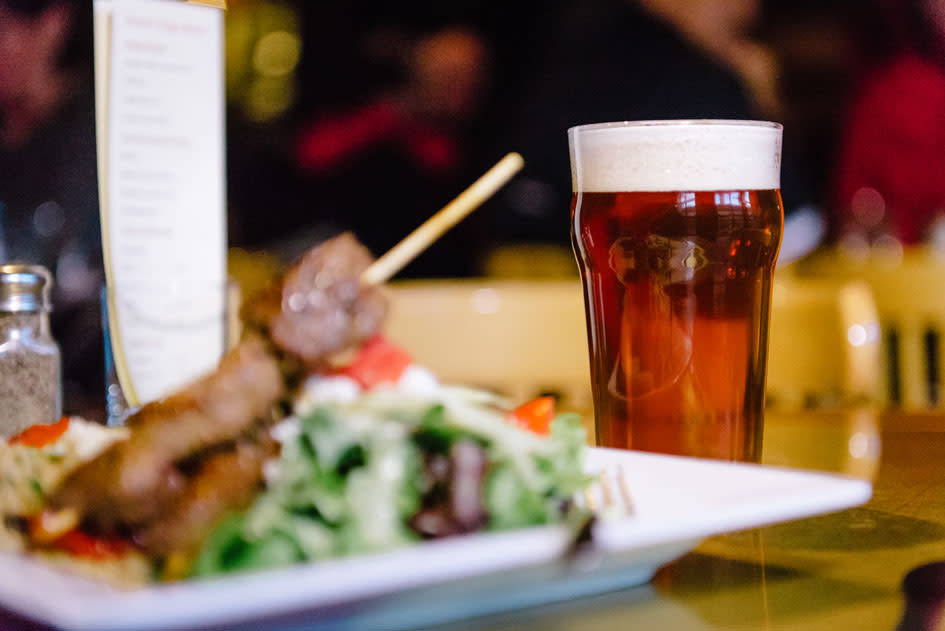 Kitchen hours: 11 p.m. Monday-Saturday
273 Trolley Square, SLC UT 84102
Try some of Wasatch's traditional brews on tap, or grab the Chocolate Rye Stout on Nitro, or get feisty with the jalapeno cream ale. If ever there's a Cubano on a menu, don't turn it down, just as a policy, and Wasatch has a great one. The same should hold true of a good Reuben, so get your date to order that and then split halves.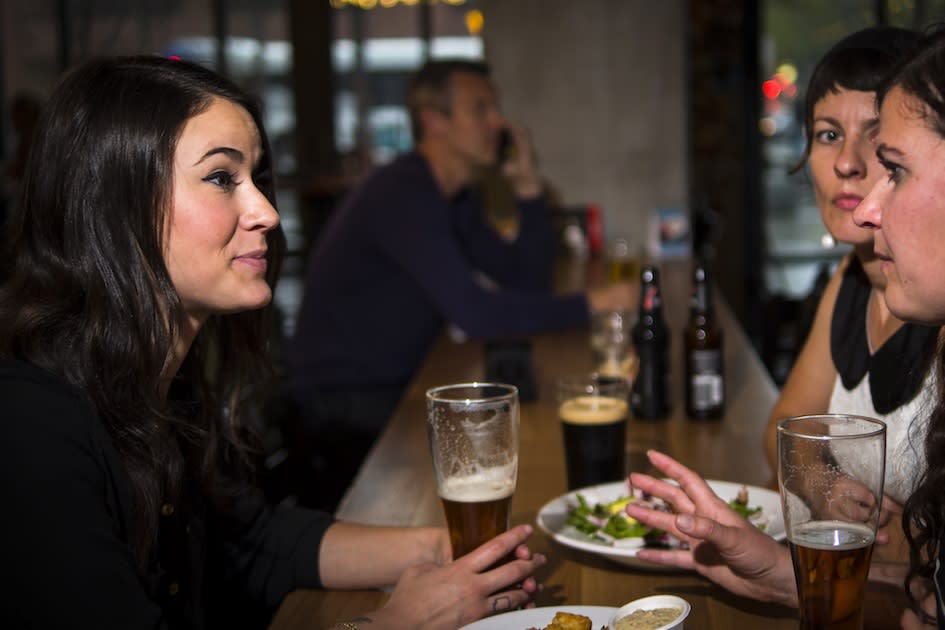 Sunday-Thursday until midnight, Friday & Saturday until 1 a.m.
2110 South Highland Drive, SLC UT 84106
To drink? Emigration Amber—a brewery favorite for a reason, or go with the Monkey's Dunkel. For our veggie-loving friends out there, we can say on good authority that the veggie burger at Squatters is one of the finest, and their fries with some malt vinegar? That's a good late-night meal.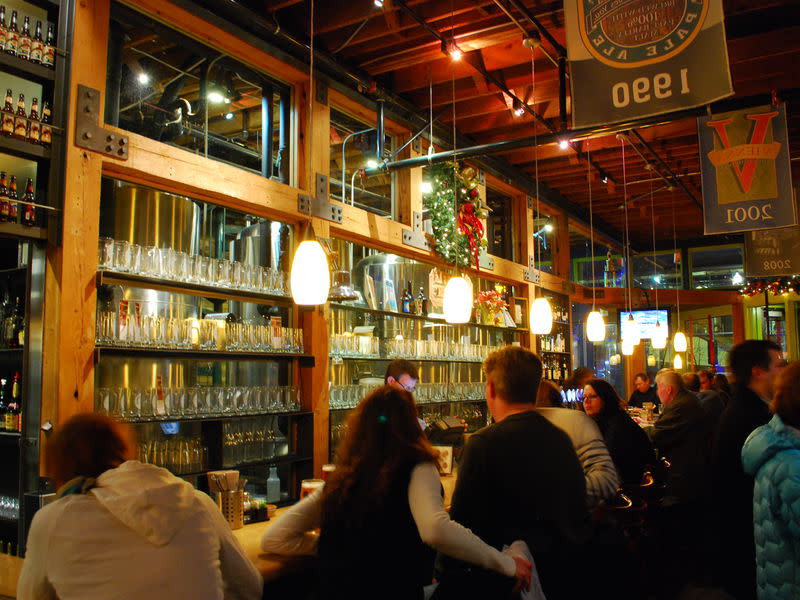 Sunday-Thursday until midnight, Friday & Saturday until 1 a.m.
147 West Broadway, SLC UT 84010
If you can get your hands on Red Rock's Chocolate Saison, please enjoy a glass for us. It's fall in a glass, and if you stroll to Red Rock after a night at Abravanel Hall or UMOCA, it will be a perfect cap in the evening. If you're really feeling the autumnal thing, go with the wild mushroom polenta or the sweet potato cannelloni.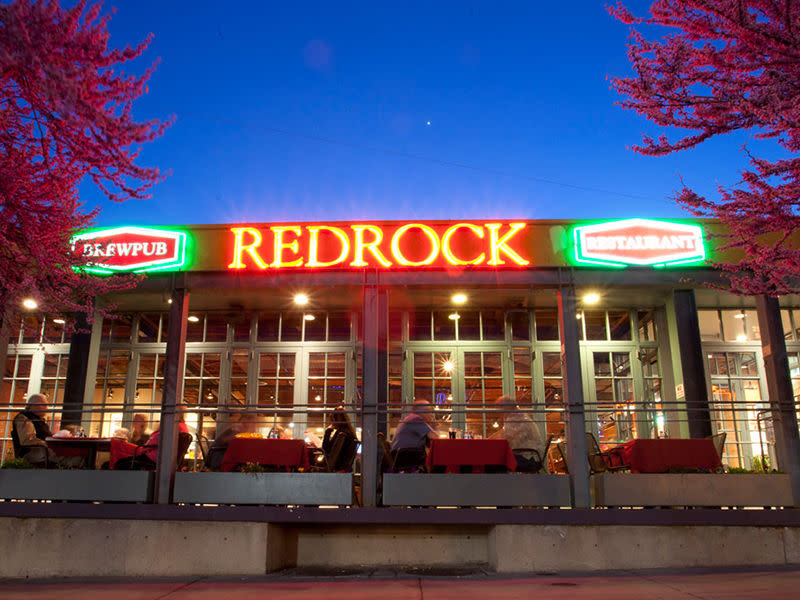 Sunday-Thursday until 11 p.m., Friday & Saturday until midnight
254 South 200 West, SLC UT 84101
See and Be Seen
Downtown Salt Lake City has become the place for the movers and shakers in the state to take their business. You'll see the up and comers out on the town in these hip havens.
Attached to the Urban Lounge, this diner allows guests to watch shows, live. The food just happens to be amazing as well, with such delights as banh mi, pickled quail eggs, and pork belly lettuce wraps. On Tuesdays, with each entree you can get a free ticket to an upcoming show at Urban Lounge.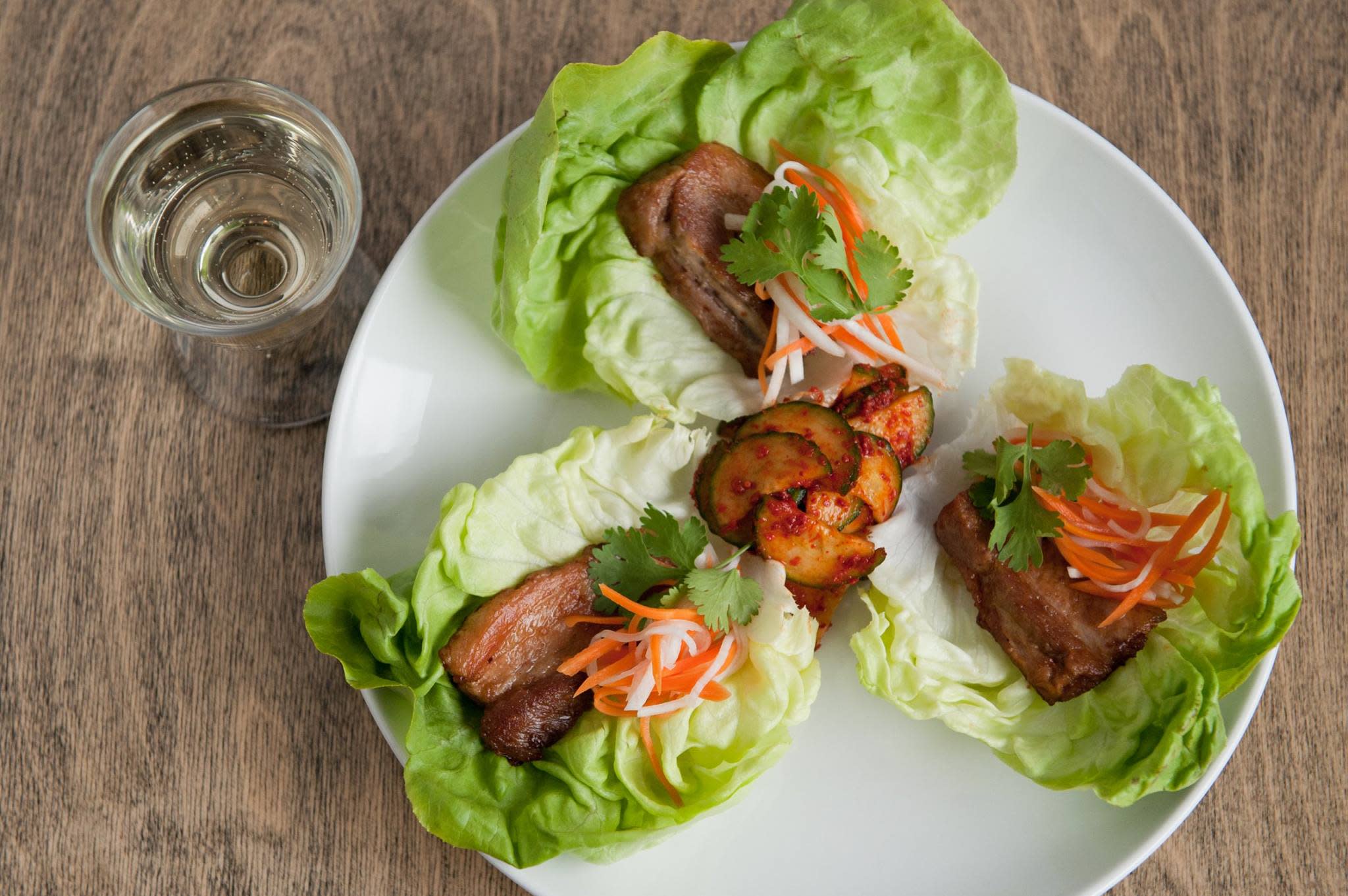 Monday-Saturday until midnight
239 South 500 East, SLC UT 84102
This intimate, small-plates restaurant bustles every night of the week. Great options on everything from house cocktails to pizzas and seafood.
Monday-Saturday happy hour until midnight
317 South Main Street, SLC UT 84111
Part of the Pago Restaurant Group, Finca brings farm-to-table dining to the late-night crowd on the weekends. Remember that Cubano rule from earlier? It goes double at Finca. Or order the Bikini sandwich, instead, if you prefer quince jam to pickles. Also try the papas y aioli.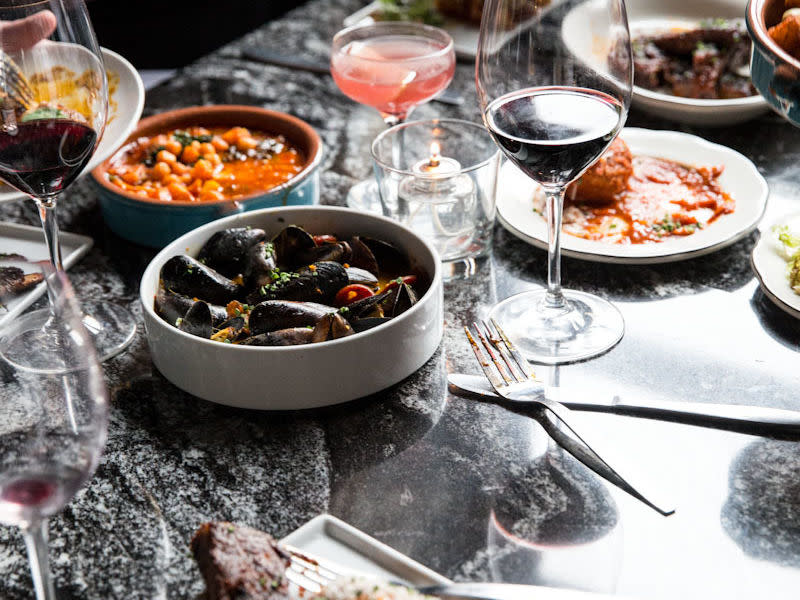 Friday and Saturday until midnight
327 West 200 South, SLC UT 84101
Adjacent to downtown hotspots Beer Bar and Bar-X, Taqueria 27 provides late-night comestibles to the drinking crowd. They have a variety of guacamoles, tacos, salads, and moles. Don't pass up the Mexican-style Cobb Salad with pork belly.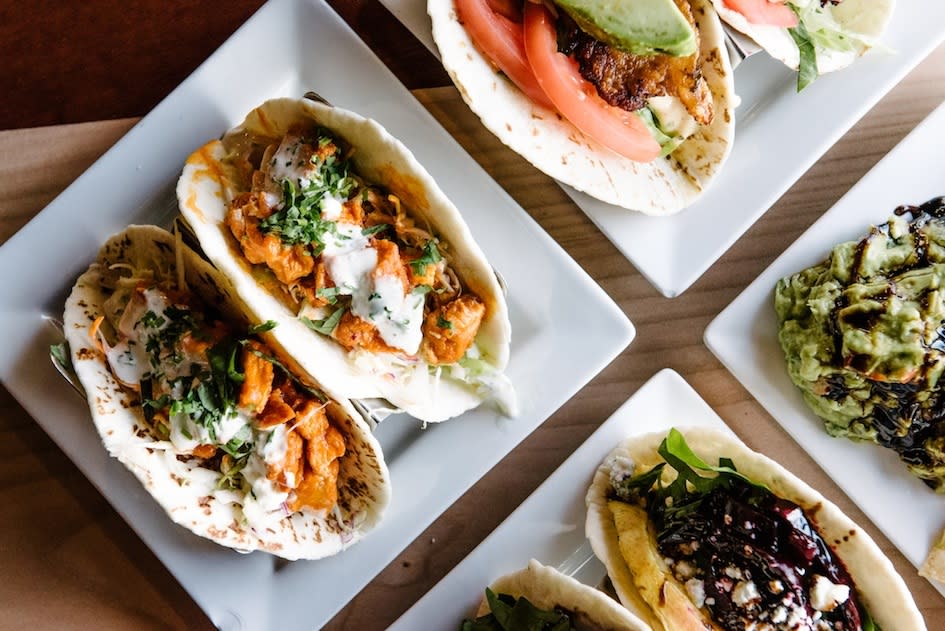 Friday and Saturday until 11 p.m.
149 East 200 South, SLC UT 84111
Though most people head to the Beer Bar to drink from their massive brew offerings (they are impressive, and delicious), don't overlook the stellar food. Serving sausages from Salt & Smoke meats on buns from Eva's Bakery and fries with mouth-watering dipping sauces, it's a great option for a late-night meal.
Daily until 2 a.m.
161 East 200 South, SLC UT 84111
Though that's by no means everything on Salt Lake's list of late-night food jobbers, you probably can't move at this point. Roll yourself to bed, and check back soon for bodacious brunch spots.