Night on the Town: Explore the Lively 2nd & 2nd
The revived stretch of 200 South, between 100 and 200 East, provides a hip new spot for folks to experience and enjoy downtown. With recent additions complementing the old classics, the area is now a bustling scene on Saturday nights—much different from the run-down corner it once was.
It's a unique spot in the city, with a casual vibe and plenty of things to see and do and eat. It's a great spot for a day drink, a mini bar crawl, or a few cocktails with dinner. Set aside a Saturday to check it all out—spend the afternoon at CUAC, snag some new kicks for the night at Fice, start things off with a margarita (or two) at Taqueria 27, keep things going with cocktails at Bar X, and end the evening with a few brews at Beer Bar.
The new and improved stretch of urban terrain serves all types of characters, in all kinds of ways, all on one city block.
Here's how to make the most of it:
Afternoon Adventures
Before you hit the bars, treat yourself to some dazzling work on display at two of Salt Lake's most unique art galleries. 2nd and 2nd has become a hub of sorts for Salt Lake's local art scene. Both the CUAC and Modern West Fine Art share an old building on the corner, now home to many imaginative pieces of contemporary art. Both galleries participate in the Salt Lake Gallery Stroll, which is coming up on 22 years of existence now. It typically happens on the third Friday of each month and brings all kinds of art fans together to enjoy and share the work that Salt Lake's talented artists present. The event is always free, and it's a great activity to kick off the weekend.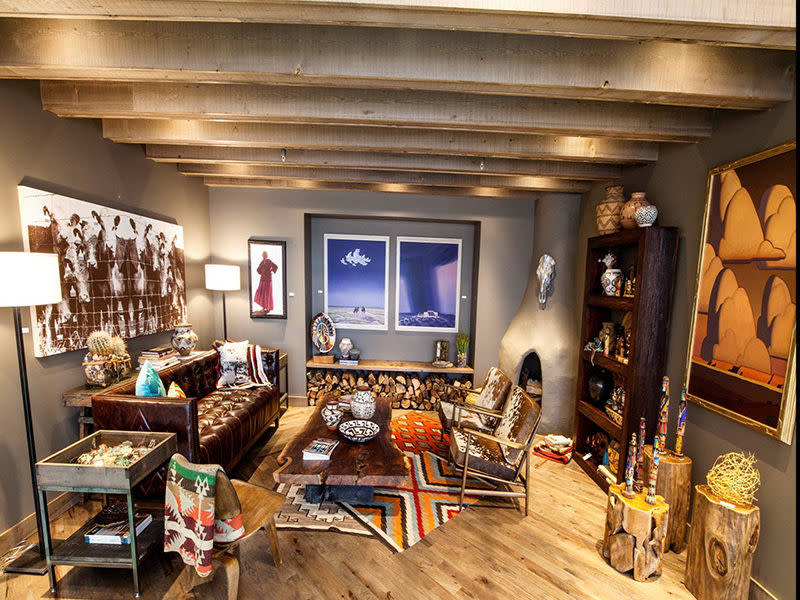 After taking in the artwork, move the party across the street to the hippest shop on the block. Since 2008, Fice Gallery has been serving up some of the trendiest and funkiest threads you can find in SLC. With a hefty selection of the hottest brands, it's like walking into an art gallery for apparel. Grab yourself a new pair of shades for patio-sitting, or some new sneaks to complete your going-out getup.
Bar Crawl Stops One and Two
Next stop, Bar X.
This prohibition-era-themed speakeasy will transport you back a few decades as soon as you walk under the bright flashing sign and through the front doors. With a mellow vibe to contrast the exterior, it's a great spot to ease into your night out. With its intimate setting and dim lights, it also makes for a hot date night. The atmosphere is reminiscent of an old Boston bar, with a very distinct feel. Go with one of the specialty cocktails and watch the bartenders work their magic.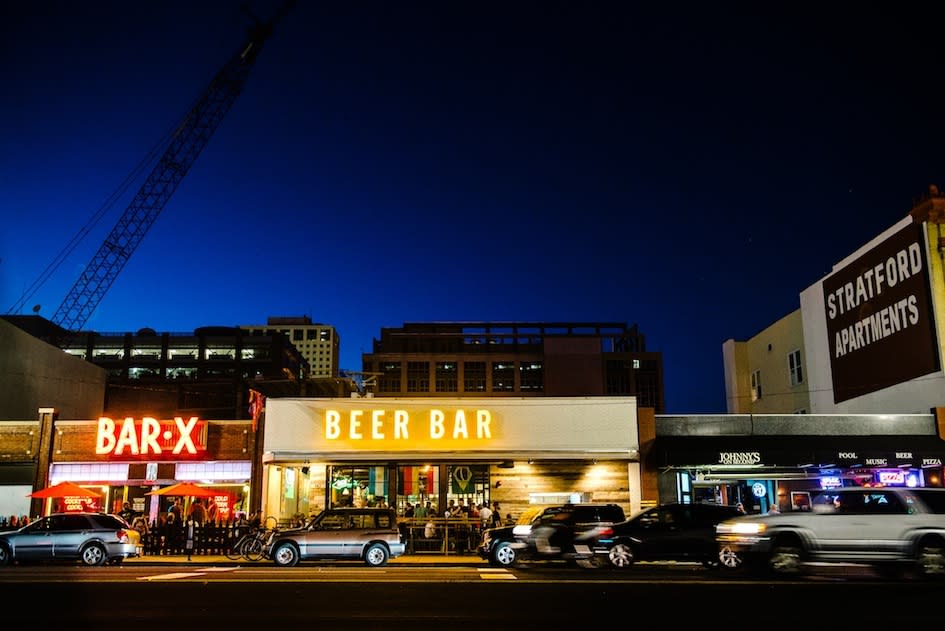 When you're ready for bar number two, walk out the front door, turn left, and then turn left again into next-door Beer Bar (or just use the entrance that connects the two bars inside). Try a few of the featured beers from the long rotating list, which usually includes a great selection of brews that were crafted right here in the West. Beer Bar is a fun place to catch a ball game without the usual tomfoolery of the typical sports bar; the wide-open vibe and communal seating inspire camaraderie, especially when the locals are playing.
Both Bar X and Beer Bar set their respective (and distinct) vibes effectively and uniquely. Connected yet separate. Similar yet very different. And with the occasional celebrity sighting, they've become the hot new place to be on a Saturday night.


Grub
Taqueria 27 just opened the doors on its third location, and its first spot downtown (you guessed it, on 200 South). Famous for its fancy tacos and fine tequilas, Taqueria 27—or T27 as it's known around town—is a tasty option for both dinner and late night fare.
You can't go wrong with the tacos—the pork belly is one of the best. And the Mexican-style cobb salad is a nice surprise—so simple, but so delicious. Add a couple of jalapeno-melon margaritas, and you have a great highlight to the evening. It's also worth mentioning that T27 is open until midnight on Friday and Saturday. Post-bar-crawl tacos, anyone?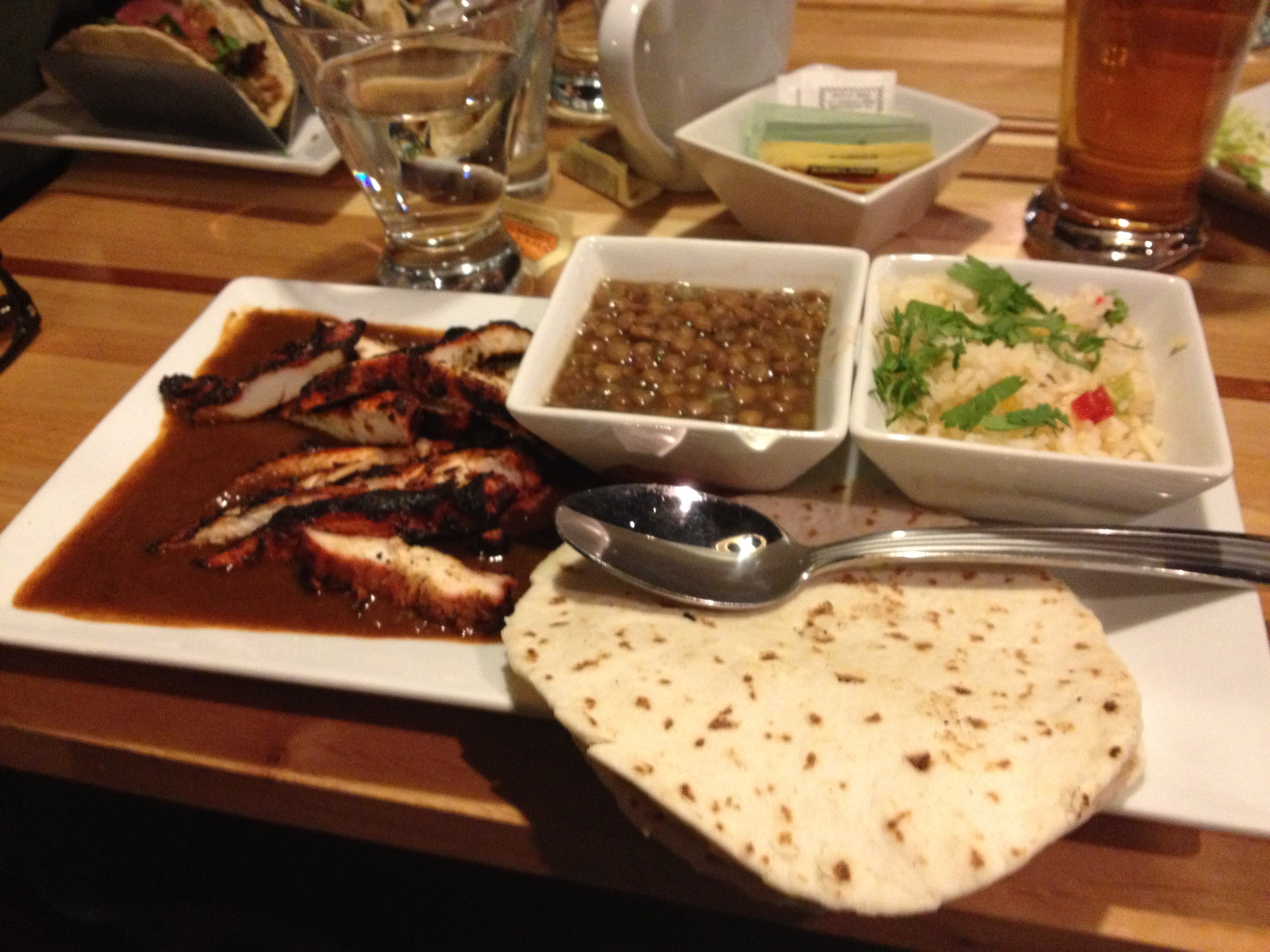 If you're more of the pizza type, give Este Pizza Co. across the street a shot. If it's not too late (before 10pm), this is a killer spot to get a slice or two. It's damn near the best pizza in the city.
One Last Thing
If you're in the 2nd & 2nd area during the aforementioned Gallery Stroll, head behind Este to Copper Palate Press, a large studio space where Salt Lake's printmaking community has access to presses and collaborates on projects. They're doing cool things with posters, tee shirts, and more, which you can check out here, and peeking into the studio is always interesting.