Lunch Visit to Thai Lotus

Shawn and I hopped on the town cruiser bikes and took advantage of what could be one of the last few days of warm weather in Salt Lake City. We didn't have any specific place in mind for lunch so we just rode around downtown, enjoying the sunshine and the autumn leaves.
After a long loop of downtown were were passing by Thai Lotus on 212 East 500 South and after a couple of glances we knew it was time to pull in to check it out. Neither of us had been there before so we went into it with no real expectation.
Arriving just shy of 1:30 the place was packed (even though the photo below shows it empty), including a couple who were dining out front! Glancing around at the decor, perusing the menu to kill some time a table opened up and we were seated quickly.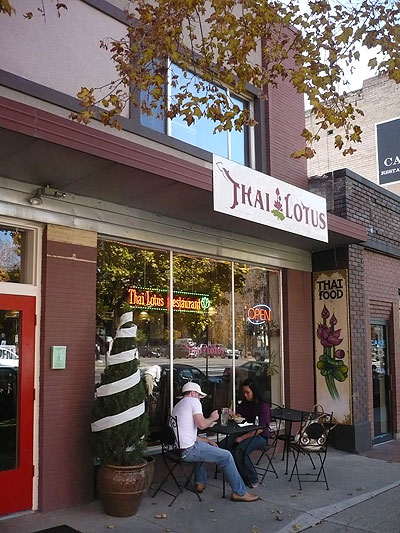 I immediately had the impression that Thai Lotus was all about business. Our server immediately served us salad with a peanut sauce as she took our order. I ordered one of entree items and was asked to choose a second, somehow missing the fact that each lunch came with two entree came with 2 menu items.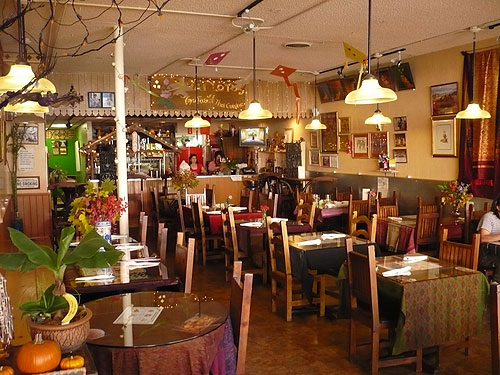 We ate our salads at a casual pace and immediately as we finished our meals were on the table. I was impressed so far.
The Food
So how was the food? I loved it. I chose the Chicken Red Curry and the Chicken Panang Curry and both were delicious. The red curry had some heat to it but not enough to make it uncomfortable. Serving size at Thai Lotus was spot on for a couple of hungry guys.
Perhaps the best part of the meal came with the bill - under $20 including tip for both of us! On price alone it's worth checking out but the food quality and the service we experienced speaks volumes for Thai Lotus.