June Monday Specials at Oasis Cafe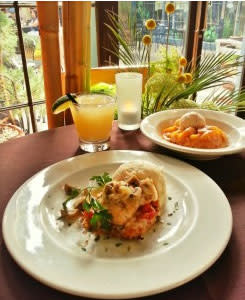 Oasis Cafe's Celebrates Garden Goodness with 3 Courses for $25 during June
Celebrating garden goodness and the start of the farmer's market season, Oasis Cafe's Chef de Cuisine Efren Nicholas has created four three-course specials that change weekly, each for just $25. His light summer offerings reflect the best of what's available from local farms, ranches and fisheries. On Monday evenings, the price drops to $20 for his "Somebody's got a case of the Mondays!" tribute.
"Mondays are bad enough," said Will Keesen, general manager. "When they fall in June with perfect weather while we're cooped up in our offices, everybody is bound to have a 'Case of the Mondays." We have the perfect cure….garden fresh goodness and an amazing $20 deal on Mondays for three courses under the stars on our newly opened courtyard patio."
The weekly three-course $25 ($20 Mondays) menu features:
June 3 – June 9
Soup or salad, pan seared sea bass with heirloom tomatoes, carrot anisette sauce, topped with micro greens and ending with a golden raisin bread pudding with caramel sauce and vanilla ice cream.
June 10 – June 16
Soup or salad, Pan Roasted Halibut served with basmati rice with carrots, celery and onion, in a miso broth, garnished with tomato and arugula, ending with vanilla chocolate cheesecake.
June 17 -June 23
Soup or salad, pan seared swordfish with roasted bell pepper soft polenta, topped with red beets and Swiss chard, and fresh mixed berries tart for dessert
Oasis Cafe
151 S 500 E Salt Lake City, UT 84102