Hub & Spoke: a Down-to-Earth Diner with High-Quality Eats
For reasonably priced modern casual fare with a fresh twist, head to Hub & Spoke Diner in Sugar House. It's restauranteur Scott Evans' fourth dining establishment (after Pago, Finca, and East Liberty Tap House), and it's situated at the great neighborhood corner of 1291 S 1100 E in Salt Lake City.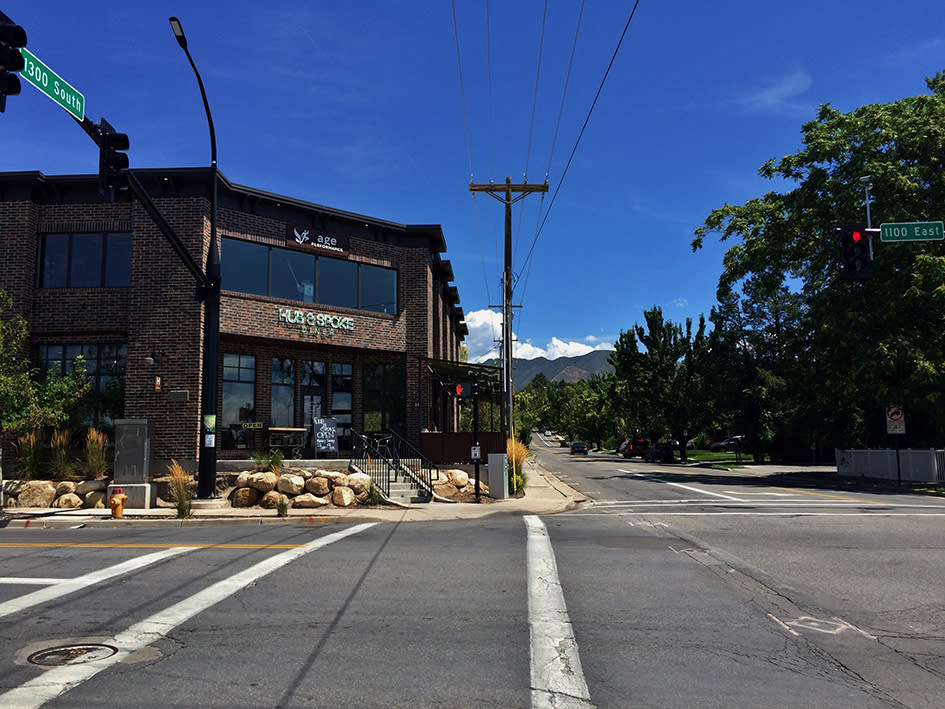 Sit outside on the patio to enjoy summer passersby, or head inside the casual-atmosphere diner to watch the kitchen prepare meals from your table, booth, or spot at the bar. If you sit inside, keep your eyes peeled for the raccoon (not to be mistaken for a badger) among the diner's playful hunting-lodge decor.
The restaurant caters to friendly get-togethers, family gatherings, dates, vegetarians, and our gluten-free friends, and it sources many ingredients locally. The kitchen serves upscale diner food every day, with an all-day breakfast menu. The fare represents a kaleidoscope of global influences: New York Deli Sandwiches with Pastrami, Southern-style Shrimp & Grits, an Asian-inspired Breakfast Banh Mi Sandwich, European Spaetzle Mac & Cheese, and hot-from-the-griddle favorites such as Sour Cream Flapjacks.
For dinner plates with meals around $15-20, look to the menu's "Favorites" section (available after 4pm) and try the charming, melt-in-your mouth Chicken Pot Pie or the Pan-Seared Niman Ranch Pork Chop with Beer Jam. Or go with my personal favorite: the Turkey Rueben, substituting fries for a side salad with Ginger Shallot Vinaigrette (which should be sold on its own!). The meals are a nice size; you might take home leftovers, but they're small enough that you can clean your plate and leave feeling quite full.
Tip: This is a no-reservations-necessary restaurant, unless your party is 10 or more.
For breakfast, dessert, or as a beverage with lunch or dinner, be sure to enjoy one of the traditional Ice Cream Shakes or a Boozy Shake, a milkshake with a liquor twist. There's the Salted Caramel with bourbon, the Irish Coffee with, you guessed it, Irish whiskey, or the Rum Swizzle with citrus gelato. Be sure to order a Boozy Shake made extra thick.
If shakes aren't your drink of choice, Hub & Spoke has beer, wine, and cocktails, too, along with an espresso bar and fresh-squeezed juices.
Did I mention they make pastries in-house? Hub & Spoke bakes buttery biscuits (savory and sweet), pies, and cakes.
Thanks to the all-day breakfast, relaxed ambience, and good service, Hub & Spoke Diner might become my new Salt Lake neighborhood go-to. There are a few items I definitely still want to try, so I'll be back soon.