Holiday Shopping at Salt Lake's Artisan Bazaars
Unique Gifts. Local Artists. Great Causes.
If the early hours and fast pace of Black Friday and Cyber Monday aren't your style, Salt Lake has many opportunities to shop in a more festive environment. If you need to find something for that "hard to shop for" person on your list and prefer supporting local artisans, you're in the right place.
Salt & Honey - A Makers Market

When: December 3 - 5 & 10 - 12. 10 am - 10 pm 
Where: The Gateway Mall, 116 S Rio Grande St, Salt Lake City, Utah 84101 
Admission: Free
Salt & Honey is a makers market offering a unique space for designers, artists, crafters, food experts, and vintage collectors to sell their independently produced goods. Open Thursday - Saturday the first two weekends in December, with gifts for every age. Free admission. Come visit us and shop local this Christmas!
Learn More
Annual Holiday Show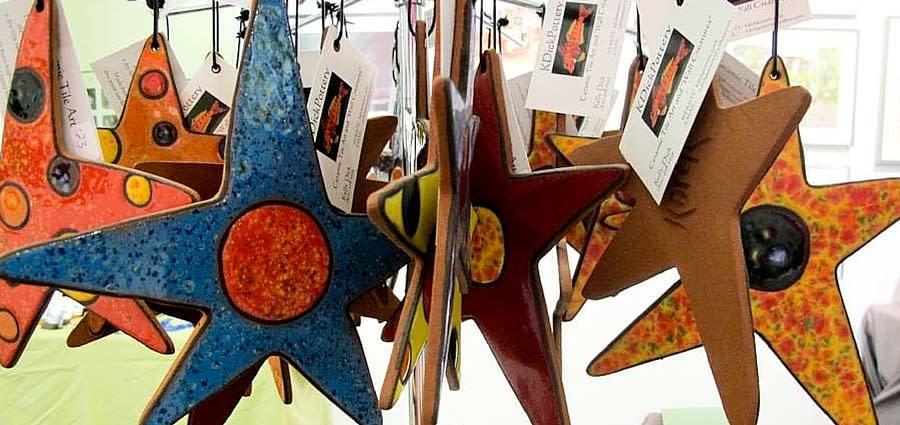 When: November 20 to December 17, 2015
Where: Artspace City Center, 230 S 500 W, Salt Lake City
Admission: Free
The Utah Arts Festival and Art Access invite the public to shop for one-of-a-kind artistic finds created by over 70 artists in a wide variety of styles and media at The Holiday Show, debuting November 20. The Holiday Show will consolidate a large selection of artistic gift items in two suites at Artspace City Center and will run from November 20 through December 17.
Visitors will find a wide variety of art styles and media, with something for nearly every budget and taste. The Utah Arts Festival Gallery (Suite 120) will offer handcrafted jewelry, photography, glass, books, cards, jewelry, and clothing made by 30 area artists and artisans. Holiday shoppers are welcome Monday through Friday, from 10 am to 5 pm. Art Access, (Suite 125) will host over 40 local artists offering many styles of paintings, mixed media, pencil drawings, jewelry, photographs, sculptures, holiday ornaments, woodwork, home decorations and jewelry boxes, and more. Art Access hours are Monday through Friday from 9 am to 5 pm.
Learn More
Colors of the Season

When: November 15, 2015 to January 10, 2016
Where: Art at the Main 200 East 400 South Salt Lake City, UT 84111
Admission: Free
Art at the Main gallery has chosen "Colors of the Season" for its collaborative exhibit from Nov. 15 through Jan. 10. Each of AATM's cooperative artists will select the icy color of winter and hot holiday colors to express themselves in their widely varied art forms and techniques of oil, acrylic, watercolor, mosaic, fused glass and pottery. Their first annual Holiday Shopping Bazaar featuring art gifts will be located at The Shared Space adjacent to the gallery, within the atrium of the main library. It will be open Dec. 8 - 20 from noon to 4 pm daily.
Festival of Trees

Where: South Towne Exposition Center 9575 S State Street Sandy, UT 84070
Admission: $6/adults, $3/children. Wednesday is Family Day, $18 for the fam. Discount tickets available at Zions Bank.
For 45 years, the Festival of Trees has been a "Gift of Love" to children. Every penny raised at the Festival of Trees helps children at Primary Children's Hospital.
Attractions: Over 800 trees, Playhouse Plaza, Friendship Cards, Sweet Shoppe, Gift Boutique, Centerpieces and Collectibles, Aisle of Wreaths, Scones and Sweet Rolls, Gingerbread Village, Quilt Block, Elf Emporium, Santa Land, Kids Corner, and Entertainment.
Christkindlmarkt

When: December 3 - 5, 2015
Where: This Is the Place Heritage Park 2601 East Sunnyside Avenue Salt Lake City, UT 84108
Admission: Free
Inspired by the world-famous German Christmas markets, Christkindlmarkt SLC offers a unique holiday shopping and cultural experience this season. Tantalizing food and festive holiday entertainment await you as you stroll through wooden vendor booths nestled amid the magical backdrop of This Is the Place Heritage Park. The St. Martin's Lantern Parade and Christmas Tree Lighting will take place the evening of December 3rd, to celebrate the community-wide coat drive for children in need. Come experience the old-world charm of Christmas.
Festivus for the Rest of Us

When: December 4, 2015
Where: Urban Arts Gallery 137 S Rio Grande Street Salt Lake City, UT 84101
Admission: Free
This December, join us for a "Festivus for the Rest of Us" celebration during Gallery Stroll and an Urban Arts Gallery group show to celebrate the season! Featuring small inexpensive artworks by several of your favorite local artists.
Holiday Craft Market

When: December 4 - 20, 2015, 10 am - 7 pm Monday - Friday; 11 am - 5 pm Saturday and Sunday
Where: Finch Lane Gallery at the Art Barn 54 Finch Lane 1320 East 100 South Salt Lake City, UT 84102
Admission: Free
Come purchase handmade artwork from local artists. You will be directly supporting the Wasatch Front's own. Other proceeds go directly back into the Holiday Craft Market for next year's event. Items for purchase represent a variety of styles and materials including letterpress cards, holiday ornaments, scarves and hats, cups and bowls, jewelry, personal care products, pottery, and art glass. There are many unique gifts, from 70 different artists, to give this holiday season.
2015 Winter Market

When: December 5, 2015
Where: Utah Cultural Celebration Center 1355 West 3100 South West Valley City, UT 84119
Admission: Free
Come in from the cold and experience the holiday spirit at the Utah Cultural Celebration Center. Find the perfect gift for your loved one at one of over 35 of the finest handcrafted arts and ethnic arts products. A number of non-profit arts organizations will also be on-hand showcasing their talents. Enjoy special handmade gifts in an elaborate Christmas environment featuring cultural entertainment from around the world.
Live music and dance performances and the Trees of Diversity exhibit will complement the festive environment. The market also features a variety of family-friendly, exciting arts experiences for the general public.
UMFA Holiday Market

When: December 5, 2015
Where: Utah Museum of Fine Arts 410 Campus Center Drive Salt Lake City, UT 84112
Admission: Free
Spend the day at the UMFA and find that perfect gift for everyone on your list. Shop for jewelry, pottery, textiles, and paintings by local artists. Satisfy your sweet tooth with artisan chocolates and teas. The Museum Store and Café will be open as well—free gift-wrapping available.
14th Annual Holiday Open House

When: December 5 - 6, 2015
Where: Red Butte Garden 300 Wakara Way Salt Lake City, UT 84108
Admission: Free
This year marks the 14th Anniversary of the Holiday Open House at Red Butte Garden! The Orangerie will be filled with about 20 local artists who have created an array of handmade gifts for sale including jewelry, pottery, fiber art, photography, and more. There will also be complimentary cider and hot chocolate, and a winter wonderland of a garden to explore. So bring your shopping list, your winter boots, and enjoy the season at the Garden!
Dickens' Christmas Festival
When: December 10 - 12, 2015
Where: South Towne Exposition Center 9575 South State Street Sandy, UT 84070
Admission: $7 adults, $6 seniors (65+), $5 children (4-12), children 3 and under - free
The Dickens' Christmas will be returning to Salt Lake City, Utah immediately following its traditional run in St. George, Utah. This year's Salt Lake re-enactment of 19th Century London will take place in Hall 3 in the spacious South Towne Expo Center, located in the heart of Salt Lake Valley's residential community and easily accessible by freeway and Utah Transit Authority routes.
The Festival is created to bring you the best-selling experience of the year. Delighted guests will wind through narrow village streets as they shop for their gifts. They will be amazed to see our "Olde London Festival" come to life. Be part of the success and experience The Salt Lake City Dickens' Festival first hand. Put on that top hat or hoop skirt and join us as the streets of Olde London come to life!
ACE Holiday Art Market

When: December 12, 2015
Where: Our Lady of the Snows Center 10189 East State Highway 210 Alta, UT 84092
Admission: Free
Support local artists and get your holiday shopping done early at the ACE Holiday Art Market! 15 local artists will be selling their products. While you shop, enjoy live music and refreshments at Our Lady of the Snows.