Hiking the Temple Quarry Trail in SLC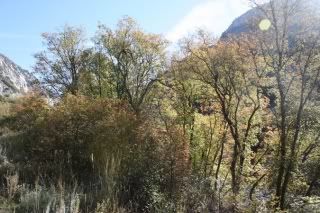 You really need to head up to the mountains right now.  I'm serious.  Stop what you're doing this minute and go to the mountains.  The autumn colors are absolutely incredible right now.
This past weekend was a busy one for our family.  We didn't really have time to go to the mountains but we all desperately wanted to, so we carved out a few morning hours and made it happen.
Big Cottonwood Canyon is closer to our house so we normally go on hikes there, but we have all recently voted and decided that Little Cottonwood Canyon is, by far, the prettier canyon.  So we found an incredibly easy walk at the mouth of Little Cottonwood Canyon.
The
Temple Quarry Trail
is the location where granite stone was taken to build the Salt Lake Temple in the late 1800s.  A beautiful trail has been carved out at this lovely little place.  You can see remnants of granite and tool marks are even visible on the stone.  History and culture buffs will appreciate the many markers throughout the trail that give you the history of the site.  
I love to imagine history and when I'm actually in a location where something took place, it makes it so much easier.  It was amazing to be in that spot and realize how very far away the Salt Lake Temple is in downtown.  Then, to imagine the long, long journey by ox and cart that the pioneers had to make just to get stone to the temple site- it's truly amazing.  If you want to give your children a sense of ancestral hard work, this is a good place to teach a lesson while enjoying nature.
The trail is wheelchair accessible, which also means it is very toddler friendly.  It's nice to let your kiddos run around without worrying they will fall off the mountain.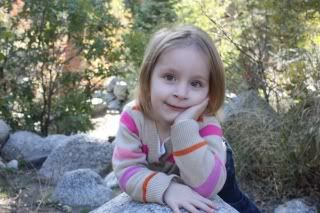 And if you're really lucky, you can see mountain goats on the surrounding cliffs.  My husband and foreign exchange daughter saw not one, not two, but THREE mountain goats.  My eyes are terrible and I couldn't see them, even though I was probably looking directly at them.
The trail is at the mouth of Little Cottonwood Canyon on UT 209, just south of UT 209's intersection with UT 210.
Follow along on Rebecca's adventures at
www.thrilledbythethought.com
.