How Best to Get Up the Canyons Safely and Quickly
Think about it: you carefully plan your ski purchases, season pass, outfit, and ski days. But do you plan your ski commute as carefully? Probably not. If you're like most people, you rise bright and early, dash through the coffee shop drive-through, and race to the canyon, seat heaters on "high," stereo pulsing with your powder-day anthems.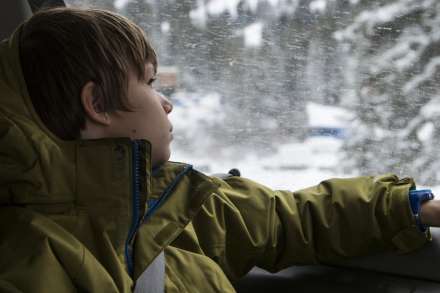 Then … you run into the line of all the other cars whose people who had the same idea. Stoke can be compromised by the jostling and jockeying among canyon cars. But you can't blame everyone for having the same ski plans as you. Rather, you can outsmart them.
There are only two goals when it comes to a savvy canyon commute: skip traffic and stay safe. Here's how you can meet both goals—getting to the slopes faster, happier, and ready to shred.
All Aboard the Ski Bus
Salt Lake is home to (we think) the very finest ski bus system in the land, UTA Ski Service.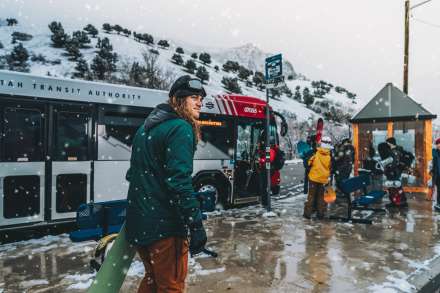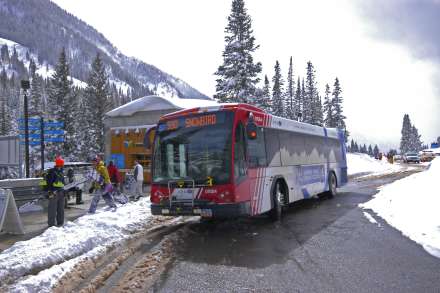 For anyone with a season pass to any of the Cottonwood Canyons resorts (Alta, Brighton, Snowbird, or Solitude) or who has a Salt Lake Ski Super Pass (a discount pass good for all four resorts), bus fare is included. You just tap that pass and step right aboard. If you don't have a season pass, just pony up $5.00 cash (or use the GoRide app) and enjoy the ride.
There's a bustling schedule of buses zipping up and down Big and Little Cottonwood Canyons, stopping not only at the resorts' front doors but also at major trailheads for the backcountry skiers among us. The buses are equipped with nice ski racks on the exterior, so you can stretch out in comfort inside, sip a coffee or scroll on your phone, and get dropped off right where you want to be. The Canyon Ski Shuttle Pass is free and gives you a one-way ride between Brighton and Solitude Ski Resorts, which is super handy for Super Pass holders who want to ski both resorts on the same day.
For those who have used the ski bus service before, be aware that during the 2022-23 ski season some adjustments have been made to the service due to staffing shortages.
There are quite a few parking areas where you can ditch your car to catch a ski bus.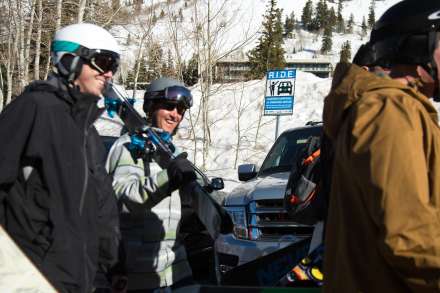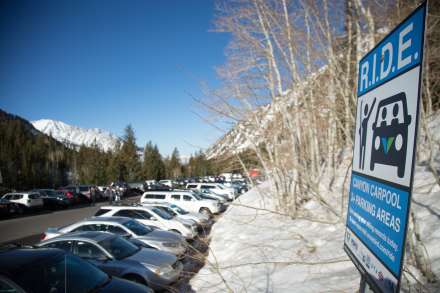 If you're an urban ski enthusiast living near the city center, or you just got off a plane at Salt Lake International Airport and want to get straight to the resort, you can even take a TRAX train to the ski bus and skip cars altogether. The buses are super-safe thanks to burly winter chains on their snow tires, and they let you skip the parking hassle and get straight to the fun part. 
Join the Carpool Movement
A great alternative to the ski bus: carpooling with homies old or new. You can take turns or split the gas money, and it's not only great for our local air quality, but it also helps reduce the parking-lot foray.
Solitude is rewarding carpoolers (four or more to a car) with free parking, with reduced parking prices for two or more. Snowbird, Brighton, and Alta all have differing policies regarding free vs. paid parking, including carpool only spots, reservation systems, valet parking, and season parking passes.
Safety First, Shred Second - the Traction Law
Not only is it important to drive up safely, but when you stay in control and avoid slip-sliding around on the road, you're helping traffic flow smoothly.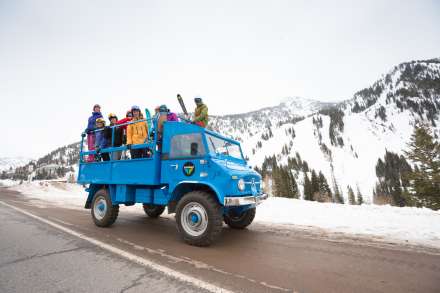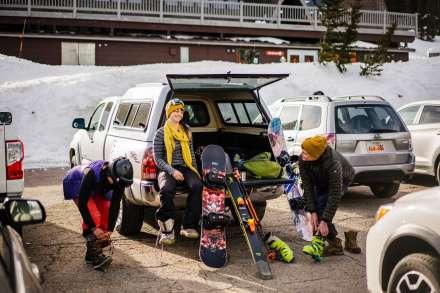 The Utah Department of Transportation announces daily the status of travel restrictions and the Traction Law (which mandates what types of vehicles can safely traverse the canyons) on social media, the UDOT Traffic App, and the UDOT website. When in effect and based on current conditions, only 4-wheel drive, or all-wheel drive vehicles with snow tires and/or chains will be permitted to enter the canyons. 2-wheel drive vehicles with snow tires may be denied access if enforcement personnel evaluate them to be insufficient.
As a last line of communication, UDOT has flashing signs at the bottom of each canyon giving you a heads-up if the Traction Law is in effect. They take this pretty seriously and for good reason, often with sheriffs waiting at the bottom of the canyons to stop people trying the drive in a car not worthy of the voyage. When the sign is flashing, you'd really be remiss to try the drive in your '92 Miata or 2-wheel drive rental car. You'll risk getting stuck or taking a scary slide—or backing up traffic as your car's rear end shimmies in a sad fishtail.
For this reason, the Ski Bus presents the ultimate alternative. These buses are tricked out with the best tires and can deliver you to the resort swiftly and safely. If there is any chance your car could endanger yourself or others, you should make every effort to catch the Ski Bus or carpool with someone in a more winter-friendly vehicle, especially in stormy weather. 
Lastly, be sure to follow the practical advice your mother always gave: pee before the car ride, and pack snacks. If the journey takes a little longer than expected, you'll be prepared—and ready to shred with joyful abandon upon your arrival.