Tuesday September 28, 2021
Get your engines ready, folx, because it's almost time for the second annual LGBTQ Road Rally!
John Johnson is the Director of Administration and Operations at the Utah Pride Center. He's also the guy who came up with the idea for the Road Rally last year, which was a huge hit. Now, he's working on making this year's event even better.
"The Road Rally is a fabulous way to celebrate National Coming Out Day," he says. "It's fun, it's COVID safe, it's easy, and it helps our community."
This year's rally will be held on Sunday, October 10 from 12 PM-2 PM. The Utah Pride Center hopes to raise $150,000 from 1,000 vehicles (cars, bikes, scooters, trucks, motorcycles, RVs, etc.), which will be decked out in full rainbow regalia.
We had a chance to ask John a few questions about himself, the Utah Pride Center, and the Road Rally. Here's what he had to say...
What's your favorite thing about being LGBTQ?
"My creativity and perspective on life is greatly impacted by who I am and it helps me to be a better person. I am so grateful for the broader and more inclusive perspective I have developed from being a member of the LGBTQ community."
Where did the idea for the Road Rally first come from?
"In spring 2020, our Pride Festival was canceled due to COVID-19. That summer we watched as many schools and groups began hosting car parade graduations and other events. The loss of our festival was a loss of 50% of our annual budget, so finding an alternative was critical. In July 2020, I proposed three options to raise funds to support the Utah Pride Center. We determined that this one, which relies on each participant helping to raise funds for us, was the most promising, the most COVID safe, and the most fun!"
What's something unexpected you learned from last year's event?
"We were surprised how much people enjoyed decorating their vehicles—some simply, and some quite impressively! We learned that people didn't just drive the route one time, but repeated it over and over and had a blast for the full two hours. Most surprisingly was how many people said that they enjoyed this more than the typical June parade and how they loved being part of the celebration and not just watching it."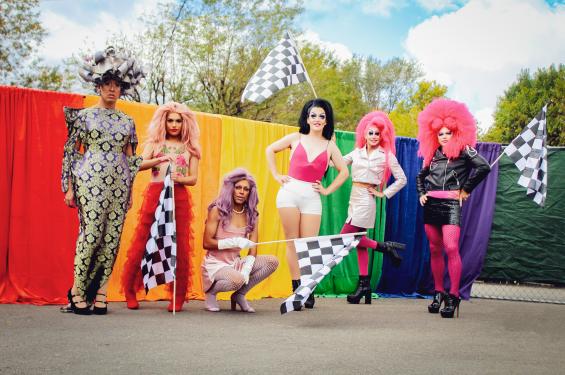 What can people expect from this year's Road Rally?
"Bigger! We hope it's much bigger this year because so many people now understand it. Online we have a video of last year's event and, with everyone being able to see what it is, we are confident more people will be joining us. Our focus this year is even stronger in recognizing those individuals and teams who reach their fundraising goals and help us raise the funds to support our life-saving programs and services of the Utah Pride Center."
Check out this video with footage from last year's Road Rally. And visit Utah Pride Center's website for up-to-date info about this year's event.