Get Exposed Labor Day Weekend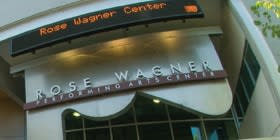 There are so many great performing arts in Salt Lake City it's hard to get to know them all, which is why the Rose Exposed performing arts festival, happening this weekend, is such a great opportunity. The second annual festival showcases the six resident performing arts organizations of the Rose Wagner Performing Arts Center: the Gina Bachauer International Piano Foundation, Plan-B Theatre Company, Pygmalion Theatre Company, Repertory Dance Theatre, Ririe-Woodbury Dance Company, and SB Dance.
The six companies will present a variety show Friday night, Aug. 30 at 7 p.m. Then on Saturday, the groups will offer free classes, activities, and performances suitable for all ages from 9 a.m. until 5 p.m.
The Rose Wagner Performing Arts Center is located at 138 W. Broadway (300 S.) in Salt Lake City. Tickets for the Friday showcase are $15. The Saturday workshops and performances are free, but require pre-registration.