On July 24, 1847, the first batch of intrepid, trail-tested pioneers arrived in the Salt Lake valley. They'd achieved an absolutely monumental task, and not without devastating losses along the way. Fueled by determination to make a fresh start after religious strife uprooted their communities, they'd banded together and pointed their horses westward.
Over the course of 1,300 miles, they trekked into unfamiliar territory across the West, with only the belongings they could fit in a covered wagon or, sometimes, a simple hand-cart they pulled themselves. Through a sheer act of faith, these men, women, and children managed to make it all the way to Salt Lake, where they were relieved to hear their leader, Brigham Young, declare that this was where they'd make their new home.
Of course, once they arrived, they were tasked with another challenge: building a community in this wild outpost over a thousand miles from the civilization they'd left, using just the tools they'd carried with them. From scratch, they forged a city with wood and stone from the valley's canyons and water from the mountain streams.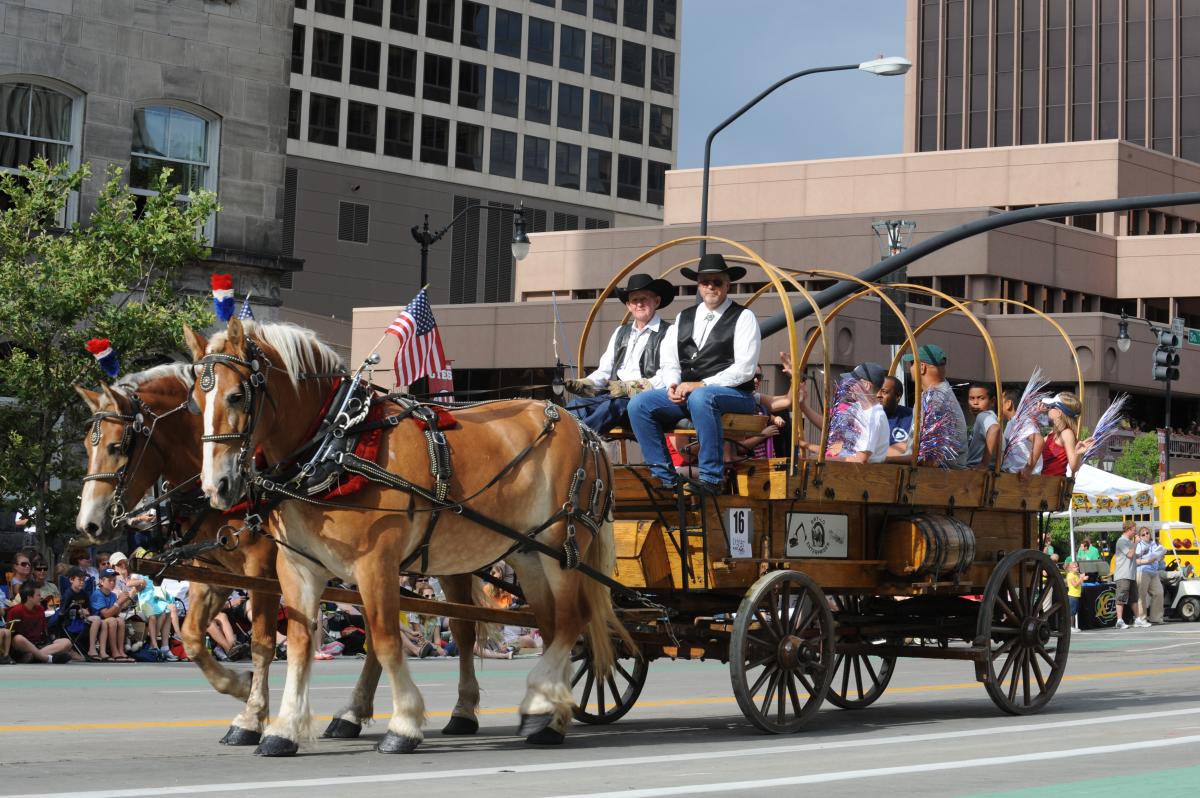 We all know the end of the story--they founded modern-day Salt Lake City. But, ever proud of our heritage, we get quite excited about celebrating the pioneers' arrival all those years ago, on a holiday that rivals the Fourth of July in its scale here: it's Pioneer Day, surrounded by weeks of festivities collectively known as the Days of '47.
Many of the events are either formally or informally associated in some way with the Mormon church, but you don't have to subscribe to any particular faith to get a kick out of the big dose of history - or the enthusiasm with which Utahns relish it. And, for those who relish their "gentile" status, Pie and Beer Day is a highly popular alternative to the Pioneer Day festivities. Many a bar and backyard barbecue embrace the Pie and Beer theme with gusto, making it a holiday that pretty much anyone can rally around.
So hold on to your hats, bonnets, and brews: here's a full guide to everything that happens to celebrate this mountain city's founding.
Pioneer Day Concerts
Both the Mormon Conference Center and Abravanel Hall hold Pioneer Day concerts, with the former performed by the Mormon Tabernacle choir and the latter serving as a more secular Pops concert. Either way, music was a huge deal to early settlers here - it kept them cheered and entertained through mile after mile on the hot dusty trail.
The Days of '47 Youth Parade
Preceding the main Days of '47 Parade a few days later, this is one of the largest youth parades in the country. Over the span of several blocks, local kiddos get in on the pioneer-themed Youth Parade floats (expect plenty of covered wagons, obviously). The parade ends at downtown's Washington Square, where plenty of family-friendly fun continues for the following hours.
The Days of '47 Parade
On the 24th of July proper, the headliner event of the holiday takes place. This parade draws crowds from all over the state, many of whom camp out the night before along the city sidewalks to ensure a good viewing spot. Expect countless floats, marching bands, horse-drawn carriages, and entertainment along the parade route. There's even a Float Preview Party several days before the parade, so you can get a proper close-up look at everything that will make its way through downtown during the big event. The Deseret News Marathon then coincides with Parade Day, which means there's definitely something for everyone, depending on how sweaty you're willing to get.
The Family Festival
The week of Pioneer Day, there's always a Family Festival with pioneer-style fun for all. (And bouncy castles and clowns, even though there's a slight anachronism there. We locals just roll with it.) Many activities are educational, helping kiddos learn a bit about the city's heritage while they play. Admission is free, so come on by for a day of old-fashioned good-timing.
First Encampment Hike
To celebrate the pioneers' first overnight camp in the Salt Lake Valley, the family-friendly First Encampment Hike follows their hiking route for five miles through the east side of the valley, down to the spot where they first camped at a park now aptly called First Encampment Park. Many people dress up in pioneer garb, obviously, and then they indulge in a pancake breakfast at the park.
Pie + Beer Day
For those who'd prefer to celebrate history by raising a nice cold glass of an adult-friendly brew, many restaurants and bars (not to mention modern homesteaders' barbecues) serve as an excellent option. The Utah Brewers Guild hosts a Pie & Beer Day with pie and beer pairings (yes, you read that right). A bevy of top restaurants get in on the gastronomic delights. And, the people rejoice.