Daughters of the Utah Pioneers Memorial Museum
The
Daughters of the Utah Pioneers Museum
recently celebrated it's Grand Opening and Re-dedication.  The museum has undergone some renovations and cleanings, leaving different levels closed off at different times.  Now, it's all open again and, boy oh boy, it is such a treasure.
Every step you take, you find something magnificent and full of history.  Many items are accompanied by a card telling you the name of the pioneer to which the item belonged.  As a descendant of a million Utah pioneers (ok, maybe just dozens), I kept my eyes open in hopes of stumbling across a great, great, great grandmother's handkerchief or other such delight.  Alas, I found nothing, although my brother informed me (AFTER we left the museum) that he had seen something from somebody by the name of one of our ancestors.  Of course, he couldn't remember where or what.  So I guess I'll be making another trip back there!
Not to worry.  Every time I go (and I go with relative frequency) I find something new and fun to see.  This time my favorite new things to see were the printing stamps (I am quite certain that is not the official name of such items) of old hymns.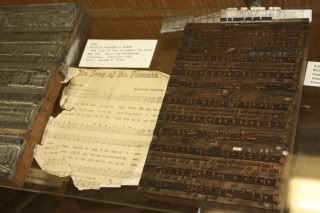 I always enjoy seeing the musical instruments and I marvel to know that many of these were carted across the country in wagons.  What great dedication to music!
My daughter enjoyed looking at the furniture and was so excited to find that one of the cribs held a pink blanket, just like one she owns.
The day we went, October 8, was the official Grand Opening and Re-dedication and the museum pulled out all the stops to make it a special day.  The governor attended the ribbon cutting ceremony and special tours were given.  People dressed in period costume were even on hand to answer questions.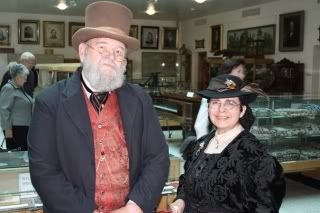 There was even yummy food and drinks in the basement, the best stop in the eyes of my daughter.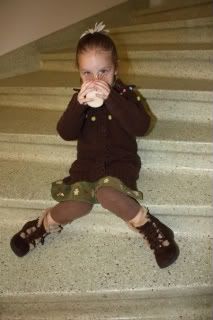 I do wish the museum had more nicely arranged displays.  Items are often crowded in their cases and not always given the interesting appeal they should be given.  I often skip entire display cases because they just look too overwhelming to even stop and look.  Even so, whenever I do stop and look, I find something to love.  This museum is definitely one you should stop and visit, whether you have Utah pioneers in your history or not.  It really tells the story of our state and the people who sacrificed to build up beautiful Utah.
Follow Rebecca and all her quirky likes and travels at
www.thrilledbythethought.com
.