Child's Play at The City Library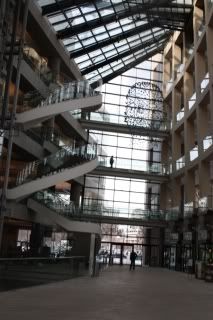 This time of year is always a difficult time for me.  My body does not function well when temperatures go below freezing so I must look for entertainment and education for myself and daughter indoors.  This cuts our list of available activities in more than half.  Also, since I am cheap, I must look for free or very cheap entertainment and education for myself and daughter indoors.  Cut, slice, chop.  I often feel like my options for fun are incredibly limited, but all it takes is a little thought and then we can spend a beautiful day indoors, learning about something, enjoying ourselves and even getting a little bit of exercise from time to time!
Today, we visited the Main City Library.  Learning- done.  Fun- done.  Exercise- done. I dare say, this building might be a crowning jewel in the architecture that adorns Salt Lake City. The outside is pretty fun to see, but the inside...the inside is where it's at.
Bright, airy, open and spacious, you will absolutely not feel stir crazy when you choose to spend a winter day indoors in this beautiful building.
There are 5 or 6 (I lost count) floors chock full of books.  They have a great collection.  Each level has wonderful areas to sit and read.  You can find a comfy couch or chair next to a bright window or you can be in the middle of everything on a stylish couch in the center of the floor.  The children's area has fun reading corners and themed rooms and there are even a few booths reserved specifically for teenagers in the teen section.
If you get tired of exploring the books and reading in comfort, you can get some exercise on the many staircases.  We discovered a new one today that we had never seen before.  It climbed from one floor to another inside this wall of windows.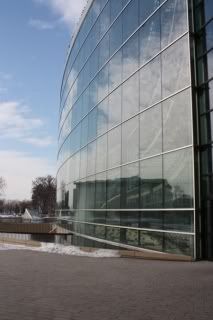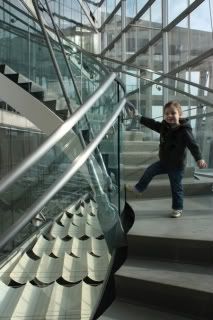 You can even climb some stairs to the roof.  Not that you would want to do that on a winter day, but file that information away for another warm day.
If you don't want to climb stairs, you can take the fancy, fun glass elevators (or alligators, as my daughter calls them).  I give you permission to ride them several times just for fun.
And if all of that is still not enough to entertain you and keep you busy while warm, you can pop into the unique shops and cafes.
Parking is abundant underground.  It is free for the first 1/2 hour and then $1.50 for every hour after that.  Address: 210 East 400 South.  Go
here
to see a list of upcoming events at this library.  They show movies, offer classes, host musical events and have fun kids' activities.  You may catch us at one of their upcoming puppet shows!
See what else Rebecca is up to at
Thrilled by the Thought
.