Chase Home Museum of Utah Folk Arts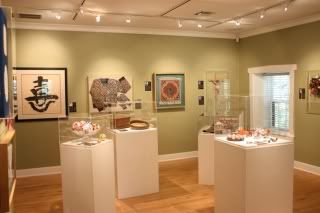 The Chase Home Museum of Utah Folk Arts is a delightful museum situated in the middle of a lovely park, Liberty Park, located at about 500 East and 900 South in Salt Lake.
The Chase Home Museum features contemporary folk art in four galleries: the Native Gallery which houses art from the American Indian populations of Utah; the Ethnic Gallery, home to the traditional art of the ethnic, racial and immigrant communities of Utah; the Occupational Gallery, which is filled with items used for work but also considered as art; and the Rural Gallery, which features hand made crafts of rural Utah populations.
The job of the curators sounds fantastically fun.  They actually get to head out to communities of Utah, in search of craftspeople.  Wouldn't that be a blast-to explore rural communities or Native American communities in order to find fabulous artists?  And then to interview the artists and learn why they create the way they do and where the tradition comes from...I'm getting so excited about it and it isn't even my job.  Do you think they would hire me based on enthusiasm alone?
The really fun feature of this gallery are the placards next to the art pieces.  Typically, a placard in a museum will tell you about the item-its origins, artistic qualities etc.  In the Chase Home Museum, the placards tell about the artists themselves, which helps you understand why the particular item was made and gives you a most delightful glimpse into somebody's life.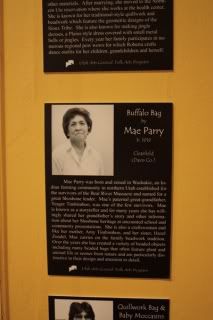 The museum is housed in a pioneer home, and you can find many historic features throughout.  Don't you love this staircase?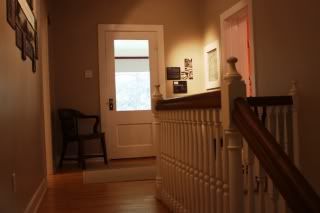 I also loved the bright colors in each room.  This is definitely not a stuffy museum.
I brought my 2 1/2 year old daughter with me when I visited.  She loves animals, so I challenged her to find an animal in each room.  If there was more than one, I asked her to find her favorite.  This helped her get excited about the museum and helped me to actually have space to enjoy the trip.
She immediately fell in love with this bird...
...while I fell in love with these eggs.
Taking a toddler to a museum is tricky business.  For some tips, visit my blog here.
You can read more about Rebecca's love of art and everything else in the world at www.thrilledbythethought.com.