Bitters and Bites @ SLCBites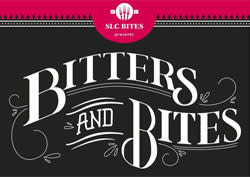 SLC Bites is about connecting the SLC community to what's new and exciting in food, art and music and in turn, creating a social environment to meet and mingle with the talented people that contribute to of one of the best cities to live in.
SLC Bites' third event, mixing food, drink, art and music, will be held at The Leonardo on April 14th, 7-9pm in downtown Salt Lake. Cost is $40 which includes 4 drinks and food; additional drink tickets are available.
Bites will be provided by Naked Fish and nibbles provided by Eva's Bakery & The Leonardo. The event features no less than by 6 different mixologists preparing libations to accompany the cuisine:
- Matt Pfohl, Pallet
- Scott Gardner, Finca
- Sean Neves, Wild Grape
- Ryan Manning, Takashi
- Amy, Bar X
- Jimmy Santangelo, Copper Onion
Tickets can be purchased via Paypal online. See you there!
Read more at www.gastronomicslc.com.