(a)perture gallery
One thing that has shocked me is how much art you can find in Salt Lake.  Call me naive, but when I moved here from the San Francisco Bay Area, I was pretty positive I would not be finding any sort of art scene.  I told you!  Naive! 
I have been so ridiculously and pleasantly surprised after living in Salt Lake for 6-odd years.   There are galleries galore in this fine city!  What's more: up and coming artists are all over the place.  But many of them never get their start because they don't have the right connections or a place to show off what they can do.
Enter
(a)perture gallery
, a not-for-profit organization in Sugar House that seeks to connect artists with the local scene while giving back to the community.  In their artist application program, the owners of (a)perture gallery, Anne Cummings-Anderson and Heidi Gress, select artists for 2 week shows.  During the two week show, an artist will get to use the facilities of the gallery free of charge to showcase his/her work. 
Many of the selected artists for this program have never had a solo show before.  In addition, Cummings-Anderson and Gress help the artists market themselves during that two week period.  The owners don't take any commission from pieces that sell during that time, but they do request that the artists give 30% of their earnings to a charity.
Isn't that fabulous?  Giving new artists a place to represent themselves while giving back to the community is double good.  If you love art and you love local, you need to look into (a)perture gallery.
Right now, (a)perture gallery is hosting it's third annual Local Artist Showcase, with over 20 local artists.  You can see acrylic paintings, oil paintings, photography, sculpture and more.  And it's all done by talented locals.  Plus, the gallery is a quaint little building with great light.  You can't lose when you go for a visit.  Great art, great light, great building, great and friendly owners.  The Local Artist Showcase runs until September 23, so try to schedule a visit.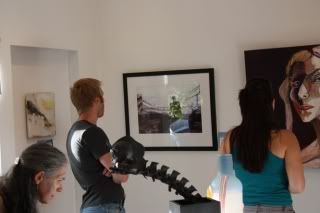 (a)perture gallery is located at 1617 South 900 East in Salt Lake City.