July 16, 2018. Salt Lake City – On July 24, 1847, Brigham Young and a group of Mormon pioneers pulling handcarts and driving wagons with oxen and horses entered the Great Salt Lake Valley. It was the conclusion of one of the greatest Western journeys and led to the founding of Salt Lake, Utah's capital city. Those remarkable 1847 pioneers are commemorated each summer with the Days of '47 celebrations in Salt Lake, which honors them further with the This is the Place Heritage Park and two of the most impressive genealogical centers in the United States.
The Days of '47 Parade, A PowWow & A Rodeo
On July 24, 2018 at 9:00 a.m., the Days of '47 Parade kicks off with floats, bands, horses and clowns, witnessed by tens of thousands of spectators, many of whom will have camped out all night. The Parade starts at State Street and South Temple.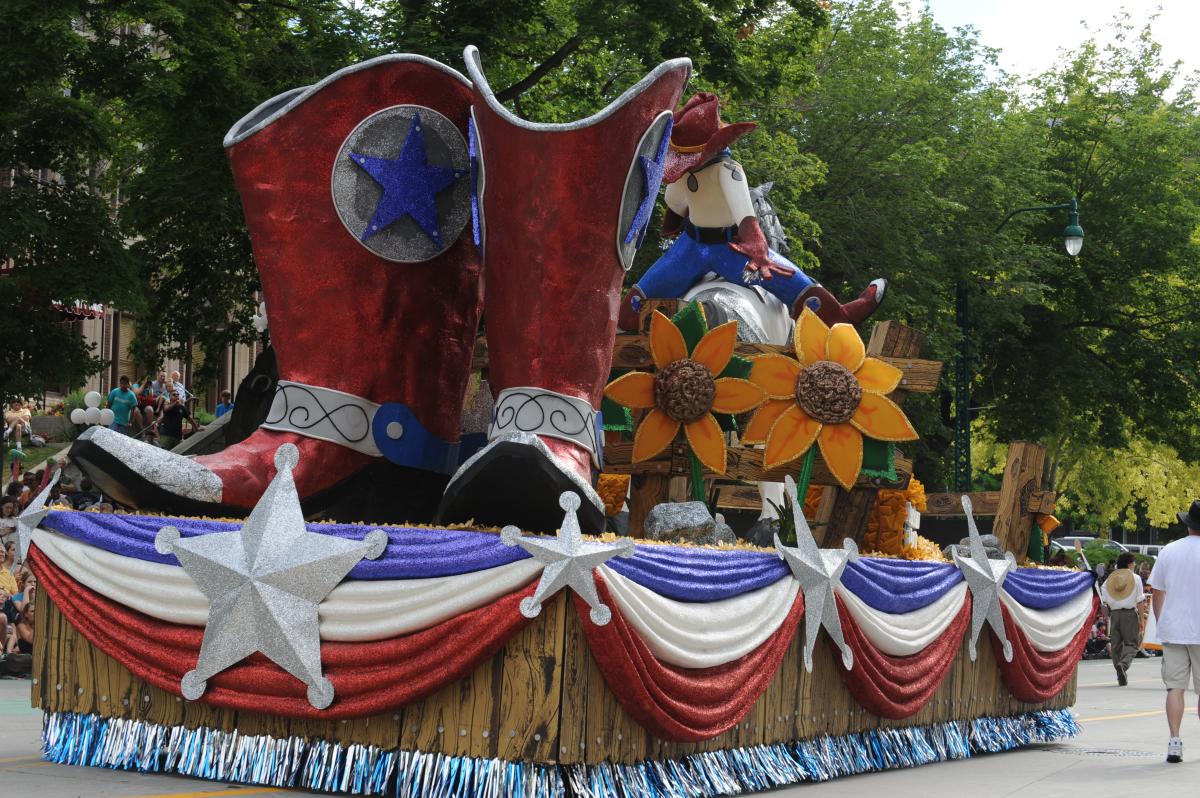 Following the Pioneer Day Parade, the 24th Annual NACIP Powwow and Festival, presented by Native American Celebration, takes place in Liberty Park in Salt Lake City at noon. There are cultural displays, drum groups, dancers and artists showcasing Native American beadwork, authentic Navajo and Zuni silver and turquoise jewelry. This all-day celebration ends with fireworks at 10 p.m.
Rodeo fans can get their fill of roping and racing at the 2018 Days of '47 Rodeo, held in the state-of-the-art 10,000-seat Days of '47 Arena at the Utah State Fairpark July 19-24. This year's rodeo features an Olympic-style format with Gold, Silver and Bronze medals for the winners. Contestants will compete for $1 million in prize money in bareback riding, steer wrestling, team roping, saddle bronc riding, tie-down roping, barrel racing and bull riding, with the winners in each discipline receiving $50,000 in cash and a Cowboy Games Gold Medal. Families can "Get Their Cowboy On" in the Young Living Farms Family Fun Zone with free mechanical bull rides, pony rides, petting zoo, carnival, cultural exhibits with Pioneer and Native American encampments, and a country music stage.
This Is The Place Heritage Park
Beyond parades and celebrations, This Is The Place Heritage Park is a year-round experience of Utah's pioneer heritage. This Utah state park, located near Utah's Hogle Zoo and the mouth of Emigration Canyon, is a great way for visitors to step back in time and get a glimpse of Utah during its early settlement stages. The Heritage Village features a number of buildings to explore, including cabins, farmhouses, barns, saddleries, blacksmith shops, chapels, and stables. Visitors can watch and ask questions as leatherworkers, woodworkers, blacksmiths, and spinsters go about their daily work. The Native American Village has earthen Navajo Hogans and Shoshone teepees, and there is rug weaving as well as performances of traditional Native American dancing and storytelling. Three trains take visitors around the park, with conductors providing historical context. Admission to This Is The Place Heritage Park is available as part of the Visit Salt Lake Connect Pass.
Salt Lake is America's Center for Genealogy
Speaking of the past, Salt Lake is known as the epicenter for genealogy, and many visitors seek out information on their ancestors. The FamilySearch Center is located in the Joseph Smith Memorial Building, with computers tied to the genealogy database and helpful individuals to get you pointed in the right direction. For more in-depth family research, the Family History Library, due west of the Temple and the world's largest genealogical library, is where genealogists of all levels of interest and of all religious or non-religious backgrounds come from around the globe to research and pour through the records that are stored here. 
Visit Salt Lake is a private, non-profit corporation responsible for the promotion of Salt Lake as a vibrant, modern destination brimming with unexpected dining, lodging, nightlife and entertainment options, a destination well suited for convention and leisure travel alike. In partnership with Salt Lake County, Visit Salt Lake's mission is to improve the area economy by attracting and providing support to conventions, leisure travelers and visitors while being a leader in environmental responsibility.