August 15, 2019. Salt Lake City – Summer is still going strong in Salt Lake with beer festivals, outdoor concerts and plenty of alfresco dining. The Downtown Farmers' Market is a hub for summertime grazing and people watching, while the great outdoors is literally in downtown's back yard with plenty of options for hiking, biking and even climbing. Grab the Connect Pass and the new Salt Lake Brewery Pass and save money while having fun. Here's what still on tap:
RAISE A GLASS WITH THE SALT LAKE BREWERY PASS
Brewpubs and micro-brews have become synonymous with Salt Lake, and now the self-guided Salt Lake Brewery Pass is the perfect way to get an introduction to more than a dozen of Salt Lake's top breweries and brewpubs. The Pass offers $5 off at each of the participating breweries and is priced at just $15 for a 1-day Pass, $20 for a 3-day Pass and $30 for the 90-day Pass option, a savings of up to $60.
LIVE BANDS & THE GREAT OUTDOORS
The Twilight Concert Series highlights indie-rock, hip-hop, reggae and blues on Thursday nights during the summer. Look for Santigold on August 30. The Red Butte Garden Concert Series offers top acts and an inspiring backdrop of the Wasatch Range, as well as a welcome bring-your-own-cooler policy. Catch the Stray Cats on August 26, Mark Knopfler on September 11 and Boz Scaggs on September 15.
OKTOBERFEST IN AUGUST (AND SEPTEMBER & OCTOBER)
Oktoberfest at Snowbird starts on August 17 and runs through mid-October. Held every Saturday and Sunday (as well as Labor Day) from noon to 6:30 pm, it's arguably the greatest beer festival the state has to offer. A Utah tradition since 1973, Snowbird's Oktoberfest attracts more than 60,000 visitors each year and is designed as a family-friendly event with activities for all ages. Festival admission is free, but activities like tram rides, alpine slide, the bungee trampoline and ropes course are additional. Food and beer are a la carte.
DOWNTOWN FARMERS' MARKET
The Downtown Farmers' Market has become a Salt Lake institution. Running from 8 am to 2 pm every Saturday in Pioneer Park through October 19, it's a way for visitors to jump-start their weekends with some great people-watching, sampling local fare and getting out in the bright Utah sunshine. The website keeps a tally of what's fresh every week, as well as a list of vendors. The Downtown Art & Craft Market is adjacent to the Farmers Market, offering a wide selection of jewelry, artwork, photography, leatherwork, textiles, ceramics and more. Can't make the Saturday markets? The Tuesday Market runs from 4 pm to dusk until September 24 in Pioneer Park, a more intimate version of Saturday's market.
GET OUTDOORS
The August 24-25 Salt Lake Climbing Festival is when local guide outfitter companies will be offering two-day and single-day climbing clinics at Brighton Resort in Big Cottonwood Canyon, with home base at the Millicent Chalet. All experience and skill levels are welcome, especially beginners. Salt Lake Bicycle Tours offers bike tours, E-bike tours, hiking tours and downtown walking tours. Or take a birdwatching stroll at the Great Salt Lake Shorelands Preserve, a 4,000-acre nature preserve with interpretive exhibits and a 30-foot viewing tower.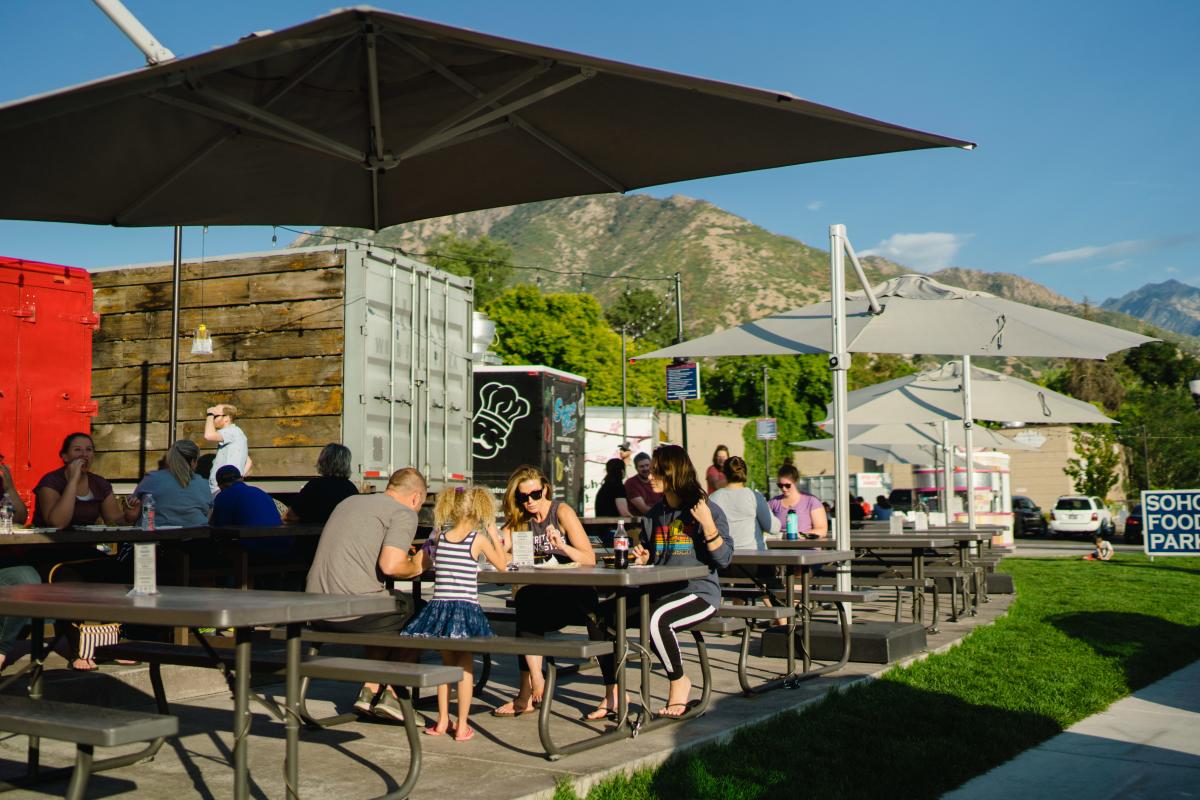 ALFRESCO DINING
It's summertime, and everyone wants to eat outside and some of Salt Lake's finest tables have ample outdoor seating available. Head to Caffé Molise for Italian fare close to the Salt Palace Convention Center. The Copper Onion, always a favorite for fine dining, has a delightful patio. Outdoor seating at Current Fish & Oyster is the way to go, with vegetarian option to compliment a seafood-focused menu. Sit outside at Sapa for excellent Asian fare, or sample whiskeys and the bar menu outdoors at Whiskey Street and enjoy locally-sourced fare at an alfresco table at Em's. Maybe the easiest way to eat outdoors is to go to one of the city's many food trucks, at places like Granary Row, which hosts a fleet of food trucks on Thursday, Friday and Saturday nights. Go here for more dining suggestions.
GET WELL CONNECTED
Every visitor should get a Visit Salt Lake Connect Pass, an all-in-one ticket to Salt Lake's most popular attractions at a single, discounted price. The Connect Pass includes admission to 16 offerings at 13 different venues in and around the greater Salt Lake area, including the Clark Planetarium, The Leonardo, the Natural History Museum of Utah and Red Butte Garden. The Pass saves visitors (and locals) between 50 and 80 percent on regular admission prices and they can use it to ride Snowbird's Aerial Tram to 11,000-foot Hidden Peak or experience Olympic thrills at the Utah Olympic Park in nearby Park City. Available as a one-, two- or three-day consecutive pass (as well as a 365-day Pass designed for local residents), a one-day pass is just $32 per adult and $26 for children ages three to 12. 
Visit Salt Lake is a private, non-profit corporation responsible for the promotion of Salt Lake as a vibrant, modern destination brimming with unexpected dining, lodging, nightlife and entertainment options, a destination well suited for convention and leisure travel alike. In partnership with Salt Lake County, Visit Salt Lake's mission is to improve the area economy by attracting and providing support to conventions, leisure travelers and visitors while being a leader in environmental responsibility.