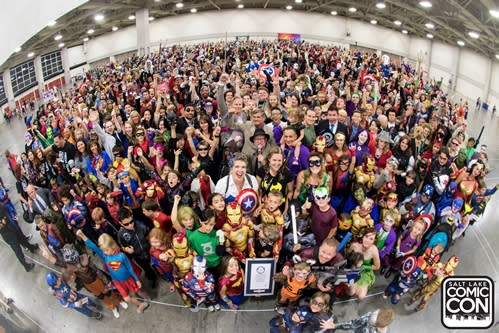 The previous Guinness World Records' record for the largest gathering of people dressed as comic book characters involved 1,530 participants and was achieved at the opening ceremony of the International Animation CCJOY LAND in Changzhou City, Jiangsu Province, China, on 29 April 2011.

  Guinness World Records also recognized the world record for the largest gathering of people dressed as cartoon characters; it was achieved by 905 participants dressed as characters from the Flintstones in an event organised by Muckno Mania Festival (Ireland), in Co Monaghan, Ireland, on 16 July 2010.

    "We've known all along that we have the best fans in the world and now it's been officially certified by Guinness World Records," said Dan Farr, Salt Lake Comic Con Founder and Show Producer. 
    "Salt Lake Comic Con 2015 has been so amazing for our guests, artists, panelists, authors, sponsors and fans. Beating this Guinness World Record was a fun way to celebrate and show the world what the fans of Salt Lake Comic Con can accomplish when we set our minds to it."