By Dennis Romboy, Deseret News — Salt Lake City will host its largest international event since the 2002 Olympics when thousands of people come to town for a United Nations conference on pressing world issues.
An estimated 3,000 to 6,000 people representing more than 300 nongovernmental organizations, known as NGOs, in 100 countries are expected to descend on the city for 68th U.N. Department of Public Information/NGO Conference. NGOs are typically nonprofit agencies engaged in humanitarian, educational, health, human rights and environmental endeavors.
It will mark the first time the event will be held outside U.N. headquarters in the United States. Paris, Mexico City and Melbourne, Australia, are among cities that have hosted the conference.
"We certainly have a community that loves to come together and really showcase who we are and the rich cultural experience that one can have in coming to Utah and experiencing this place we call home," Salt Lake City Mayor Jackie Biskupski said at new conference Tuesday announcing the conference.
The three-day event next August will focus on U.N. Sustainable Goal No. 11 — sustainable cities and communities.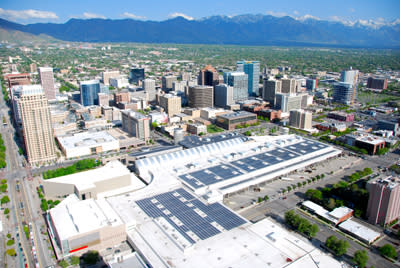 In 2015, the U.N. General Assembly adopted 17 sustainable development goals, including ending hunger and poverty, reducing inequality, and promoting decent work and economic growth.
"They are not political goals. They are goals meant to secure our future to live in peace and prosperity between different nations but also to live at peace with the planet," said Maher Nasser, director of the outreach division in the U.N. department of public information.
"We only have one planet," he said. "There is no planet B."
Nasser said achieving the U.N. goals can't be left just to government "because this is on all of us."
Biskupski said there is no better place than Salt Lake City to tackle issues such as sustainability, homelessness, gender equality and advocacy. The city, she said, is setting standards for how to address climate change with its move toward 100 percent renewable energy.
"I have to believe this area was chosen, at least in part, for its example in this regard," said Ahmad Corbitt, a director in the public affairs Department of The Church of Jesus Christ of Latter-day Saints. "Sustainable cities just don't happen. Urban atrophy is more the rule in many cases."
Corbitt said cities are sustained first and foremost by residents' willingness to give of themselves.
U.N.-affiliated LDS Charities helped "our brothers and sisters not of our faith" in 191 countries, he said.
Corbitt said the church looks forward to welcoming people from many of those countries next year.
Because the conference has never been held in a U.S. city outside New York, "we, therefore, have our city, our state and our nation counting on us to get it right on this historic first and to set a powerful precedent," he said.
Biskupski and others credited Utah Valley University chief international officer Baldomero Lago with broaching the idea of bringing the conference to Salt Lake City. The Orem-based school's Office for Global Engagement became affiliated with the U.N. a year ago.
As U.N. officials began looking for a 2019 host city abroad, he made a case for Salt Lake City.
"Everybody looked at me like, 'Oh my goodness. No. That can't happen. That has to happen on U.N. soil, right?'" he said.
Lago contacted the mayor's office and eventually the U.N. accepted the city's proposal. He said he believes the state's humanitarian work played a large role in Salt Lake City being selected.
"We talk about sustainability, but it is the humanity that actually makes things happen to sustain the world that we live in," Lago said. "I think the humanitarian component will embrace everyone, not only in the city but also throughout the state as well as throughout the world."