Salt Lake City (August 23, 2018) -- Fall is when biking and hiking rule in greater Salt Lake, when the city's bustling downtown - from farmers markets and restaurants to bars and outdoor concerts – are paired with the rugged Wasatch Mountain Range chock full of trails that are easily accessible from downtown. Throw in an amazing two-month long Oktoberfest celebration at Snowbird, one of the best in the United States, and you have an active and awesome autumn for everyone.
For those who just want a taste of Salt Lake's outdoor lifestyle and get a feel for Utah's capital city, Salt Lake Bicycle Tours offers guided bike rides of the surrounding area.
For those who'd like to strike out on their own, Visit Salt Lake offers plenty of options, including but nowhere limited to:
MOUNTAIN BIKING
The Wasatch Crest Mountain Bike Trail is ranked among Utah's top mountain bike trails and traverses the crestline that separates the Salt Lake valley and Park City. It's also a contender as one of America's best mountain bike rides. Just shy of 12 miles, it offers both stunning views and fun, sinewy singletrack.
Snowbird's Big Mountain Trail offers a tram-accessed mountain bike trail that starts with staggering views from the resort's 11,000-foot summit. From there, it's a fast, flowy and seemingly endless descent that's ideal for most mountain bikers who can handle blue-rated terrain. Added bonus: it finishes right at the Oktoberfest celebration for those who have worked up hunger or thirst!
Corner Canyon Trails are the "go to" riding area in South Salt Lake and offers an incredible network of worthy mountain bike trails for all ability levels, from beginner to expert.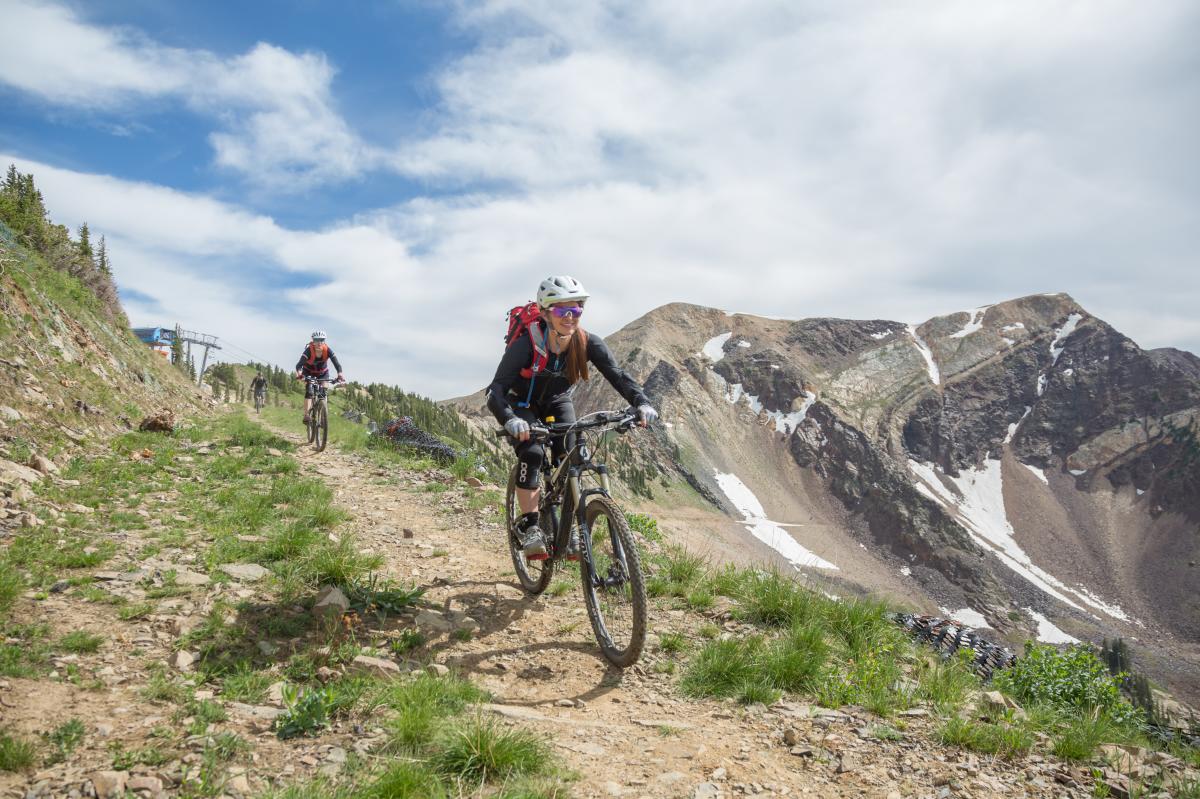 HIKING
Bell's Canyon Trail starts at the mouth of Little Cottonwood Canyon, with a low elevation gain that makes it ideal for hikers of many abilities. The payoff is great views of the Lone Peak Wilderness, the Wasatch Mountains and vistas of Salt Lake.
Cecret Lake is easily accessible, a short hike and packed with great views. Located at the top of Little Cottonwood Canyon from Alta, it can be a little steep in sections but offers panoramic views of the Wasatch peaks.
Mount Olympus dominates Salt Lake's skyline and offers one of the area's most challenging and rewarding hikes. The north side of the mountain consists of cliffs and slabs of broken quartzite. The west side offers more modest grades and a trail that takes fit hikers the last several hundred feet over boulders and ledges to the top of the 9,026-foot peak.
OKTOBERFEST AT SNOWBIRD
Oktoberfest at Snowbird is a true mountain celebration stretching from mid-August through mid-October. Held every Saturday and Sunday (as well as Labor Day) from noon to 6:30 pm during this period, it's the greatest beer festival Utah has to offer. A Utah tradition since 1973, Snowbird's Oktoberfest attracts more than 60,000 visitors each year and is designed as a family-friendly event with activities for all ages. Festival admission is free, but activities like tram and chairlift rides, the bungee trampoline and ropes course are additional. Food and beer are a la carte. For those who'd love to spend the night, there's the Oktoberfest Getaway package.
Snowbird's Oktoberfest Getaway
Lodging at The Cliff Lodge
Breakfast at The Atrium or The Forklift
Unlimited use of the Mountain Coaster, Aerial Tram, Woodward WreckTangle, Vertical Drop, Ropes Course, Climbing Wall, Bungee Trampoline and Tree Climb
Valid: August 23 - October 21, 2018, Fridays, Saturdays, Sundays and Labor Day.
Rates start at $116 per person (per person, per night, based on double occupancy and exclusive of taxes and fees)
There are dozens of other lodging packages throughout Salt Lake that can be found at Visit Salt Lake. 
Visit Salt Lake is a private, non-profit corporation responsible for the promotion of Salt Lake as a vibrant, modern destination brimming with unexpected dining, lodging, nightlife and entertainment options, a destination well suited for convention and leisure travel alike. In partnership with Salt Lake County, Visit Salt Lake's mission is to improve the area economy by attracting and providing support to conventions, leisure travelers and visitors while being a leader in environmental responsibility.