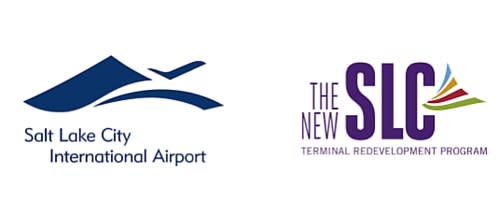 The Salt Lake City International Airport Terminal Redevelopment Program will completely rebuild the outdated passenger terminal complex and related facilities at the Salt Lake City International Airport. The effort will replace three aging terminals built 30- 50 years ago with one large, modern building with ample capacity for both the region's local needs and the airport's role as a major hub.
The $1.8 billion project will be built in phases and is planned to be complete in 2023. The first phase that includes the consolidated terminal will open in 2020. The effort will create some 24,000 jobs and generate $1 billion in wages over the construction period. Construction is being funded by several sources including federal grants, user fees, general airport revenue bonds, and airport reserves. No local tax dollars will be used. 
Key features of the design: 
• A single, three-level terminal will be built to the west of the existing terminal complex and will feature spacious, modern facilities. At the core of the terminal will be a soaring interior space called "The Canyon." Planned with inspiring and interesting design elements and artwork, The Canyon will contain security screening, a large area for meeting and greeting arriving travelers, and plentiful shopping and dining concessions. The baggage claim area will be conveniently located on the same level as skybridges to the parking garage. A split-level roadway system will separate vehicles dropping off travelers from those picking up arriving travelers. 
• One linear concourse connected to the terminal will have 38 gates, all of which will feature jetway bridges and the ability to serve different types and sizes of aircraft. SLC has 86 gates now, but 30 of those are for smaller, regional jets and don't have jetways. Current plans include keeping and renovating portions of the existing B, C and D concourses which will bring the total number of gates to 73, although needs will be assessed as construction progresses and those areas may be removed and replaced with a second new concourse parallel to and north of the first. 
• A Gateway Center between the terminal building and parking garage will house rental car counters and airline ticket counters. Airport staff are working with UTA to extend the Airport TRAX light rail line to end in the Gateway Center. 
• A new parking garage will provide about 3,600 parking spaces, twice as many as the current garage. Long-term parking will remain convenient and easily accessible. Visitors renting cars will pick them up in the new garage (as they do now) and won't have to take a shuttle to remote rental car facility. 
• New support facilities, including a modern central utilities plant and service and maintenance facilities for car rental companies, will make The New SLC even more efficient than its predecessor. 
• A focus on sustainability will ensure that the new buildings are earthquake-resistant so they are likely to remain usable during emergencies.
The Airport is aiming for LEED Gold certification for the new terminal. In addition, Mayor Ralph Becker has challenged terminal architects and designers to go further and emulate the City's new Public Safety Building and create the nation's first "net zero" airport, meaning the complex would generate at least as much energy as it uses.
About the Project Architect
The New SLC is being designed by HOK, a global design, architecture, engineering, and planning firm. Through a network of 25 offices worldwide, HOK provides design excellence and innovation to create places that enrich people's lives and help clients succeed. For six consecutive years, DesignIntelligence magazine has ranked HOK as a leader in sustainable and high-performance design.
About the Designer of "The Canyon"
Gordon Huether is a German/American artist and CEO of Gordon Huether Studio in Napa, California. Huether specializes in the creation of public and privately commissioned artwork. He has extensive experience working with glass, steel, repurposing salvaged materials, resins and composite materials. Huether's work has been exhibited in museums and galleries and collected across the United Sates. He has received more than 60 public art commissions and more than 150 private commissions. 
Salt Lake City International Airport's New Terminal Will Be…
Convenient 
• Separate levels for arrivals and departures
• A new Gateway Center integrated with the UTA Airport TRAX Line
• New parking garage that will double existing garage availability
• Convenient rental car counters and new rental car facilities
• One central terminal and security checkpoint
• Baggage claim on same level as parking garage entrance
• Large meeter/greeter area for friends and families
• Technologically friendly
• More shopping and dining opportunities
• Spacious gate areas, easy wayfinding and moving walkways
• Linear concourses for smoother airline operations, maintaining or exceeding Salt Lake City's stellar on-time performance record
Inspiring
• Bringing the natural beauty of Utah into the airport
• Using local materials, sandstone, copper colors and native plants
• Art and elements that provide a "sense of place" within the facility
• The Canyon architectural feature
• Windows that provide sightlines of mountains and airfield 
Sustainable
• Seismic upgrades
• More energy efficiency and use of natural light • Aiming for LEED Gold Certification for the facility
• Development of a "Roadmap to Net Zero"
• Airline fleets converting to energy efficient vehicles • Accommodates future growth in phases
• Maintaining low costs for airlines and airport users
• Program paid for by airport cash and user fees. No general tax dollars are used.