By Jennica Henderson, National Geographic — Salt Lake City boasts niche eateries, scenic mountain views, and a vibrant art scene. It serves as the perfect place for those who are interested in exceptional outdoor activities, small-city charm, and a unique cultural history and composition.
When to Go
Salt Lake City hosts dry desert summers and polar white winters that offer unique and varied recreational activities. For those that prefer camping, hiking, wildflowers, and bike rides around the city, plan for May, June, or August, as well as September to catch the changing leaves. For those looking for winter sports and more indoor activities, plan for December or January so as not to miss the Christmas lights and music at Temple Square.
Celebrate
Summertime visitors can enjoy Oktoberfest at Snowbird Ski Resort, hear live music through the Twilight Concert Series or Red Butte Garden Concert Series, and see performers and artists from all over the world at the Utah Arts Festival. Theater lovers can enjoy performances at the Utah Shakespeare Festival in Cedar City. For January visitors, the Sundance Film Festival is a fantastic way to explore culture, art, and the beauty of nearby Park City.
What to Eat
You can't go wrong with lemon ricotta pancakes at Provisions, veggie breakfast bowl at Rye, Mile High biscuits and country gravy at Ruth's Diner, Benny burger at Lucky 13, Capreezy sandwich at Even Stevens, braised beef short rib at Pago, tagliatelle at Copper Onion, chicken coconut korma at Bombay House, or ramen tofu soup at Myung Ga. For coffee, visit the Rose Establishment, La Barba, or Publik Coffee House, and Sweetaly Gelato, Tulie Bakery, or City Cakes and Café (vegan and gluten free!) for dessert.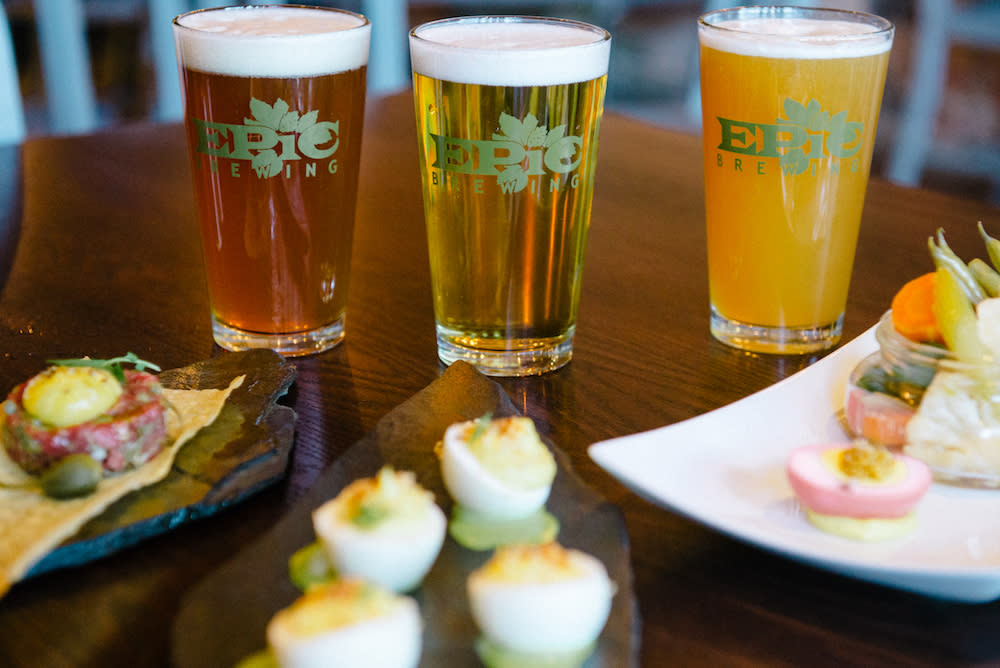 Souvenir to Take Home
For beer enthusiasts, bottles of Epic Brewery's unique home brews are a must try and a great souvenir to enjoy during evenings with friends. Other unique souvenirs from the Beehive State include a bottle of Cox honey, some Heber Valley artisan cheese, or a bag of La Barba coffee.
Sustainable Travel Tip
Unfortunately, cars are the best way to get around Salt Lake City and environs. Plan to carpool, or use Uber or Lyft, to get around the city. If staying downtown, try to take the local TRAX trains to save on gas and skip the pollutants.
Instagram-Worthy View
The Bonneville Shoreline Trail offers distinct city and landscape backdrops alongside diverse summertime flora. Snap in the early morning or at dusk. For photos in the city, visit the downtown city library in the morning, Pierpont Avenue before brunch, or Temple Square at night. For unique scenery, head to the Great Salt Lake, the Bonneville Salt Flats, or the famous Delicate Arch in Arches National Park. Try to capture these sweeping landscapes in the late afternoon or early evening.