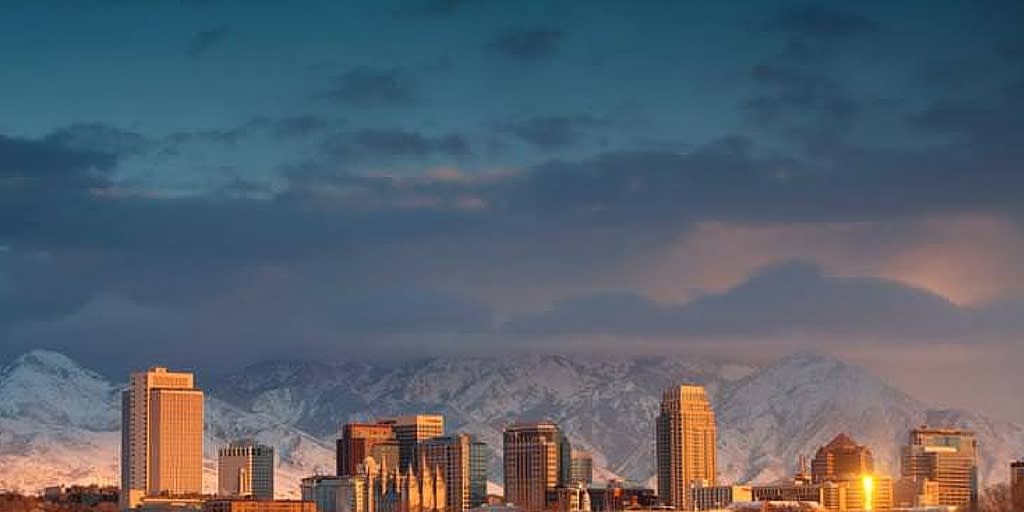 Often overlooked in the mad dash south to the red-rock wilderness of Utah's national parks, Salt Lake City is worth more than a cursory glance. Nuzzling up to the Wasatch Mountains, this city is a unique cultural experience, with its intriguing Mormon heritage and enticing clutch of museums, while restaurants championing local fare and a buoyant craft beer scene give it just enough urban edge.
You can't see it all in 48 hours, so we've picked out the highlights to bring you a doable weekend itinerary. The international airport on the city's doorstep and easy interstate connections make getting here a breeze.
Friday evening
Gently ease into the weekend over a Utah-local microbrew. Tap into the scene at upbeat, split-level Gracie's (graciesslc.com) on South West Temple over brews like Wasatch Devastator and Moab Dead Horse Amber. Things crank up later on, with live music and DJs most nights. Another honeypot for beer lovers is the Beehive on Main Street, which does a cracking line in cheekily named craft beers – Polygamy Nitro Porter included.
So where do the smart denizens of SLC eat on a Friday night? Well, there's always a good buzz – and barely an empty table – at rustic-cool brasserie The Copper Onion. Snag a spot on the terrace if the evening is fair, and dig into a menu of American food with a modern-fusion take. The friendly staff serves up carefully sourced seasonal ingredients in dishes like braised pork belly with watermelon, chili flakes and pumpkin seeds.
Saturday morning
If the jet-lag is kicking in, sit back with a cup of joe at the Salt Lake Roasting Company (roasting.com), just across the way from the colossal glass swoop of The City Library (slcpl.lib.ut.us), which bears the innovative imprint of architect Moshe Safdie. The quiet cafe will whisk you around the globe in coffees from Africa to Columbia to the Pacific Rim, and it does decent pastries too.
From here, swing west past the whimsically turreted Salt Lake City and County Building on Washington Square, then hook a right on State Street for the short amble north to Temple Square – the city's architectural showcase and spiritual heart. The 10-acre square is dwarfed by the whopping 210ft-tall Salt Lake Temple, built high and mighty from granite quarried in Little Cottonwood Canyon by hard-slogging Mormon pioneers in the late 19th-century. It's off limits unless you're an LDS member, but it's still impressive – especially lit up by night.
To see a cross-section of the temple and get an insight into the Mormon faith, stop by the South Visitors' Center (templesquare.com). The cute neo-Gothic Assembly Hall hosts free daily organ recitals at noon, while the Mormon Tabernacle Choir rehearses on Thursday evenings at the domed Tabernacle. It shelters an 11,623-pipe organ and has acoustics so finely tuned you can hear a pin drop in the pulpit from the back of the hall.
Brigham Young lived with one of his 55 (!) wives at the Beehive House, which now pays homage to the second president of The Church of Jesus Christ of Latter-day Saints and Utah's first governor. Free guided tours are available, led by LDS docents. Family is the linchpin of the Mormon faith, and if you harbor a desire to know more about yours, you can piece together your tree (bring names and dates) at the genealogical research facility Family History Library.
As you wander south along Main Street, built broad enough for oxen-driven wagons to turn around without backing up, notice the contrasts – from the glass-canopied City Creek (shopcitycreekcenter.com) mall, signalling a new era of redevelopment, to the Art Deco Hotel Monaco, originally a bank in the 1920s.
Afternoon
A speedy ride east on the blue and red Trax (rideuta.com) lines brings you to Red Butte Garden, situated right next to the University of Utah. Keep an eye out for rattlers and nectar-thirsty hummingbirds as you mosey around the gardens, taking in medicinal and fragrant plants, rose gardens and flower-draped arbors. Hiking trails thread up into the hills from here, but you'll need sturdy shoes.
Devote the rest of the afternoon to Salt Lake's architecturally striking Natural History Museum of Utah, right next door. Wholly absorbing exhibits skip from the Utah's Native American inhabitants to the state's biological diversity, geology and prehistory, with hands-on displays that educate learners about the formation of sand dunes and how to construct earthquake-proof buildings. Utah is a paleontologist's playground so it stands to reason that the museum's showstoppers are its fossils and dinosaurs, including the world's only stash of 14 Ceratopsian (horned) dinosaur skulls. Watch scientists in action by peeking through the windows of the Palaeontology Preparation Lab.