By Jody Robinson, South County Magazine
One of my favorite things about Salt Lake is its abundance of trees. In fact, the University of Utah campus, on the bench of the city's foothills, is a designated State Arboretum, with over 8,000 trees. Boasting 300 plus varieties, including almost 40 different types of conifer, the city, and the campus in particular are an incredible sight in the early days of spring as the beech, elm, oak, and Japanese flowering cherry trees begin to bloom.
It is said that you can experience all four seasons in a day, and that is certainly true if you're planning on venturing up any of the myriad canyons that flank Salt Lake's downtown sprawl. Sun in the morning and snow in the afternoon (winter into late spring) makes for beautiful days exploring all that the city has to offer: bookstores like The King's English with its incredible storytime workshops; classic diners like Ruth's with plates for the kids and biscuits as big as your head; or the gorgeous City Creek Center, with over 100 stores and eateries in a walkable open air floor plan. The Hogle Zoo's Wildlife Connections give parents and kids alike one-of-a-kind animal experiences with interactive feedings. An events calendar that is positively bursting at the seams has activities for everyone: from Tot Tuesdays and Wild Wednesdays to Behind the Scenes Tours.
Historic Temple Square tops the list of "must see" sights when in Salt Lake City. Home to the global headquarters of The Church of Jesus Christ of Latter-day Saints (popularly known as Mormons), the 35-acre property contains more than 15 attractions, including the impressive Salt Lake City Temple (which took 40 years to build from1853 - 1893) and is one of the oldest attractions in the area, the Tabernacle - home to the world-renowned Tabernacle Choir, beautiful gardens, art exhibits in the Church History Museum and the Salt Lake City Temple.
Completed in 1867, the Tabernacle is one of the most "acoustically sound and architecturally awe-inspiring buildings on earth." Brigham Young directed the building should be designed so people could see and hear the speaker without impediment. To do this successfully, bridge-building techniques used to construct the roof so that support pillars were not necessary. Every Thursday evening from 7:30 pm - 9:30 pm, the Tabernacle Choir rehearsals are open to the public to view at no cost. Monday through Friday at 12 pm, visitors can enjoy a 30-minute organ recital by Tabernacle organists and guest organists.
Built in 1854, the Beehive House was home to Brigham Young (Utah's first governor) and later other Church leaders. The large representation of a beehive on top of the structure symbolizes the strong sense of community and diligent work ethic of the Latter-day Saints who settled in Salt Lake City.
"I'm bored" is a phrase you'll never hear if you purchase a Salt Lake Connect Pass, which allows access to 16 of the region's best family-friendly attractions at significant savings. From the Clark Planetarium and Natural History Museum of Utah to Discovery Gateway Children's Museum, the aforementioned Hogle Zoo and Tracy Aviary, there's no shortage of kid-friendly sight-seeing opportunities. A two-day pass runs $46 - $54 which saves you 50% - 80% off regular admission prices to the included attractions - from elephants to apes and sweeping mountain scenery to historic Temple Square, you can do it all at your own fun-filled pace.
Destination Dining
From American classics to multicultural eateries, award-winning chefs and inventive restaurants, Salt Lake City scores on all counts. Located in downtown SLC at 418 E. 200 South, HSL evolved from the restaurant group's first establishment in Park City and features a carefully curated menu driven by the seasons - Chefs Briar Handly and Matt Nelson strive to source local and regional ingredients the height of freshness. The charcuterie arrived with a flavorful selection of artisanal meats, farmstead cheeses, pickles, signature sourdough, lavender honey and roasted hazelnuts. Popular dishes include a Hamachi Crudo with spaghetti squash, almonds and lemongrass ponzu; General Tso-style cauliflower accented by fresno pepper and sriracha vinaigrette; a delicious wild rice and quinoa tostada. Heartier entrees range from the Niman beef short rib (with molasses and maple jus, sunchoke and celery root, pickled romanesco and purple cauliflower) and New York steak (cipollini demi-glace, duck fat yukon gold potatoes and charred broccolini). For a great go-to for the kids, try the woodfired pizza (my plain cheese pizza-eating daughter discovered she absolutely adores pesto and burrata thanks to HSL) and you simply can't go wrong with the eatery's signature fried chicken accompanied by salt and vinegar fries.
In nearby Cottonwood Heights, we opted to expand our kids' palates sampling Vietnamese "street food" at the newly opened Saola (owners are putting the finishing touches on the space, which will showcase a beautiful sushi display and full bar, several semi-private dining areas and an expansive dining room). A fan of Pho? You'll have your work cut out for you in choosing which of the three Hanoi-style rice noodle soups (house made versions here are simmered for 12 hours with their family's special spice blend): Pho Beef (beef bone broth, choice of grass-fed brisket, rare round-eye beef or beef meatballs); Pho Chicken (poached chicken in chicken broth with fresh rice noodles, spices, ginger, onion, cilantro and scallions); Pho Vegan in vegetable broth with bean curd. Prefer a heartier meal? Try the Banh Mi (a stuffed baguette sandwich made in the French-Vietnamese style): the French Dip was filled with tender roast beef, melted cheese, grilled onions and a flavorful pho dipping sauce. Our son, who generally isn't our adventurous eater, had two helpings of everything - Xien Nuong (traditional Vietnamese marinated and grilled chicken skewers), chicken fried rice and crispy pork spring rolls (rice paper, pork, bean thread noodle, carrot, mushroom and jicama) that are worth writing home about.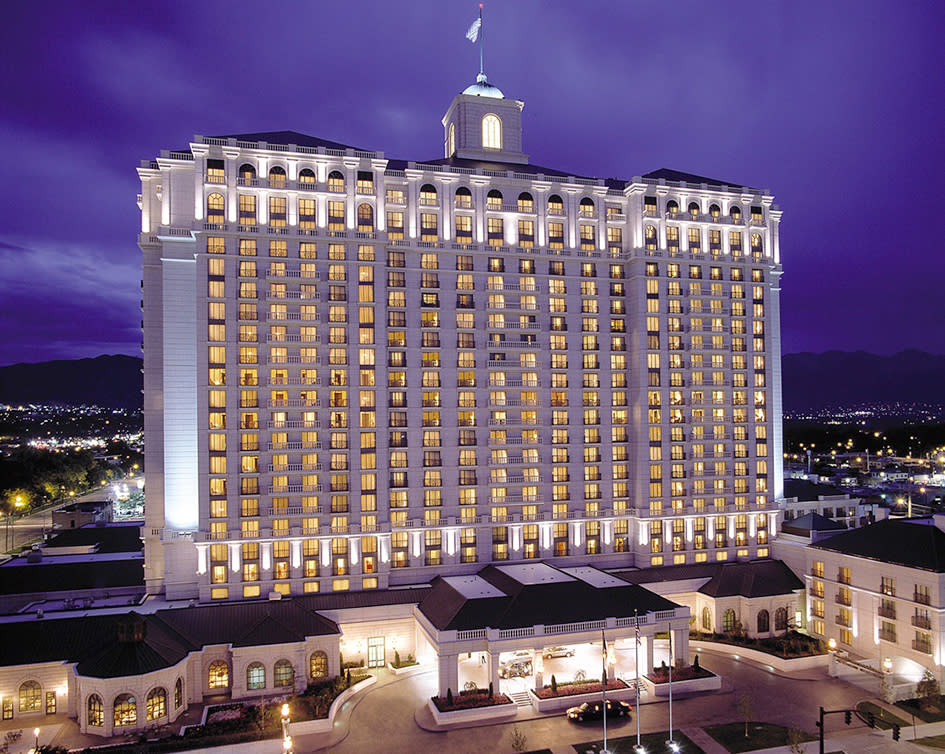 Accommodation of Distinction
If you're looking for the perfect home base to anchor your stay in the Beehive State capital, The Grand America has something for everyone. 775 decidedly generous with space, elegantly styled and well-appointed guestrooms await the entire family, with floor-to-ceiling windows for the best views in town. The Executive Suites offer an indulgent 880 square feet of warm, cultured decor (from plush down bedding to the rich tones of the thick English wool carpet to handcrafted cherry wood Richelieu furniture and Italian marble soaking tub and glass-enclosed shower). Elegant French doors separate the living area from the bedroom and did I mention two flat-screen televisions? So the kids can watch cartoons while their parents view their own favorite shows.
Indoor (open year-round, this world-class pool provides a tranquil setting for lap swimming or relaxation in the whirlpool) and outdoor pool (open seasonally), an expansive fitness center with state-of-the-art cardio machines and a full array of workout equipment (accessible 24/7 with room key), grand lobby lounge for live entertainment and afternoon tea and luxury spa complete even the best of hotel amenities lists, but waiting behind the doors of the tallest hotel in the city lie some of the finest dining and kid-friendly activities you'll find anywhere in the state.
Ten minutes or less in any direction puts you at the Children's Museum, the Natural History Museum, the Leonardo, or Clark Planetarium. Five will send you to one of Utah's many award-winning theatres for an off-Broadway experience you're not likely to forget. Extraordinary spring skiing, both cross-country and downhill, await at one of Utah's seven world-class ski resorts: less than 45 minutes from the hotel. Indulging in an apres afternoon treat has never been so simple with La Bonne Vie. Pastel macarons, golden croissants, and creamy gelato all in one place. Order up to your room or have dessert before dinner while browsing beautiful gifts and unique trinkets including holiday decor, cookbooks and tea sets. Speaking of tea, tie up your stay with afternoon high tea, or brunch on Sunday with fare from the hotel's exemplary food and beverage team. For the former, enjoy the a traditional English afternoon tea (seatings at 1 pm and 3:30 pm) replete with strawberries and creme chantilly, English scones with clotted cream, finger sandwiches and an assortment of tea pastries paired with English tea - a centuries-old ritual set in perfect European glamour.
To take advantage of a truly "Grand" experience for the whole family, all you have to do is contact the reservations department. There may not be as many varieties of fun as there are trees blossoming in the city, but a stay at the Grand America will certainly get you close.