Brand Guidelines
About the Visit Salt Lake Logo
Salt Lake is a vibrant, modern city filled with limitless dining, lodging, nightlife, and entertainment options. Our logo and other marketing are intended to reflect that sense of vibrance and modernity.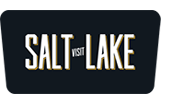 Logo, Font, and Color Guidelines
Download the Guidelines
(2.6 MB PDF) 
Visit Salt Lake Logo Downloads
Home to over 19,000 hotel rooms, Salt Lake's hotel scene has something for everyone. From mountain-top views at our world-class ski resorts to the sparkling lights of a thriving downtown, Salt Lake offers a little bit of everything. Our wide range of accommodations will suit you whether...
Read More
partners