Brand Guidelines
Salt Lake is pretty as a picture, and we have great pictures for you.
About the Visit Salt Lake Logo
Salt Lake is a vibrant, modern city filled with limitless dining, lodging, nightlife, and entertainment options. Our logo and other marketing are intended to reflect that sense of vibrance and modernity.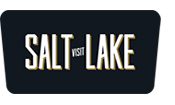 Logo, Font, and Color Guidelines
Download the Guidelines
(2.6 MB PDF) 
Visit Salt Lake Logo Downloads
partners